Their Promised Land: My Grandparents in Love and War, by Ian Buruma, Penguin Press, 305 pages, $26.95
Reviewed by NEAL GENDLER
The "use it or lose it" cliché comes to mind in this charming story of Bernard Schlesinger and Winifred Regensburg, children of well-to-do German Jewish immigrants, more intent on being British than in showing Jewish life to their children.
"Devotion to 'the family' was perhaps the most Jewish thing about them," says grandson Ian Buruma in his book, Their Promised Land.
Not that Bernard and "Win" denied being Jewish. They "were easily embarrassed by Jews," acutely aware of who else was or wasn't, and saw how it limited physician Bernard's professional opportunities.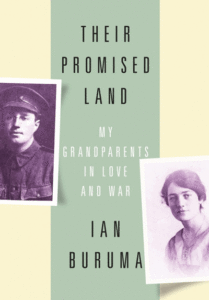 "They were British and had the perfect right to insist on it, and yet their sense of belonging was never simply to be taken for granted," says Buruma, a Bard College professor.
In an apparently ideal marriage, "my grandparents… were English in the way that their German Jewish ancestors were German," Buruma says, "at least more self-consciously so than the 'natives.'"
Win, a cousin of philosopher Franz Rosenzweig, found visiting her "fearfully highbrow" European relatives difficult. "They are all so earnest — they hardly know how to laugh," she said.
"How marvelous it is to be British," Win wrote on May 18, 1945, to Bernard, who had been recently promoted to brigadier. "What a grand, humane country this is."
She'd spent VE Day quietly, gardening, desperately longing for his return. Called up in 1939, he'd been overseas since February 1942.
Upper middle class, with help in their country house — a former vicarage in Berkshire — Win was caring for her own five children, a Kindertransport boy, two grandmothers evacuated from London and 12 more sponsored refugee children living elsewhere. She also played violin in an orchestra that traveled to raise morale. In their old home in a London Jewish neighborhood, they housed relatives fleeing Europe.
In India, Bernard was living the coddled life of a British senior officer.
"I feel ashamed," he wrote in January 1943. "I'm faced with the good things out here." A veteran of World War I battlefields, he unsuccessfully sought less comfortable work.
As war lengthened, she wrote: "Shall we ever meet again, my dear, or have we had all the life together for which we are destined?"
Buruma says Win resisted organized faith and was "without the consolation of any… including the one that was nominally her own."
Their Promised Land is an easily read and appealing love story told through Buruma's memories, interviews, documents and hundreds of letters starting when the unmarried teens were separated by World War I. The secondary theme of assimilation speaks loudly to Jews.
Buruma opens by describing Christmas visits to his Schlesinger grandparents' home: cards, decorated tree, holly, mistletoe, stockings filled with small presents preceding bigger ones, and "a daylong feast of Edwardian gluttony" including morning kippers and a big lunch that included plum pudding with flaming brandy.
"Here was a family that was serious about Christmas," Buruma says. But stereotypically Jewish, "the family conversation might best be described as a kind of creative chaos. The main thing was to be heard in the cacophony." Perhaps their British class dictated that "the worst possible sin was to be a bore."
The Schlesingers were "educated in the usual manner of the English upper middle class," including Oxford and Cambridge, Buruma says. Popular Bernard had excelled at sports. Their sensitive, gay, older son John preferred theater; he'd later win acclaim for his movies, including Yanks, based partly on his wartime memories. One of Buruma's 15 previous books is Conversations with John Schlesinger, his uncle.
Buruma is the son of Schlesinger daughter Wendy, whom he calls "wholly ignorant" of Judaism. She married a Protestant from the Netherlands and died of cancer at 43. Her sister Hilary became a Catholic. Of actress sister Susan, who killed herself at the age of 30, and of Hilary's twin, Roger, we learn little.
Although mistakenly calling Jews a race and incorrectly putting the Blitz in 1939 — later correctly dating it Sept. 7, 1940 — Buruma has produced an artful, fascinating view of a family cutting off its roots to adopt a new culture.
***
Neal Gendler is a Minneapolis writer and editor.
(American Jewish World, 1.29.16)