Journeyman comic Bobby Slayton returns to the Twin Cities for three nights, including a Valentine's Day show
By MORDECAI SPECKTOR
Minneapolis is "a really hip town," comments comedian Bobby Slayton, who returns to the New Hope Cinema Grill for three nights of stand-up, Feb. 12-14.
The veteran, raspy-voiced comic with the New York accent recently chatted by phone with the Jewish World from his home in the Los Angeles suburb of Sherman Oaks — "a very Jewish enclave," he said.
Bobby Slayton, Feb. 12-14
New Hope Cinema Grill
"I live in a really nice neighborhood," Slayton said, "but literally a quarter-mile away is Beverly Hills; and once you hit the other side of Mulholland… because of the address, my house would be double the money — it's the same neighborhood, it's just three blocks away."
That's the L.A. real estate part of the story.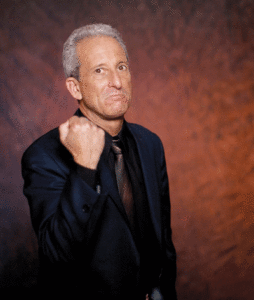 Slayton — branded as "The Pitbull of Comedy," although he's completely pleasant in conversation — has trod the boards of comedy clubs for several decades, done stand-up on TV, including The Tonight Show and his own comedy specials, and also appeared in a few films (Get Shorty, Ed Wood, Bandits, Dreamgirls, The Rat Pack).
He's the proverbial "comic's comic," respected by his peers in comedy; Penn Gillette, of Penn and Teller, called him "one of the best stand-ups alive." However, Slayton hasn't yet become a household name.
As he commented last year, during an interview on Raw Dog Comedy, a Sirius XM program: "People ask, 'How come you're not as famous as a lot of your friends?'" Jerry Seinfeld, for example.
He mentioned that comics who used to open for him in comedy clubs — Roseanne Barr, Ray Romano, Patton Oswalt, Rob Schneider, David Spade, Judd Apatow — have gone on to headlining gigs, popular TV series, hit movies and megabucks.
"Everyone who has opened for me has become successful," noted Slayton, 60. "I happen to be a conduit for fame… there's nothing left for me in the universe, because I've given it to other people."
He said, "My career is fading," but he's really not complaining.
Lately, he's been performing at monthly comedy nights at "55 and older communities" in Florida.
"I was a little wary of doing them at first; but I took my nightclub act, and I cleaned it up a little bit, and it's so much better than playing these stupid comedy clubs — not the New Hope [Cinema Grill], cause that's more of a theater. But these comedy clubs, the audience is getting younger, they're getting dumber. I mean, as smart as kids are and computer savvy, they know nothing of the history of this country. They can't name the four Beatles, but they know what Khloe Kardashian had for breakfast. I mean, it's disgusting."
To sum up, Slayton prefers performing for an older set, folks who likely get most of his popular culture references.
The conversation also wandered to the topic of Slayton opening for singers and rock bands: Ray Charles, Four Tops, Eddie Money, Huey Lewis, Mink DeVille and The Tubes ("White Punks on Dope"). And there was the ill-fated date with The Stranglers, "a big punk band… worst gig ever."
And on this swing through New Hope, Slayton will be performing a special show for an audience of lovers.
"It's a cool little theater," said Slayton, who played the comedy venue last year. "We do one show a night, but the real kicker is that they've never done a Sunday night; but this year, Valentine's Day is Sunday… And my act is so not a Valentine's Day show in so many ways."
But seen in another light, Slayton said that he's "perfect for Valentine's Day."
"What happens is, after an hour of me haranguing on women, making fun of my wife, every married woman will walk out of that room and look at their husband and go, 'God, I thought you were an a- -hole.'"
***
Bobby Slayton will play the New Hope Cinema Grill, 2749 Winnetka Ave. N., New Hope, on three nights, Feb. 12-14. For information and show reservations, call 763-417-0017, or go to: cinemagrill.com.
(American Jewish World, 1.29.16)