By ADRIAN GLASS-MOORE
As the first official professor of Jewish studies at Gustavus Adolphus College in St. Peter, Minn., Samuel Kessler's job entails promoting Jewish studies and Jewish life on campus.
As part of this mission, he's seeking donations of Jewish books to boost the college's collection.
Kessler said he's looking for "religious books from all the denominations and various persuasions and then also Jewish studies books." These books can be expensive; and buying them isn't necessarily a priority of the college, Kessler said.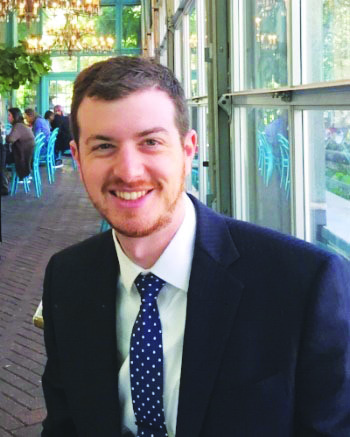 The effort began last year when a family friend asked Kessler if he could donate his rabbinical library to the college. "I of course said, 'Yes, absolutely,'" Kessler recalled.
Then another donation came through a connection in the community where Kessler and his family live, in St. Louis Park. Someone had died and left behind a big Jewish studies library — would Gustavus Adolphus be interested in the books? Again, Kessler said, "Absolutely."
"It got me thinking that there are a lot of people with Jewish studies libraries out there," Kessler said. And Gustavus Adolphus has a need for them.
Kessler said the college has probably a few thousand books in Jewish studies. "It's very hit or miss," he said. For example, the collection could use more books in rabbinics (the study of rabbinic literature), medieval Jewry, modern Jewry and American Jewish history.
The college is good about acquiring new books when Kessler requests them. But when it comes to older books, the college's collection has gaps Kessler hopes to fill. He noted that the Jewish written tradition goes back 2500 to 3000 years.
"I'm a 19th century specialist. Good scholarship was written in the 19th century that we still need to read and grapple with," Kessler said. "We need the early translations, we need commentaries, we need the original sources for the couple of students who come through here that are interested."
Having a wide variety of Jewish books on hand at the college shows that students' intellectual pursuits are being supported, Kessler said.
If he recommends a book to a student, but it can only be accessed by loaning it from another college, "it makes it seem like we here don't have the resources to support their interest, whether it be in modern Jewish philosophy or in American history or in a translation of a classic rabbinic text."
Not all Jewish texts are available on the Internet; and physical books are good for the brain, Kessler said.
"The more we become a part of the Internet, the more we realize that the Internet silos people into thinking … quite narrowly," he said.
With a collection of physical books, "you can point and say, 'Look: these books next to each other think about this topic really differently. … It's a liberal arts college so I'm allowed to argue for the physical book. Every faculty office in the liberal arts in this college is full of books. And it's not because we don't use the Internet, it's not because we're Luddites. It's because we really do know that two different books can argue about the same topic in two different ways and that both need to be taken seriously in a way that's much more accessible than it is on the Internet."
Kessler, who's 33, joined Gustavus Adolphus three years ago as the Åke and Kristina Bonnier Endowed Chair in Jewish Studies. Åke Bonnier is a Swedish Lutheran with a German-Jewish background, Kessler said.
Prior to being hired by Gustavus Adolphus, Kessler was a postdoctoral fellow in Judaic studies at Virginia Tech.
He got his Ph.D. from the University of North Carolina at Chapel Hill. He attended elementary school in Des Moines, Iowa, and spent his middle and high school years in Syracuse, N.Y.
He lives with his wife and young son in St. Louis Park.
"[Gustavus Adolphus] offered me the job and we looked and there was a Jewish community within an easy commute of the college; and so we decided to make our lives in the Jewish community in Minneapolis," he said. "We think it's wonderful."
The book donation effort will last "as long as I'm at the college," Kessler said. "I absolutely hope to keep expanding its library."
For more information and to donate, email: kessler [at] gustavus [dot] edu. Books are gifts to the college and considered tax-deductible.