Beginning in the 1990s, Gus Gutman made several trips back to his native Germany where he spoke about his Shoah experience and made lifelong friends
By ERIN ELLIOTT BRYAN / Community News Editor
In November 2013, in honor of the 75th anniversary of Kristallnacht, Gustav "Gus" Gutman, of St. Paul, was invited to speak for the second time at the commemoration event in his hometown of Hildesheim, Germany. The trip was one of many he had made back to his ancestral home and he was once again welcomed as a "returning son."
Gutman was just three years old on Kristallnacht and often spoke of smelling smoke as the local synagogue was burned. His family was eventually able to leave Germany and his parents never wanted to return.
But more than 50 years later, Gutman decided to go back for the first time.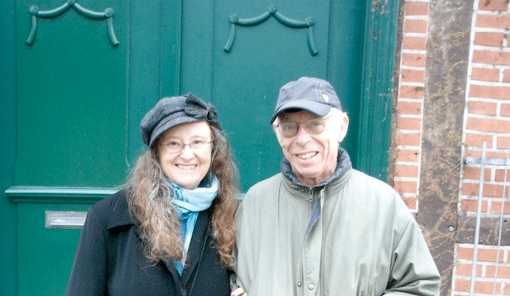 "The important part to me was always what he did as an adult: the reconnecting to the people in Germany. I think that was one thing that really made him unique," Gutman's daughter, Sarah Elkin, told the AJW. "He made such good friends in the town where he was from and the town where his mother was from, and that became a passion of his. It's kind of moving on for the next generation and finding a way to deal with what happened."
Remembrance
Gutman was born an only child in Hildesheim in 1935, two years after Adolf Hitler had been elected chancellor of Germany. Gutman's father had a successful dry cleaning and fabric-dyeing business in town and the family had done well, but they were seeing the rights of Jews start to diminish.
On Kristallnacht, Gutman's father was arrested and forced to march around the ruins of the burned synagogue with the other Jewish men in town. The Third Reich later took over the family home, and forced Gutman, his mother and his grandmother to live in their own attic.
Gutman's mother, Meta (née Meinungen), did everything she could to free her husband and was finally able to secure his release — with the promise that the family would leave Germany.
In May 1939, the Gutmans finally left for England, where they had been sponsored by an uncle. Members of the Meinungen family chose to stay in the rural town of Hagenow — where they had lived since the turn of the 19th century — and they were eventually murdered at Auschwitz, including Gutman's two-year-old cousin Hanna.
The Gutmans made their way to the United States in 1940 and settled in the Chicago area, where they encountered some anti-Semitism, but established a successful dry cleaning business and immersed themselves in Jewish life. Gutman was groomed to take over the family business, but instead pursued his interest in chemistry.
"Drycleaning was how he got interested in [chemistry]," Elkin said. "He liked the science of it and even to his last few weeks, he was interested in new research… He loved to be right there, in the lab, mixing things and trying things out."
Gutman earned his bachelor's degree from Roosevelt University and his master's degree from Loyola, before taking a job at 3M in St. Paul. He and his wife, Greta, raised three children.
In 1984, Gutman took a job transfer to Austin, Texas, where he lived until 2011. Gutman was credited with 16 patents over the course of his career and he was a member of the American Chemical Society for nearly 50 years.
Gutman made his first trip back to Germany in 1998, when he was invited to speak at the 60th anniversary of Kristallnacht. According to Elkin, Gutman had "a way of making connections everywhere he went," and began establishing relationships with non-Jews in both Hildesheim and Hagenow.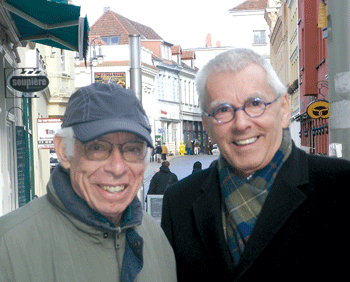 Gutman even wrote a play, titled Guests of the City, based on his experience, which was financed by the German government and produced in Hildesheim in 2005. The play was staged in a theater where his parents had been banned because they were Jewish.
In 2010, Gutman, his wife, and Elkin and her family attended the opening of the Hanna Meinungen House in Hagenow, a museum dedicated to preserving the once-thriving Jewish life in the area — dating back to the 1300s — and which tells the story of the Meinungen family. Elkin's daughter Moriah, who was named for Hanna, cut the ribbon and the family hung a mezuza from the Mount Zion Sisterhood gift shop.
Gutman was also able to see the gravestone for his maternal grandparents, which had been found intact after excavating the Jewish cemetery.
"It was a very powerful trip in so many ways," Elkin said.
Gutman moved back to St. Paul as a bachelor in 2011 and established a new life for himself. He reconnected with old friends, immersed himself in music — joining both secular and religious groups, and leading sing-alongs at local nursing homes — and rejoined Mount Zion Temple, where he met Nancy Cohen. The two shared an upbringing in Chicago and a passion for music and social justice.
Cohen accompanied Gutman on his most recent trip to Germany and she was introduced to the close German friends he had made over the years.
"It was clear they were welcoming their dear friend," Cohen told the AJW. "[Gus] was like an ambassador of friendship and keeping history alive."
At a recent meeting of the Holocaust survivors group in St. Paul, members and guests discussed the subject of Righteous Gentiles, a topic that Gutman had proposed last fall.
"We lost him without being able to realize this discussion," survivor Victor Vital said at the meeting, referring to Gutman as a "joyful person" who didn't want to dwell on the "sad things" that caused the Holocaust.
Rabbi Esther Adler, speaking at Gutman's funeral, said Gutman saw "every moment in life as an opportunity to sing" and he had an "anything-is-possible can-do attitude."
Gutman spoke often about his experience to students and adults, both in the United States and Germany, and always ended his presentation with a challenge: to ask questions when you see something that's not right; he reminded them that there's always something they can do in the face of evil and injustice.
"This was part of his mission, of teaching and remembering the Holocaust," Cohen said.
Cohen referred to Gutman's outreach to those in Germany as "hands across the water," a way to reapproach and form new friendships.
"It was the opposite of maintaining fear and these attitudes of fear and hate, and assuming that Jews can never go back to Germany," Cohen said. "He went back, and he formed loving, long friendships with modern non-Jewish Germans."
Gutman is survived by his three children, Jennifer Gutman, Daniel (Cathy) Gutman, and Sarah (Brad) Elkin, and three granddaughters, Alexis Gutman, and Moriah and Rebecca Elkin.
(American Jewish World, 3.28.14)