Wladyslaw Pasikowski's 'harrowing exposé' of war crimes and cover-ups is wrapped in a seductive thriller
By MICHAEL FOX
Wladyslaw Pasikowski's extraordinary Aftermath is a rare, delicious example of a filmmaker fearlessly exposing a grievous chapter in his or her country's history. You can well imagine that everyone prefers that the secret, and the amoral failings of a prior generation, remain buried, but one strong soul has chosen to invite the skeletons out of the closet.
MSPIFF runs April 3-19
The Polish director's masterstroke is to wrap his harrowing exposé of World War II crimes and contemporary cover-ups inside the onionskin layers of a seductive thriller. A slowly unfolding mystery that grows steadily darker, Aftermath is crackerjack entertainment capped with an unforgettable gut-punch.
Aftermath screens April 10 and 16 as part of the Minneapolis-St. Paul International Film Festival (MSPIFF).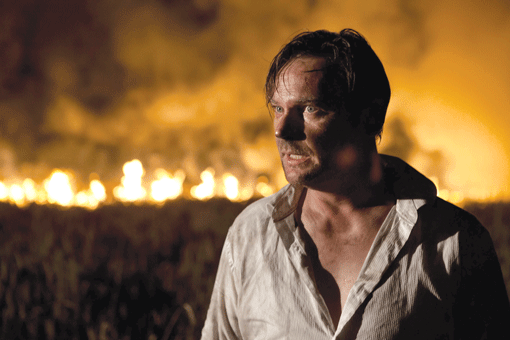 German filmmakers have examined the Third Reich and the Holocaust since the early '50s, confronting every aspect of the Nazis' undeniable guilt. Polish directors, however, have largely steered clear of the period, with the notable (and controversial) exceptions of Andrzej Wajda's wrenching Korczak (1990) and Agnieszka Holland's powerful In Darkness (2001).
Their dilemma is that the Poles, to this day, largely deny the accusation that they participated with the Nazis in the murder of Jews. (Or that they opportunistically used the invasion and the war as a cover for eliminating Jews.) Aftermath shines a bright light on the dark canard of Polish innocence — literally, in a middle-of-the-night climax — and the revelation could not be more shocking.
"It is a difficult and complex subject," Pasikowski explained in an interview with Variety last year, "and one that runs against the Polish image of the country as being both a heroic fighter against Nazism and a victim, which is also true."
Aftermath begins with the return of the prodigal son to the village of his childhood after many years in America. Although the surroundings and the people are familiar, Jozef (Maciej Stuhr) sees them through an outsider's eyes. It's a clever way of setting the scene, for we immediately identify with Jozef's point of view.
As attractive and charismatic as Jozef is, though, we're put off by his casual, anti-Semitic putdowns of people he works with (or for) in Chicago. It's another canny move by Pasikowski, for it limits our identification and comfort level with the main character.
The younger brother, Franciszek (Ireneusz Czop), has been running the family farm since Jozef left. Jozef's arrival is fortuitous, however, for Franciszek's placid, small-town routine has been disrupted by a serious yet initially indefinable threat.
Actually, we've felt a sense of foreboding since Jozef got off the plane. The moment he set foot on the road leading to the farm, an unseen entity — friend or foe? — made its presence felt.
It would be wrong to reveal any more of the plot and deprive the viewer of the pleasure of Pasikowski's carefully thought-out structure. Aftermath is the kind of film where every line of dialogue and every camera movement have a purpose, even if we only realize it after the fact.
Ambitious, complex, shocking and wholly satisfying (admittedly, in a disturbing way), Aftermath is a beautifully executed example of a film that draws on heavy-duty historical reality without exploiting or trivializing it. At the same time, it somehow also manages to integrate an otherworldly dimension into a wholly realistic story.
Above all, the film takes on Poland's World War II-era history and its ongoing silence with intelligence, style and — at the crucial juncture — unflinching courage. Aftermath is a movie to be savored, admired and celebrated.
***
Aftermath will screen 7 p.m. Thursday, April 10 and 5:10 p.m. Wednesday, April 16 at the St. Anthony Main Theatre, 115 S.E. Main St., Minneapolis. The film is co-sponsored by Rimon: The Minnesota Jewish Arts Council, an initiative of the Minneapolis Jewish Federation.
For tickets and information, visit: mspfilm.org.
(American Jewish World, 3.28.14)