By ROBIN DOROSHOW
A few months ago, I stopped for lunch at the Bukhara Indian Bistro in Minnetonka. Upon leaving the restaurant, I noticed a beautiful mezuza affixed to the front door. Seeing me look at the mezuza, the young man at the front desk smiled and he told me that it belonged to him.
Who was this young, apparently Jewish man of Indian descent in our midst, and also how was the restaurant's name connected to the Bukharan Jewish community of Central Asia? Located in what is currently Uzbekistan, Bukhara was home to a large Jewish population that was isolated from other Jews for hundreds of years.
Exotic Jewish Food
But what was the nexus between Bukhara and India? The distance between the Bukharan province of Uzbekistan and Pune, India, which I learned was the birthplace of my new friend, is more than 1,500 miles.
I learned that the young Indian man, co-owner of the restaurant, is Samson Palkar. My husband and I went to Bukhara for dinner and conversation on a Sunday evening. At Sam's recommendation, we ordered the Vegetable Samosas, Chicken Palak and Lamb Shahi-korma, which were all delicious.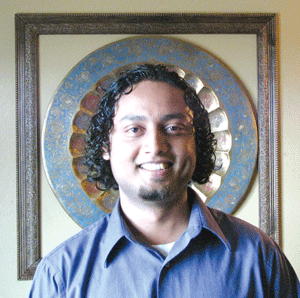 Sam explained that the connection between the restaurant name, Bukhara, and its Indian cuisine is the Mughlai-style of cooking, which relies heavily on Middle Eastern and Central Asian spices and influences — incorporating yogurt, tandoor ovens and specific cooking techniques. Bukhara represents the meeting of these cultures and cuisines.
I thought I was going to write about the rich history of the Jews of Bukhara and the modern Bukharan Jewish communities, mainly in Israel and Queens, but maybe another article. This one is decidedly about Indian cuisine and Indian Jews.
Born in Pune, which is in the Maharashtra state of India, Sam is a Bene Israel — one of four main groups of Indian Jews. His surname, Palkar, reflects his family's origins near the Konkan coastal area of Western India. After Mumbai (formerly Bombay), Pune is the city with the greatest concentration of Jews in India.
With an estimated 15,000 Jews in India, Jews comprise less than 0.00015 percent of the nation's population. Sam estimates there to be about 1,000 Jews in Pune, the center of a metro area with 5.5 million residents.
Known as Bene Israel, or simply Israel, this is the largest community of Indian Jews. Completely isolated from other world Jewish communities for generations, their story centers on a shipwreck near the Konkan Coast of a vessel sailing from the Galilee to India. Communal lore tells that seven men and seven women survived, settled in the village of Navgaon, and began working as oil pressers, which became their trade and caste within Indian society.
These 14 individuals were the seeds of the Bene Israel Jews of India. Living in an enclave known as Shenwar-bete, or Saturdayville, a place where no work was performed on Saturdays, families with the names Penkar, Ashtamkar, Rohekar and Palkar made their living pressing oil and practiced their Judaism, which included circumcision on the eighth day after birth and observance of festivals dating to before the destruction of the Second Temple.
For this reason, Bene Israel Indian Jews believe that their forbears arrived in India prior to the destruction of the Roman-era Second Temple.
Sam explained that India, a predominantly Hindu culture, has a live and let live attitude, which does not proselytize, and that anti-Semitism isn't a problem. Indeed, historically Indian Jews have prospered and attained high positions in the government. Even Bollywood had its own Jewish star, Sulochana, born Ruby Myers (1907-1983). However, the four main Jewish communities within India remained largely distinct and separate from one another.
A second group of Indian Jews is known as the Cochini, or Malabar Jews, who claim to have roots dating to the time of King Solomon, and traded in teak, ivory and spices between Israel and the Malabar Coast. Modern scholars believe that the Cochini Jews came to India sometime during the early part of the Middle Ages. This, the oldest group of India's Jews, lived in South India in what is now the state of Kerala. Today it is believed that there are fewer than 100 Cochini Jews in India.
A third group of Indian Jews are known as the Bnei Menashe, or Manipur Jews of East India. These Jews believe themselves to be descended from the Tribe of Menashe, one of the 10 lost tribes of Israel. They believe that their ancestors were enslaved by the Assyrians and forced to convert to Christianity by missionaries in the19th century.
A fourth group of Indian Jews is known as Bagdadhi Jews, or Yehudi. They arrived in India in the late 18th century from various Arab countries. They were fleeing persecution as well as pursuing commercial opportunities. Very few members of this group remain in India today.
Sam came to the United States with his father about 10 years ago. After graduating from high school, he spent time in college and in California before returning to Minnesota and working with Joginder Cheema at Taste of India in St. Louis Park. Cheema became Sam's mentor and together they opened an India Express restaurant in the downtown Minneapolis skyway. A little more than a year ago, they opened Bukhara Indian Bistro in Minnetonka.
Sam also met a nice local Jewish girl, Elisabeth Fischbein, and they have been married for about a year and a half.
And the mezuza that I had admired on my first visit to Bukhara — Sam told me that it came from the Adath Jeshurun gift shop.
***
Bukhara Indian Bistro is located at 15718 Wayzata Blvd. E., Minnetonka. For information, call 952-476-7997 or visit: www.bukharamn.com.
(American Jewish World, 1.6.12)