Guthrie Theater presents its second Neil Simon play, The Sunshine Boys, directed by Gary Gisselman
By ERIN ELLIOTT BRYAN / Community News Editor
When playwright Neil Simon received an offer to turn his play The Sunshine Boys into a movie in the 1970s, he was told that the Paramount Pictures production was to be a vehicle for Bing Crosby and Bob Hope. Though he was a fan of both actors, he told his agent that he "was regretfully turning it down."
"The essence of my play was that these two aging ex-vaudevillians were Jewish, cranky and tired," Simon wrote in his memoir, The Play Goes On. "Hope and Crosby were aging, but you would never know it then. They were still quick, topical and lighthearted and flippant, and they would sure be box office, but neither of them had ever been bar mitzvahed — not that religion was important to the characters, but their culture and background was."
The film version was released in 1974, starring Walter Matthau and George Burns. It garnered four Academy Award nominations and Burns won for Best Supporting Actor.
The Guthrie Theater will present The Sunshine Boys, a new production featuring Raye Birk and Peter Michael Goetz, directed by Gary Gisselman. The play runs July 7 through Sept. 2 on the Wurtele Thrust Stage.
"Neil Simon still has great currency," said Gisselman, who directed the Guthrie production of Simon's Lost in Yonkers in 2006. "It's sort of past the time when he was the most popular playwright, but he still writes great plays."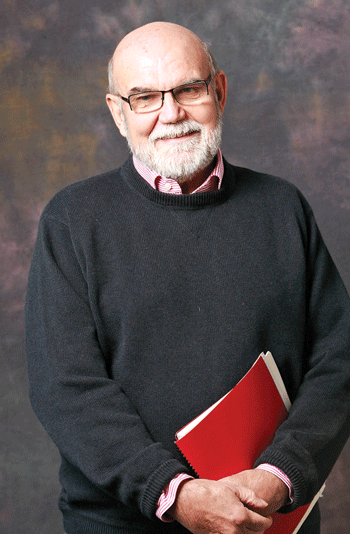 Gary Gisselman: I thought that I had a much better chance of being a good director than I did of being a good actor. (Photo: Mike Habermann)
The play is set in 1972 and tells the story of two former vaudeville comedians, Al Lewis and Willy Clark, a.k.a. "Lewis and Clark." The one-time famous duo had comedic chemistry onstage, but can't stand each other offstage.
"It's two former vaudevillians who worked together for 43 years and then one of them retired, and, as you might surmise, when one of a team retires, that means the other one retires, too," Gisselman said. "And when they parted, they parted with great animosity."
The pair are coerced by Willy's nephew and agent (played by Richard O. Berdahl) to reunite for a CBS comedy special. Shenanigans ensue when they are asked to rehearse and perform their famous sketch.
"It's a very sweet play, I think, and it's not about vaudeville really," Gisselman said. "I think it's as much about growing older, what happens as you grow older, how we have a tendency to put on the shelf people we think are past their prime… Although I think there is a touch of melancholy in the play, it's essentially a very funny play."
The production also features Greta Oglesby, Nathaniel Fuller, Jennifer Maren, Samuel Finnegan Pearson and Dudley Riggs.
Gisselman said Simon writes about "people we know" and the dilemmas they face, and was drawn to the play's simplicity and commonness. Those who see The Sunshine Boys will identify with the problems the characters encounter in different ways.
"If we're young and we have parents that are growing older, we identify with that, and that there is often great humor in growing older," Gisselman said. "Then I also love that it's about actors and it's about that enduring spirit. An actor never thinks that his career is over and will work as long as he can."
Gisselman's own career began with acting in the 1960s. A native of Bloomington, he went away to college and graduate school before returning to the Twin Cities on a McKnight Fellowship to be an actor at the Guthrie.
"By then, I had just started directing a little bit and I thought that I had a much better chance of being a good director than I did of being a good actor," Gisselman said. "I don't think it's a higher position, I think it's just a different way of working."
Gisselman served as artistic director at the Bloomington Civic Theatre, beginning in 1964, and later became the founding artistic director of Chanhassen Dinner Theatres. From there, he served as the artistic director of the Arizona Theatre Company in Tuscon and Phoenix for 11 years.
Once Gisselman and his wife moved back to Minnesota, he served at Children's Theatre Company and ran the opera program at the University of Minnesota.
Gisselman currently teaches theater at St. Olaf College and directs throughout the Twin Cities (he directed Ragtime at Park Square Theatre earlier this year). His wife, Margo, is executive director of the Jungle Theater in Minneapolis.
"I've just really had a fortuitous career, I've been very lucky and I've enjoyed the work a lot," he said. "We've had a good life in the theater and a good life in the Twin Cities."
Gisselman said he loves the collaboration of the theater and the creative atmosphere of the rehearsal room. And though rehearsals for The Sunshine Boys only began in early June, he said the audience can expect a "great evening in the theater."
"If you've seen the movie and liked the movie, it's so much better to see it live," Gisselman said. "And I think people will identify with this play like crazy, I think they'll find it very engaging. I would say that it's nice entertainment for a summer evening, but I think it's nice entertainment for any evening."
***
The Sunshine Boys, by Neil Simon, will be staged July 7 through Sept. 2 on the Wurtele Thrust Stage at the Guthrie Theater, 818 S. Second St., Minneapolis. For tickets and information, call 612-377-2224 or visit: www.guthrietheater.org.
(American Jewish World, 7.6.12)