The Minnesota senior state director for the Humane Society of the United States is focusing his efforts lately on saving wolves under the gun
By BRANDON KLUGMAN
After nearly disappearing from the state in the 1960s, the wolf population in Minnesota is currently estimated at about 3,000. The species' revival led to its removal from protection under the Endangered Species Act in January, and a wolf hunting and trapping season was established with the recent passage of an omnibus game and fish bill by the Minnesota Legislature.
Howard Goldman, the Minnesota senior state director for the Humane Society of the United States (HSUS), said his group is opposed to the hunting season and is exploring potential options to attempt to prevent the season. HSUS was the lead party in the litigation that successfully prevented wolves from being removed from protection in 2007 and 2009, and Goldman said they are exploring the possibility of legal action again.
"We've already litigated on this [in the past]. That is not to say that we'll litigate again, but our attorneys are looking at all options," he said.
He also said he and the HSUS are trying to figure out how to use to their advantage the results of a recent online survey by the Minnesota Department of Natural Resources in which almost 80 percent of respondents opposed the hunting season for wolves.
Goldman said he and the HSUS oppose the hunting and trapping season for a number of reasons. Some who support the season believe it will reduce wolf depredation of livestock, specifically cattle. However, Goldman said hunting is unnecessary to reduce depredation because, since wolves are no longer protected, landowners have the freedom to shoot wolves that pose a threat to their livestock or domestic pets. The U.S. Fish and Wildlife Service is also authorized to kill wolves if they pose a threat.
"We believe the livestock owners are protected now and that's the most critical issue facing this population," he said.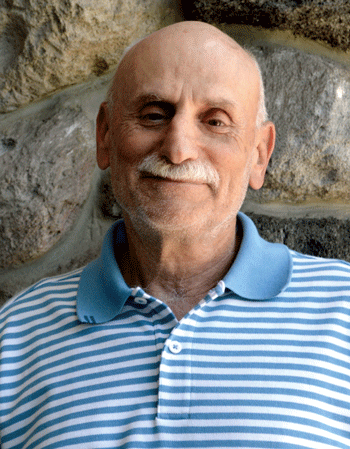 Howard Goldman: We have very little data on what the impact of a hunting and trapping season will be if the alpha wolf, female or male, is taken. We think it could be very disruptive to the packs. (Photo: Mordecai Specktor)
Goldman also expressed concern about how hunting will affect packs of wolves, which have a social structure unlike other game animals.
"We have very little data on what the impact of a hunting and trapping season will be if the alpha wolf, female or male, is taken. We think it could be very disruptive to the packs," he said. "It could increase mortality significantly and it could increase depredations, because some of the less experienced members of the pack won't be as successful hunting prey and they'll end up, we think, going to livestock."
Minnesota's initial plans for the species included a five-year moratorium on a hunting season. However that provision was removed by the legislature.
"This is not just another game animal. This is a species that's been on the endangered species list since 1974, just delisted, and in the very first year you set a season? You open a hunting and trapping season? We think that doesn't make a lot of sense," Goldman said.
The hunting and trapping season will consist of two parts, an early season and a late season. The early season will allow hunting, but not trapping, and will begin Nov. 3 to coincide with the opening of the firearms deer hunting season. It will end the same day as the firearms deer hunting season or once 200 wolves are killed.
The late season, which will allow both hunting and trapping, will begin Nov. 24 and end either on Jan. 3 or when a total quota of 400 wolves have been killed across both seasons. Six thousand licenses will be made available through a lottery system.
In addition to his efforts to protect wolves, Goldman has worked on and led many other campaigns to promote animal welfare issues. The HSUS led efforts in recent years to defeat legislation in many states, including Minnesota, which would have prevented whistle-blowing about abuses at factory farms.
Prior to taking his current post in 2008, Goldman worked as housing director for the Department of Housing and Urban Development. Throughout his life he has volunteered with the HSUS and other environmental groups, such as Friends of Animals and their Environment, to promote efforts to prevent dolphins from getting killed in fishing nets, initiatives to prevent trapping, and attempts to defeat bills that would establish bounties on coyotes.
Goldman said his experience and upbringing with Jewish traditions has influenced some of his views and work with animal welfare issues.
"Though my parents weren't particularly religious, they did believe in the tikkun olam concept. Though they never stated it as repairing the world, for them the issue of justice was very important," he said. "What they communicated to me is that it wasn't only justice for humans, it was justice for animals as well."
***
Brandon Klugman is an editorial intern at the American Jewish World.
(American Jewish World, 7.6.12)