Impact of a day school education emerges on family trip to Israel
By NEIL FINK
My family recently returned from an incredible trip to Israel. Three generations of our family went to celebrate our niece's Bat Mitzva – grandparents, parents and grandkids.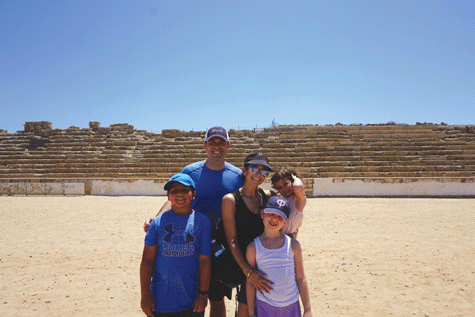 We almost filled up a small tour bus (but still had enough room to stretch out for naps on the longer drives between towns). My wife and I had both been to Israel when we were teenagers through Jewish high school programs, but we had not been back since. While those experiences were formative for both of us, we have a different "lens" now as adults and as parents of children ages 10, seven and two.
There were many aspects of this trip that were inspiring to me — I stood in awe of something every day. It was incredible being in Tel Aviv, a thriving, cosmopolitan city on the Mediterranean, and then driving an hour to Jerusalem, and being immersed in the city's history and spirituality. We discovered a great deal traveling up north in the Golan Heights and talking to soldiers there, and then heading south to the Negev to learn about Israel's leading innovation in water treatment and reclamation.
What was particularly meaningful to me was to see how my kids were impacted by this trip. They were interested in the history and the stories about how Israel came to be. They loved the culture and food (the schnitzel was amazing), and of course the natural beauty of the landscape.
But here's where I was the most impressed — how much they already knew! Our kids are students at the Heilicher Minneapolis Jewish Day School in St. Louis Park — entering fifth grade, second grade, and our little one is looking forward to kindergarten in a few years.
They asked questions of our tour guide, recognized names of famous sites and people in history, and were excited to participate in the more immersive experiences where we walked through the Old City or visited an archeological dig. Our older kids are fairly adept at Hebrew for their age — far surpassing my Hebrew knowledge — and while most Israelis speak English well, it definitely helped having my kids to assist in ordering food at restaurants, buying some trinkets at the shuk (market) in Jerusalem, or just navigating around.
Now, as I fall into the typical cadence of a parent proudly beaming about his children, and while my wife and I of course do our best raising them, we also recognize that much of this strong Jewish foundation is taught and instilled at Heilicher. While we see it in their joy in celebrating the Jewish holidays and traditions, and in the lessons that they teach us as parents every day even though they don't realize it — it was remarkable for us to see their Jewish foundations "in action" when we were in Israel.
This is truly one of the greatest outcomes of having our kids at Heilicher, and we are so appreciative of the education, values, and experience they get at the school. Now I just need to learn to speak Hebrew myself so I can keep up.
***
Founded in 1984, the Amos and Celia Heilicher Minneapolis Jewish Day School is the Twin Cities' K-8 independent school of choice for families who seek academic excellence in a nurturing Jewish environment. The school's inquiry-based/STEAM approach delivers strong academics and Judaic and Hebrew language studies. Students become critical thinkers, confident communicators, and creative, engaged community members. Heilicher is currently accepting applications for all grade levels at hmjds.org.