By ELANA WARREN / Assistant Editor
Eva Krause's children remember her for her "generous heart, her vibrant energy and her passion for living." Students may remember her as an inspirational speaker to school groups, sharing her experiences of the Holocaust. Others still will remember her for her genuine interest in human connection.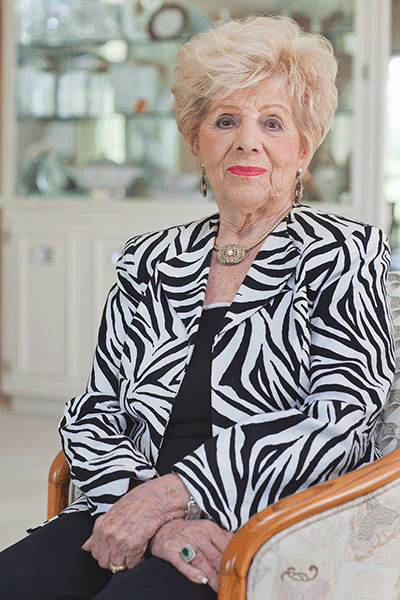 Krause died Dec. 8 at the age of 97.
Remembrance
She had a happy childhood until the Nazi army invaded her hometown, Radom, Poland, in 1939, when she was 14 years old. Separated from her mother and sister in the chaos of the town marketplace, Krause was the only member of her family to survive the Shoah. Her parents, sisters and brother died in the gas chambers of the Treblinka extermination camp, where some 925,000 Jews were murdered.
The Nazis sent Krause to Bergen Belsen, where she suffered through labor, starvation and disease. In the 2010s she told Transfer of Memory, the touring exhibition of portraits of Minnesota Holocaust survivors: "We were stripped of dignity, we were dehumanized. I thought [every day] was my last day, I never thought I would survive."
She was grateful to be alive and therefore lived life to the fullest. Upon liberation in 1945, Krause remained in Bergen Belsen, which became a displaced persons (DP) camp. While she wanted to leave, it took three years to get a visa.
But in those three years, she met her husband, Max Krause, and had her oldest child, Dorothy Yungman. She and Max Krause would go out dancing and have fun. They wanted to live, and they lived in the moment throughout their lives.
"Life was a celebration, and we really enjoyed every moment of our life," she told the University of South California Shoah Foundation in 1997.
Along with raising three children — Dorothy, Steve and Anne — Krause was active and charitable in her community. She was treasurer for Hadassah, fundraised for the St. Paul Jewish Federation and supported ORT, the Jewish global educational network, among other organizations.
She was drawn to others, and others were drawn to her. Yungman told AJW the story of her mother meeting a girl on a street corner. In the time it took for the streetlight to change, Krause had shown the girl the number on her arm and shared her story. The street corner connection stuck, and the girl went on to phone Krause, send her challot and invite her for Shabbat dinner.
Krause was "full of love. She was a very optimistic, positive person," Yungman said. "And that's a part of, I think, what drew her to people and people to her. … She was so sunny. She had a great smile, she was always interested in people, she had a lot of energy [and] she was always entertaining and sharing and very connected to people."
Yungman said Krause had many dear, close friends, as her connections to people were enduring.
She loved to bake European delicacies, host, dance and sing — in the ghetto, she was known as "the little singer," and she sang through the end of her life. She enjoyed entertaining others, and her hospitality went further than hosting dinners. When her neighbor had to work after her husband died, Krause had the neighbor's son over for lunch every day and organized his Bar Mitzva.
Her impact spread past her many personal connections to students. She was always open about her Holocaust experience and in her late 40s — after she'd better mastered English — began sharing her experiences at schools and churches.
"She believed it was important to tell her story to bear witness and so people will never forget the Holocaust," Yungman said.
One of the lessons she imparted to her audiences she also shared with Transfer of Memory. Krause grew up religious and kept her faith in God after the Shoah. But she also had said, "I am still horrified by the silence [of the world], but beyond the silence lies an even more terrifying silence, the silence of God."
With these observations of the inaction of other countries and God, Eva Krause leaves us with the notion to do unto others as you would have them do unto you, and speak out and help out when we can. And maybe sing a little and build connections with others.
(American Jewish World, March 2023)