By ELANA WARREN / Assistant Editor
If Fred Amram could leave the world with one message, it would be this: We can be upstanders, and we can make a difference. He set his children, grandchildren and students on this trajectory.
Amram, professor, Shoah survivor, inventor, speaker and author — and occasional Jewish World commentator — died on Feb. 12. He was 89.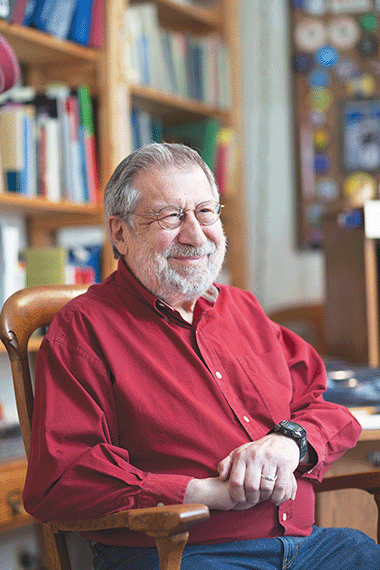 Remembrance
Manfred Amram was born in 1933 in Nazi Germany, where as a young boy he experienced Kristallnacht and other horrors. He was born into a world where Jews were not welcome — his mother gave birth in a Catholic shelter for infants, as Jews were not allowed to use public hospitals or have their own; his father couldn't get a job; and Jews were forced to do things such as clean street bricks with toothbrushes.
Amram often shared with students a photo of the latter and pointed out the onlookers, one of whom was holding a child's hand, teaching that child to be a bystander. This was just one example of Amram's work to spread his message.
"The creativity in the way in which he taught is something that's worthy of remembering. He was clever," Amram's daughter, Sue Summit, said.
He escaped with his parents to New York City in 1939. He graduated from Syracuse University and went on to become a graduate student and begin his career as a speech communications professor at the University of Minnesota. Amram taught in the General College, a school for underrepresented students, and he served as director of the university's antipoverty programs (HELP Center).
Amram taught creativity and used creative problem-solving in research and in the classroom. He saw a problem in students' carrying backpacks on one shoulder in discomfort, so he invented the "Backpack with Removable and Repositionable Straps" to ease the stress on students' necks and backs. He also saw a problem when a student pointed out that all the inventors he taught about were men. So Amram became a pioneer in woman inventor research.
He researched for two decades and published articles and books on the topic of women inventors. In 1989 he met his second wife, Sandra Brick, working on an exhibition for the Patent and Trademark Office in Washington, D.C., called "A Woman's Place Is in the Patent Office." He collected artifacts that reflect women's ingenuity and donated the Amram/Brick Woman Inventor Collection to the Hagley Museum and Library in Delaware.
Brick said Amram was always intellectually curious and had high standards. "He expected people to meet those standards, and I think by meeting those standards, even though sometimes it was grudgingly, I'm a better person for it," she said.
The couple worked on several projects together, including the touring exhibition Lest We Forget: A Survivor's Stories. Amram wrote prose vignettes about the early years of the Holocaust in Nazi Germany, and Brick provided visual art interpretations.
The first showing of the exhibit at the St. Paul JCC (now the Minnesota JCC's Capp Center) included nine pieces and has since expanded to 24 artworks. This month the collection will be at the Twin Cities German Immersion School; in 2024, it will go to the Minnesota Capitol.
Brick and Amram went on to turn the exhibition into a coffee-table art book, published in 2022, titled Lest We Forget: A Visual Memoir. It features 24 of his short stories accompanied by full pages of visual art by Brick. The stories in the prose and art explore Amram's experiences in Nazi Germany and as a refugee in America.
His other books include a memoir, We're in America Now: A Survivor's Stories, and the memoir of survivor Maryla Neuman, Pockets in My Soul. He wrote From Indian Corn to Outer Space: Women Invent in America (co-written with Ellen Showell), African American Inventors (with Susan Henderson) and Creating a Speech. Amram also contributed chapters to books about women inventors and automation and robotics.
He had an interest in these many topics and also enjoyed being active outdoors: going to a cabin and canoeing with family, running, SCUBA diving and climbing mountains.
More recently he completed a novel that Brick and Summit will work to publish. Amram's father told him that his grandfather was a cattle thief, which set up his historical fiction book set in the latter part of the 1800s: A Jew steals cattle from gentiles to give to a kosher butcher.
Along with publishing his novel, Brick and Summit plan to take on Amram's scheduled speaking engagements, and Brick will continue touring the Lest We Forget exhibition.
"He really knew how much he had contributed to the world, and what a difference he'd made and how he prepared me and Sandra to carry on his work," Summit said.
In 2018, Amram told Minnesota Public Radio after regaining his German citizenship, "In Germany, like in so many other countries, there is a growing right wing. And if I can do a teeny part in standing up against that right wing, if I can do a teeny part in saying, no, we really are brothers and sisters, cool. That's what I want to do."
Amram completed one final act of service, donating his body to the University of Minnesota Medical School. Even in death, he is teaching others.
(American Jewish World, March 2023)