This delightful recipe is a mash up of a classic challa with a scrumptious coffee cake
By SHANNON SARNA
There is just something about store-bought coffee cake, especially Entenmann's, that is irresistible. I cannot control myself when it is around. Several times in the past few years my husband has brought one home, in an attempt to make me smile. And of course I immediately yelled at him for buying it. Then I ate the whole thing in one sitting. What can I say — we all have our weaknesses.
My dear friend Danielle recently suggested I should try my hand at mashing up my classic challa with a coffee cake. I nodded my head in enthusiastic agreement and got to work right away.
When my dad tasted the new flavor he said, "Hmmm — tasted just like Entenmann's!" I can't think of a better compliment.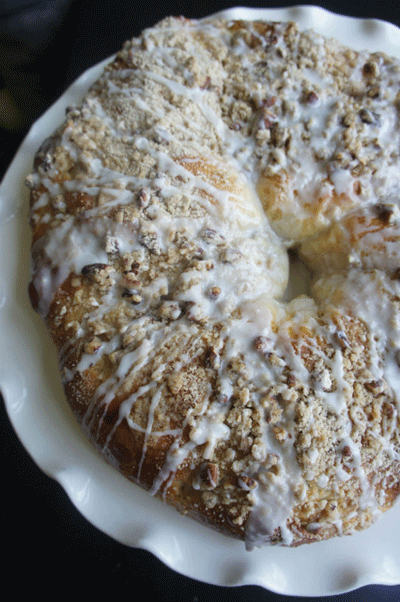 Coffee Cake Challah
Yield: 2 large challas
Prep: 5 hours
Ingredients:
For the dough:
1-1/2 Tbsp. yeast
1 tsp. sugar
1-1/4 cup lukewarm water
4-1/2 to 5 cups all-purpose flour (I prefer King Arthur brand)
3/4 cup sugar
1/4 cup vegetable oil
1/2 Tbsp. salt
2 tsp. vanilla
2 large eggs
For the crumb topping and filling:
1-3/4 cups all-purpose flour
1 cup packed light brown sugar
1 heaping tsp. cinnamon
1/4 tsp. coarse sea salt
1-1/2 sticks cold butter or margarine, cut into small pieces
1 cup chopped pecans
1 egg, beaten
For the glaze:
2 cups powdered sugar
1 tsp. vanilla
4 Tbsp. milk or almond milk
Directions:
In a small bowl place yeast, 1 tsp. sugar and lukewarm water. Allow to sit around 5-10 minutes, until it becomes foamy on top.
In a large bowl or stand mixer fitted with whisk attachment, mix together 1-1/2 cups flour, salt and sugar. After the water-yeast mixture has become foamy, add to flour mixture along with oil and vanilla. Mix thoroughly.
Add another cup of flour and eggs until smooth. Switch to the dough hook attachment if you are using a stand mixer.
Add another 1 to 1-1/2 cups flour and then remove from bowl and place on a floured surface. Knead remaining flour into dough, continuing to knead for around 10 minutes (or however long your hands will last). Don't add more flour then the dough needs — the less flour, the lighter the dough.
Place dough in a greased bowl and cover with damp towel. Allow to rise 3-4 hours.
To make the crumb topping, combine flour, sugar, cinnamon and sea salt in a large bowl. Add cold butter or margarine and mix using a pastry cutter until mixture resembles crumbles. Refrigerate until ready to use.
Preheat oven to 350 degrees.
After the challa is done rising, split the dough evenly in half. Divide each half into three pieces. Roll each piece into a snake and then flatten. Sprinkle crumb topping inside, then pinch sides up to close. Gently roll again to seal in filling. Repeat with all pieces and then braid, forming into a circle and pinching together each end of the braid.
Repeat with second half of dough.
Place each challa on a parchment paper (or silpat) lined baking sheet.
Allow challa to rise another 30-60 minutes, or until you can see the size has grown and challa seems light.
Whisk the egg in a small bowl. Brush on top of each challa. Top each challa with remaining crumb topping.
Bake for 25-26 minutes, or until crumbs are golden brown. Allow to cool 10-15 minutes.
Whisk together powdered sugar, vanilla and milk (or almond milk) in a small bowl. Drizzle on top of challa using small spoon.
***
Shannon Sarna is the editor of The Nosher.
The Nosher food blog offers a dazzling array of new and classic Jewish recipes and food news, from Europe to Yemen, from challa to shakshuka and beyond. Check it out at: www.TheNosher.com.