Mike's Place: A True Story of Love, Blues and Terror in Tel Aviv, by Jack Baxter, Joshua Faudem and Koren Shadmi, First Second, 189 pages, $22.99
Reviewed by NEAL GENDLER
At first glance, Mike's Place appears to be a graphic novel — like a comic book for grown-ups — based around a real event: the suicide bombing of a popular beachfront bar in 2003.
But in their epilogue, writers Jack Baxter and Joshua Faudem say the book is a serious work, sort of an illustrated documentary of the bombing and the shooting of video for their real film, Blues by the Beach.
"We made every event to truthfully chronicle the events around the April 30, 2003, Mike's Place terror attack," they say. "However, it was necessary to fictionalize aspects of this story for efficiency and to protect the identities of some of the characters."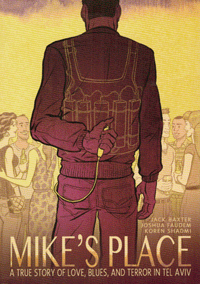 The epilogue includes photos of the owners, Assaf and Gal Ganzman and "Downtown Dave" Beck, so called to distinguish him from bartender "U.K. Dave." We also get photos of the perpetrators.
So how much is real and how much is the imagination of the writers and artist Koren Shadmi? It doesn't much matter, because the book not only tells the story of the bombing but also tells about some parts of life in Israel, with little details verifying the creators' knowledge of the country.
The basic story is that Jack, a freelance documentary filmmaker, goes to Tel Aviv to produce a film about Marwan Barghouti, then on trial for terrorist acts. He discovers that another filmmaker has been working on the same project for a year and, dejected, wanders into Mike's Place, next to the U.S. Embassy.
The bar is portrayed as a nirvana of blues music, friendliness and joy, where talk of politics and religion is banned, where Israelis mix with foreigners and where workers call themselves a family. Gal suggests that Jack make a documentary about the place, calling it "the real Israel — the best part of the Middle East."
Jack proceeds, enlisting film-school graduate Joshua, one of the bartenders, as his cameraman.
We get a lens-eye view of the project, with snippets of interviews of the staff and customers. Several characters are developed more fully. There's a love story and two parts of a love triangle. Then comes the bombing; three people are killed, Jack and others are wounded.
One of the first of several authenticity-building subtleties that might go unnoticed by those who don't know or recall frequent intifada terrorist targets appears in Jack's call home from his hotel to wife Fran, before he wanders into Mike's Place. He tells Fran he's going out, and to her unseen question, he says: "No. I am not taking the bus."
Another is Jack passing by a screeching cat on a wall; Israeli cities are flooded with cats, said to have fruitfully multiplied from those imported in the 1930s for rat control. U.K. Dave is wearing a T-shirt with the Coca-Cola logo, easily recognizable even in Hebrew. And one of the characters goes to an international calling center, needed before smartphones and Skype.
There is mention of army service, both prudish and generous black-hat Orthodox and other Israeli peculiarities, most of it appearing on key — which makes puzzling a mention of the Western Wall by the outdated, somewhat pejorative and inaccurate name "Wailing Wall."
I'm curious about the intended audience for graphic novels, fictional or not. Are serious, lifelong book readers attracted to what appears to be a comic, even one between hard covers? Are graphic "novels" fiction or not, aimed at people with little ability to make mental images or who have short attention spans, as often is attributed — not necessarily accurately — to the young?
While Mike's Place is too thin a story for a traditional book, I hope it reaches its targeted readership, whatever that may be, and beyond. It gives an accurate, and thus positive, picture of numerous slices of Israeli reality — views seldom available to those who only learn of Israel in conflict-centered U.S. news media.
***
Neal Gendler is a Minneapolis writer and editor.
(American Jewish World, 6.19.15)