By ERIN ELLIOTT BRYAN / Community News Editor
When the last of Tammie Rosenbloom's three children went off to college about a year ago, she felt the time was right to pursue one of her own passions: starting her own business.
Rosenbloom is a licensed independent clinical social worker and therapist with more than 25 years of experience working with teens, adults and families. But she's also an active person who loves the water.
So she decided to combine the two to create Walk Talk Therapy, which offers outdoor counseling sessions at some of the Twin Cities' most scenic — and meditative — locations, such as Lake Calhoun and the Mississippi River.
"I moved to Minneapolis over 20 years ago," Rosenbloom told the AJW. "And I noticed that was the big thing in Minneapolis, that people like to socialize around the lake… People would get into really serious conversations when they were walking and it seemed like people felt more comfortable."
Rosenbloom, a member of Temple Israel, operates Walk Talk Therapy in addition to her work at a clinic in St. Paul, where she specializes in working with young adults. She is also adjunct faculty at the University of Minnesota School of Social Work.
She received her bachelor's degree from the University of Wisconsin–Madison and studied abroad for a year at Hebrew University. She earned her Master's in Social Work at Loyola University in Chicago.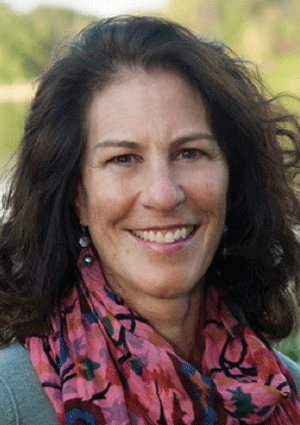 "I got into this field because I, like many other people who get into the field, was really interested in helping people feel better and get unstuck from situations that they didn't know how to solve themselves," Rosenbloom said. "I have more of a cognitive behavioral approach to helping people, which basically means that I'm helping people change the way that they think and feel about situations, and about themselves and emotions that are keeping them stuck or unhealthy."
And by adding in activity and movement, Rosenbloom said she is combining two treatments to help people confront difficult decisions, identify communication issues, deal with grief or loss, and address life transitions, among other things. Though no research has yet to be conducted on "walking therapy," Rosenbloom said she sees the benefits in her clients.
"It seems like it helps people open up more, they seem more relaxed when they're outside," Rosenbloom said. "I'm doing traditional therapy, it's just in a different location. And I think people like the idea of being able to move, and be outside and get the benefits of nature."
Rosenbloom said this type of therapy can be particularly beneficial for people who are anxious and prefer to be moving, or for those who have difficulty making direct eye contact.
Walking therapy is growing in popularity in both New York and Los Angeles, and Rosenbloom believes she is the only one providing this service in the Twin Cities. Critics, however, point to the lack of research on this type of therapy and, specifically, to a lack of privacy when therapists are out with their clients in public spaces.
Rosenbloom said she has had no issues with privacy.
"I have strict boundaries with my clients, it's just a little more informal," Rosenbloom said. "If we come upon a large group of people walking, maybe we'll just stop talking for a little bit until we pass the people. I do let everybody know that I'm not guaranteeing complete confidentiality when we walk because someone might overhear some little snippet of what someone is saying, but up to this point, it hasn't really been a problem for anybody."
Rosenbloom makes allowances for all of her clients and can meet them in a variety of places. Currently, most of her sessions take place at Lake Calhoun or Lake of the Isles in Minneapolis or along the Mississippi River in St. Paul, but she can also meet at an indoor walking track or mall, or in the downtown skyways.
Most sessions last about 50 minutes and Rosenbloom noted that she works with all fitness levels, letting her clients set the pace. She is also open to walking with dogs, as long as they are not a distraction to the process.
"No matter what, most people feel better after a walk, and some people feel a lot better after a walk because they've gotten some things out that they were holding inside," Rosenbloom said. "Based on research, exercise and the movement of walking can really help people improve their overall mood and decrease their stress. And it's very meditative to get into a rhythm of walking, and of walking next to another person… If you're curious about it, call me and let's talk."
***
For information, visit: www.walktalktherapymn.com, or contact Tammie Rosenbloom at 612-987-5258 or: tammie@walktalktherapymn.com.
(American Jewish World, 7.4.14)