By JTA Staff
(JTA) — For some boys reaching the age of Bar Mitzva, donning a prayer shawl and reading from the Torah is exciting enough. But Sam Horowitz knew he wanted more.
The Dallas teen is the star of a Bar Mitzva video (see below) that has gone viral in the past several weeks, earning Horowitz a guest appearance on Good Morning America and more than 760,000 views on YouTube (and counting), though the actual Bar Mitzva happened last year.
In the video, Horowitz is wearing a sparkly white suit as he descends from the ceiling inside a massive chandelier to a lavish ballroom at the Omni Hotel in Dallas for his Bar Mitzva celebration.
Horowitz first came up with the idea after seeing the Cheetah Girls in concert at age 7, according to his mother, Angela.
"He said right then, 'I wanna do that at my Bar Mitzva,'" Angela told JTA. "And he held me to it."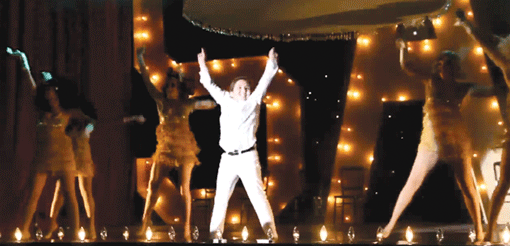 The bedazzling entrance required no small amount of engineering. A stuntman descended in the chandelier with him — a requirement of the production company, according to Angela. The surrounding dancers, expressing their passionate Bar Mitzva joy in flapper-style minidresses, were local talent, including cheerleaders for the NBA's Dallas Mavericks.
According to Angela, it is the first of many times that Sam expects to see his name in lights.
"Sam wants to be famous in the entertainment industry," she said. "He loves to sing and dance. He's a really passionate kid."
Sam already has an agent and has appeared in several commercials, as well as on the Barney & Friends TV show. And now he can add Good Morning America to his list of credits. Last week, the round-faced teen strut his stuff on Broadway for the program's cameras.
"It's like a dream," Sam told anchor Josh Elliott.
Not everyone is so starry eyed, though. Rabbi David Wolpe of Temple Sinai in Los Angeles named Horowitz as Exhibit A in his brief against over-the-top Bar Mitzvas that rob the rite of passage of its spiritual significance.
Writing on the web site of the Washington Post, Wolpe described an "egregious, licentious and thoroughly awful video that… slaughters the spirit."
"To turn a ceremony of spiritual maturation into a Vegas showgirl parade teaches a child sexualization of spirit," Wolpe wrote. "Apparently nothing in our society militates against the narcissistic display of short skirted dancers ushering an adolescent into unearned stardom. If it is fetching, it is worthy."
(Wolpe has since apologized for his column.)
Debra Nussbaum Cohen also chimed in over at the Forward. "Now the kid is, admittedly, adorable. No question about that," she wrote. "But a Bar or Bat Mitzva celebration of this obvious expense and over-the-topness certainly proves the adage that money doesn't buy taste. And it certainly doesn't demonstrate good sense."
Horowitz, though, was not without his defenders. Also writing in the Forward, Eliyahu Federman conceded that the celebration might not be all that the rabbinic sages had in mind, but it was better than nothing.
"We should be commending this young man for celebrating his religious right of passage, not condemning," Federman wrote. "Many Jews don't even celebrate their Bar Mitzva. It is better to have a Bar Mitzva, even with an over-the-top ostentatious celebration, then no Bar Mitzva at all."
Whatever your perspective, Horowitz has shown that he hasn't totally given over his Bar Mitzva to celebrations of excess. Horowitz asked guests at the celebration to make a contribution to the Ben Yakir Youth Village in lieu of gifts, and is requesting that those who watch the performance online to do the same, the Forward reported.
Thus far, $36,000 has been donated to the Israeli youth village, which is home to 120 boys aged 12-18, mostly Ethiopian immigrants.
Below is the video of Sam's opening number: