By DORIS RUBENSTEIN
Since I started covering the arts for the American Jewish World in 2007, I thought I'd touched on all of the arts: graphic and visual, literary, dance, all kinds of music, theater. I was wrong. I'd forgotten about the culinary arts.
It's time to make amends and highlight one of the most recognized artists in that field — and one of Minnesota's own: Andrew Zimmern.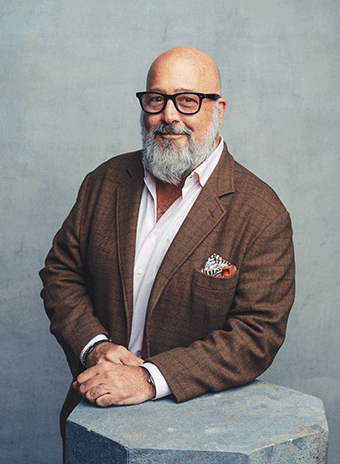 While born in New York City, Zimmern has called Minneapolis home for some 31 years. His career has had him globetrotting, but Minnesota is his base of operations and a place where he can put his feet up and relax, if he ever relaxes.
Zimmern's most recent cable TV offering, Family Dinner, has taken him across the U.S.A. to share dinners with families that reflect America's diverse regional, cultural and religious cuisines. For example, there was a Shabbat dinner with a Modern Orthodox family in Nyack, New York (Season 3, Episode 1, "The Adler Family").
That episode featured food far from what I expected to find on a Jewish table on a Friday night — no roast chicken or brisket, no tzimmes, but a colorful display of international tastes, and all of it kosher.
Zimmern's interest in food is rooted in his early childhood, sitting in the kitchen of his paternal grandmother Henriette. According to Zimmern, this was a woman who lived and died on the same Manhattan Upper West Side block (moving to the other side of the street when she married) and was president of the Mount Neboh Synagogue Sisterhood for most of her adult years.
"I'd sleep over at her house on Saturdays. We'd cook together all day Sunday, and then my parents would join us for a big meal that evening," he recalled.
What did they cook? Traditional foods like brisket and latkes, but also poached salmon and especially Hungarian specialties, taught to Henriette by a Hungarian housekeeper. Zimmern still makes most of his grandmother's recipes, and they can be found on his website.
These early experiences spurred him on to seek a career making delicious food. His one-day college career at the famed Culinary Institute of America (he switched to Vassar College where he got a B.A. degree) convinced him that he'd learn more by apprenticing with top chefs, which he did.
New York in the '80s was overflowing with great restaurants, and Zimmern learned much of his art in the kitchens of such masters as Jacques Pepin and Steven Hanson. Then it was off to Europe for more cooking adventures and lessons with other top chefs.
In Minnesota, he gained local and national fame during his four-and-a-half-year tenure as executive chef of Café Un Deux Trois in the Foshay Tower. His menus received the highest ratings from the Pioneer Press, Star Tribune, Minnesota Monthly and Mpls. St. Paul Magazine, as well as national publications. He was a local radio sensation. Lucky Cricket in St. Louis Park was another Zimmern enterprise, his first brick-and-mortar restaurant.
His favorite local restaurants in those early days? "The original Goodfellows," he responded, "and the original D'Amico Cucina." At the top of Zimmern's local list now are Spoon and Stable, Demi and Mara.
But Zimmern didn't want to be tied down to the Twin Cities; he wanted to give in to his gastronomical wanderlust. How could he do this and still make a living? The internet and cable television were the answer. These were the tools he could use to tell all the food stories he already knew and others that he would create.
The results were two programs on the Travel Channel. He formed his own production companies to do shows and tell stories of his own choosing, like Family Dinner. What was the secret to the success of Family Dinner?
"We spent a lot of time on casting," he said. "It's crucial. We live and die with casting the shows."
Zimmern takes umbrage when his ingredients are called "weird or bizarre" — despite the fact that his Travel Channel show was titled Bizarre Foods with Andrew Zimmern; and the companion recipe books focus on the concepts of the bizarre and weird.
Zimmern pointed out that what is bizarre or weird in one culture is the commonplace and mundane in another. He hopes that exposing diverse audiences to these unfamiliar ingredients and the stories he tells with them will engender a greater sense of patience and tolerance in his audience members.
And Zimmern noted that Webster's Dictionary has a secondary definition for the word bizarre: "unique and interesting."
Unique and interesting. I think that this describes Andrew Zimmern very well, too.
***
Three seasons of Family Dinner are streaming on HBO Max.
(American Jewish World, May 2023)