Reviewed by NEAL GENDLER
Daniel Gordis starts his new book asking: "Is Israel a success?"
His answer, readable and engaging, is yes, absolutely it is — but hardly totally.
"The purpose of Israel was to save the Jewish people," says Gordis, distinguished fellow at Jerusalem's Shalem College and twice a National Jewish Book Award winner. For many, he says, Israel's mere creation was its "most important accomplishment."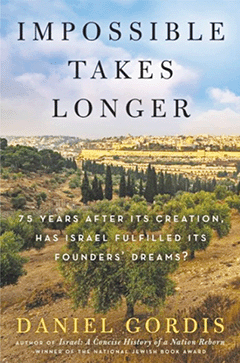 But among founders, "that was only part of the dream; they were also deeply committed to creating a society much more perfect than those from which they had come."
Although imperfect, it's inarguably better for most Israelis than was Europe, where "Jew hatred seemed to ooze from the continent."
Israel is "a dizzying array of contradictions: hated and beloved, with unexpected success and maddening disappointments," a story of triumph and suffering, Gordis says.
Some current problems — like no constitution — stem from 1948 Israel's most immediate and pressing need: survival. Sadly, survival remains the top priority, consuming much national income and energy. But Israel gets so much attention for more than conflict.
"Israel mesmerizes the world because it's an almost magical story" — a nation reborn, a language reconstituted, a nation likely unimaginable at its 1948 declaration of independence, Gordis says.
He quotes the declaration's optimistic articles as a baseline for evaluating Israel's successes and shortcomings. He leaves little territory uncovered and offers sensible suggestions.
Fortunately, American-raised Gordis writes in a simple, flowing manner with a centrist's view, assessing today's Israel so clearly that I'd call Impossible essential reading.
"If Zionism was about creating a 'new Jew,' reviving Jewish civilization and healing the Jewish people, it has succeeded beyond anyone's wildest dreams," he says.
But success can have downsides. The new Jew's ability to defend himself created "the most discussed complication of success, … the acquisition of power"; and continuing conflict over Israel's existence is "the single greatest disappointment of Israel's first 75 years," he says.
"The international community speaks about the two-state solution as if it were obvious that that is what must happen sooner or later," but "among Israelis and Palestinians, more people oppose the idea than support it." He cites polls: In 2021, only 41.4 percent of Israelis supported two states, and in 2022, 58 percent of Palestinian Arabs were opposed.
He presents the Jewish and Arab narratives, apparently irreconcilable. Peace awaits Palestinian Arab leader-ship's acknowledgement to its people that Israel has a right to exist, and the Arabs' sense that they can isolate Israel — and the Israeli fear of isolation — "tragically makes peace unlikely as far as the eye can see."
Arab opposition and uprisings made "the Israeli Left essentially dead," appearing "naive and foolish," he says. Election results show it. But is Israel the "Jewish State" or the "State of the Jews"? He calls the late author Amos Oz wrong in saying a state couldn't be Jewish any more than could a bus or chair.
"I have been assuming … that there needs to be more to Israel than the mere fact that millions of Jews live in it," Gordis says. Success "may very well hinge on how Israel addresses this issue."
Plenty of challenges remain. Israeli Arabs are beginning to enter the tech world but still feel like second-class citizens and live amid rampant, deadly crime. Among the Bedouins, "culture poses a substantial obstacle to integration," Gordis says. Mizrahi Jews recall scorn from "the cultural elitism of the Ashkenazi founders of the state." Ethiopian Jews, working their way up, still encounter discrimi-nation.
And "a state of 'new Jews' had no place" for Shoah survivors, considering them "a badge of shame," he says. Fewer than 200,000 remain in Israel — a quarter of them living in poverty.
For about 40,000 non-Jewish African refugees, Israel "has fallen short of the prophetic admonishment that the weak must be protected," he says; and the Torah's commandment that "you shall not oppress the stranger" has been largely ignored. "Here, Israel has failed."
But successes? Israel is a world leader in technology and medical science, starting from such impoverishment that in 1949, food was rationed to 1,600 calories a day. "In the 1950s, the standard of living for the average Israeli was comparable to that of Americans in the 1800s," Gordis says.
Today's Israel, its upper class well off, has a large impoverished underclass, and home prices have climbed beyond many young couples' reach.
Yet Israel has the world's highest per-capita number of nonprofit organizations, with nearly one million volunteers.
Another problem "is that Israelis and diaspora Jews have still not figured out how to think about the relationship," he says. To what extent should Israelis care about Diaspora Jews' religious preferences — or their views about Israeli security when they don't share Israelis' dangers?
Gordis says "Zionism was a revolution against Jewish patience." No more waiting for the Messiah. "Zionists wanted nothing less than a reimagination from the ground up of what it meant to be a Jew."
In realizing the Balfour Declaration's purpose of "a national home for the Jewish people," Israel "has eradicated heartbreak as the foundational characteristic of Jewish life," Gordis says.
"Israel's successes can make it too easy to forget the magnitude of what has been accomplished."
***
Neal Gendler is a Minneapolis writer and editor.
(American Jewish World, May 2023)