By ERIN ELLIOTT BRYAN / Community News Editor
Jewish families seeking a distinctive and surprisingly affordable venue for a Bar or Bat Mitzva or wedding, might want to consider the University of Minnesota's Campus Club.
The Campus Club is located on the fourth floor of Coffman Memorial Union, on the university's East Bank campus, and offers several event spaces — all with lovely views of the Minneapolis skyline or the Mississippi River. An outdoor terrace provides a 180-degree view along Washington Avenue, including Northrop Mall, and the lounge houses the only bar on campus.
The Campus Club is a 501(c)7 membership organization and "exists for the benefit of our members," according to Phil Platt, the director of marketing and membership. The venue can be reserved by members or those sponsored by members.
Platt noted that most members are faculty, staff or alumni who have a relationship to the university and spend a fair amount of time on campus. But membership is also open to students, regents, parents and donors, and includes a variety of activities and events throughout the year, such as beer, wine and scotch tastings, specialty theme dinners, brunch and more.
And Jane Kerr, the event sales manager, pointed out that a regular yearly membership (there are several options) is "incredibly low" versus that of a city or country club.
The centerpiece of the Campus Club's event space is the 3,270-square-foot West Wing Dining Room, which can seat up to 220 people and features a stunning view of the Minneapolis skyline. A variety of square and round tables can be moved into a number of flexible layouts to accommodate any type of celebration.
The dining room also features a LCD projector and screen, and stylish furnishings and hosts may opt for chair covers and up-lighting.
"The room dresses up nicely," Kerr said. "And the views are always different, with the leaves changing and the light changing."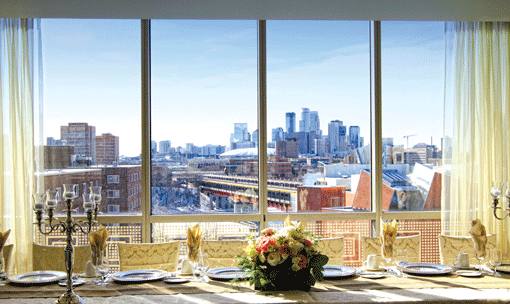 In addition to the dining room, the venue also includes the lounge, the outdoor terrace with ample patio seating, a lobby that can be used for social hours, and several smaller conference rooms that can be used for separate kids' activities. The spaces can be rented individually or the entire Campus Club can be reserved.
The club can also provide space for wedding ceremonies, either outside on the terrace or inside if the weather is uncooperative. Last fall, the rabbis of the Minnesota Rabbinical Association (MRA) changed their guidelines to officiate at weddings outside of a synagogue (9-28-12 AJW).
And the Campus Club welcomes gay, lesbian, bisexual and transgender clientele. Kerr said they already have some wedding events booked, but are anticipating more as same-sex marriage becomes legal in Minnesota on Aug. 1.
The Campus Club is not affiliated with university dining services and employs its own kitchen staff and executive chef, Beth Jones. The kitchen is not kosher, but the club can offer vegetarian, vegan, dairy-free and gluten-free options; staff can also arrange for plated kosher meals to be delivered from Byerly's in St. Louis Park.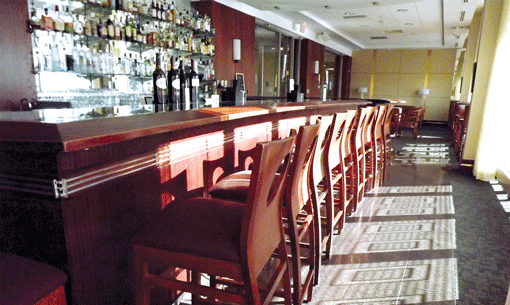 In her role as executive chef, Jones works to buy as much local and organic food as possible. She opts for the highest quality ingredients and always tries to keep it simple.
Much of the local produce comes from the Cornercopia Student Organic Farm, located on the university's St. Paul campus. The Campus Club also has an ongoing relationship with other Minnesota vendors, working to "shorten food miles," according to Jones.
Some of the farms with which the club works are Hill and Vale Farm in Wykoff; Thousand Hills Beef in Cannon Falls; the Minnesota Landscape Arboretum in Chanhassen; Fischer Farms in Waseca; Callister Farm in West Concord; Hope Creamery in Hope Township; and the U of M Dairy, as well as confections from B.T. McElrath Chocolatier and local beer.
Jones allowed that most guests have low expectations for banquet and wedding food, but her staff of 13 works well together to ensure that each dinner is served hot. Efficiency is key and Jones said the staff can serve 200 plated meals in less than 20 minutes.
"We make sure the food the first people get is just as good as the food the last people get," Jones said.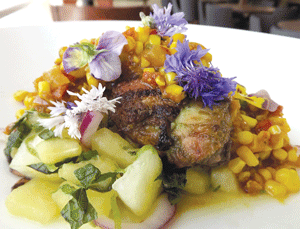 Though she intended to become a lawyer, Jones took a leave of absence to pursue her dream of becoming a chef. She worked in several Twin Cities restaurants before coming to the Campus Club almost seven years ago.
The Campus Club's cuisine, according to Jones, is not like that of an event center, but rather like that of the fine dining restaurants in which she has worked.
"It's more fun for us, it's not always the same," Jones said. "We're constantly playing with our food. Pretty much everything is from scratch."
Among Jones' entrée recommendations are Minnesota Lamb Kabobs or Rainbow Chard and Wild Rice Dolmades. She has also recognized a new trend for teen parties, such as Bar or Bat Mitzva: having separate buffets for the adults and kids.
Both Jones and Kerr stressed that the Campus Club can accommodate special requests and will work with each host on an individual basis.
The Campus Club was founded at the University of Minnesota in 1911 and has been in its current location since 1940. It underwent an extensive remodel from 1999-2003.
With the individual event spaces and plush furniture, Kerr said the space is ideal for multiple generations — offering a comfortable family atmosphere. Those looking for intimate conversations can relax in the lobby or bar; kids wanting to dance can stay in the dining room where the music is loudest.
The Campus Club employs three floor managers and one is always on site to stay in charge of the event.
"When some people see the word 'club,' they assume it's going to be expensive. But we're cost effective and can do a great job," Kerr said. "We'll do whatever works for your needs."
***
The Campus Club is located on the fourth floor of Coffman Memorial Union at the University of Minnesota, 300 Washington Ave. S.E., Minneapolis. For information about booking an event, contact Kerr at 612-625-5089 or: ccsales@umn.edu, find it on Facebook (where daily lunch specials are posted) or visit: www.campusclubumn.org.
(American Jewish World, 6.21.13)