Young Jane Young, by Gabrielle Zevin, Algonquin, 320 pages, $26.95
Reviewed by NEAL GENDLER
For years, it must have been excruciating to be Monica Lewinsky, and for the protagonist of Gabrielle Zevin's new novel, it became impossible to remain Aviva Grossman.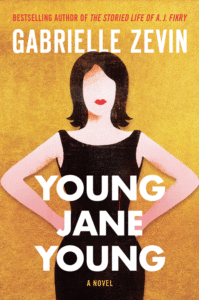 She's the central character of Zevin's Young Jane Young, a rather dark comedy about a college-student intern who falls in love with a handsome former neighbor turned popular congressman. She's naïve enough to put the intimate details into what she thinks is an anonymous blog.
All is exposed after a sudden event, and disgraced Aviva becomes "the slut," the butt of contempt and vicious jokes across south Florida and beyond. She finishes college but finds that despite her fluent Spanish, her non-erasable internet presence has made her unemployable,
So she changes her name and runs off to small Allison Springs, Maine, becoming Jane Young, a well-liked event planner with a newborn daughter. Aviva/Jane's contact with her mother, Rachel, consists of a call or two a year giving scanty information.
All this is obvious pretty quickly, in the book's second of five parts — in several voices — so I'm not giving much away. The first part is an absolute delight — a first-person, near stream-of-consciousness narrative by Aviva's mother, just short of a stereotype of a well-divorced, middle-aged Jewish woman.
Almost all Zevin's main characters are women, most are Jewish, and none remains any too dazzled by men, with good reason. Rachel is trying on-line dating, with predictable lack of swoon — sometimes leaving halfway through dinner but taking the reheatable leftovers with her, of course.
Dating "is like being in high school again," Rachel says. "I don't particularly want a husband. They're a lot of work." But although busy with classes and figure-preserving physical training, she doesn't want to spend the rest of her life alone, "and it would be nice to have someone to go the classes with is what I'm saying."
Zevin's photo suggests she's young, yet she captures characters — particular older women — excellently. For example, Rachel introduces herself to her surgeon husband Mike's mistress of 15 years, a soft-spoken nurse. They have tea. Rachel and Mike divorce, but "the poor woman waited and waited, only to have him marry someone else. I almost feel more outraged for her than I do for myself."
Back to Jane: When we meet her daughter, Ruby, she's eight and very precocious; by 13, she's her mother's assistant, equipped with a company credit card. Most of the events are weddings, and the hours Jane invests with brides and their mothers immerses her in Allison Springs' family secrets.
A bit more mysterious is the town socialite, Mrs. Morgan, a wealthy widow who owns Jane's building, half of Allison Springs and its newspaper; she dominates the town's communal life. Mrs. Morgan takes a liking to Jane and Ruby, which helps their business and Jane's civic stature. Eventually, Mrs. Morgan presses Jane to run for mayor.
Somehow, her opponent knows who Jane was, and thanks to one mouthed word, Ruby figures it out, condemns Jane for lying to her and runs away.
That's all I'll disclose. There's heaps more, unexpected twists unspooling in ways creating both humor and considerable sympathy for the female characters. For the men? Feh! The congressman is the most prominent of several secretly smarmy men, and while revelation of his affair with the twentyish Aviva made her life unbearable, he just cruised on to greater success.
I thoroughly enjoyed this book. I think women will love it.
Young Jane Young is Zevin's third adult novel, following The Storied Life of A.J. Fikry, a four-month New York Times bestseller. She writes splendidly, capturing speech flawlessly. Despite unusual construction, Young Jane Young is clever and easily read, with characters easy to depict because the women are so like some you know. Most of the men are so like some you wish you didn't.
Gabrielle Zevin will read from the book Wednesday, Sept. 6 at 7 p.m. at Excelsior Bay Books, 36 Water Street
Excelsior, and Thursday, Sept. 8 at 7 p.m. at Valley Bookseller, 217 Main Street North, Stillwater.
***
Neal Gendler is a Minneapolis writer and editor.
(American Jewish World, 8.25.17)