'A Campus Divided,' an exhibit at the Andersen Library, documents the University of Minnesota's shocking racism and anti-Semitism in the 1930s, and how students fought for change
By MORDECAI SPECKTOR
Readers of this newspaper likely are aware of the controversy over the removal of monuments to the Confederacy, which culminated Aug. 12, in a rally of right-wing extremists, brawls and the murder of a woman in Charlottesville, Va.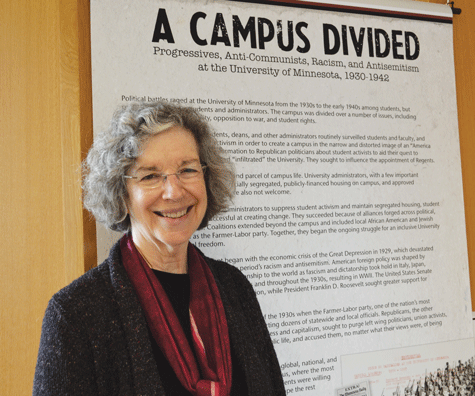 A new exhibit, "A Campus Divided," exposes institutional racism and anti-Semitism at the University of Minnesota, from 1930-1942, and points out that a number of buildings on the campus honor past university presidents (including Lotus D. Coffman and Walter Coffey), who variously upheld racially segregated student housing and systematically discriminated against Jewish students. A debate on campus building names awaits.
The university administration also engaged in the surveillance of politically active students — some branded as "Jew, Communist," or, in the case of Arnold Eric Sevareid, who went on to illustrious career as a World War II correspondent and later on the CBS Evening News, as "Pro-Communist" and "Anti-Fascist."
In the run-up to World War II and a student-led movement against the war, considerable red-baiting took place. The exhibit documents the collusion between Edward E. Nicholson, the university's dean of students, and Ray P. Chase, a Republican Party operative who was adept at political dirty tricks; his Chase Institute issued a flyer charging that the U of M was infiltrated by Communists, and laid the blame at the feet of Minnesota's Farmer-Labor Party governors.
In the 1938 governor's race, between GOP challenger Harold Stassen and incumbent Farmer-Labor Gov. Elmer Benson, Benson charged the Republican candidate with "Jew Baiting" and with having the support of the Silver Shirts, an American group modeled on Hitler's Brown Shirts — in a full-page ad that ran in the American Jewish World, and is on display in the exhibit. Stassen decisively beat Benson, becoming the state's youngest-ever governor.
"A Campus Divided," which is heavy on words, is on display in the Elmer L. Andersen Library, which is located on the U of M West Bank campus, next to Willey Hall, through Nov. 30.
Co-curator Riv-Ellen Prell recently led me on a tour of the exhibit, which is subtitled "Progressives, Anti-Communists, Racism, and Antisemitism at the University of Minnesota, 1930-1942."
(As our tour was to begin, Prell introduced me to John Coleman, dean of the College of Liberal Arts, who also was viewing the exhibit. Hopefully, at some point during the run of the exhibit, the Jewish World will have the opportunity to talk with Eric Kaler, the current U of M president, regarding the university's conflicted history.)
Prell, professor emerita of American studies and a former director of the university's Center for Jewish Studies, traced the origin of "A Campus Divided" to a 1976 article by the late Hy Berman, who was a U of M history professor and well-known political commentator, about political anti-Semitism in Minnesota. Prell said that it was an excellent article, which piqued her interest particularly about the role of the previously mentioned Ray P. Chase, who received information on student activists, both Jews and non-Jews, from Dean of Students Nicholson — "and the Center for Jewish Studies is in Nicholson Hall. And I thought, 'Someone needs to do something about this.' [Nicholson] was so venal, he spied on students," and those working in the Center for Jewish Studies had to look every day at his name marking the building in which they worked.
Prell and Sarah Atwood, a graduate student in American studies, began doing research on this period marked by the onset of the Great Depression, up to the "drumbeat of war" and the decisive historical turn after the Japanese bombing of Pearl Harbor and U.S. entry into World War II.
Prell and Atwood found material in the University of Minnesota Archives about presidents from that era. There were folders marked "Jew" and "Negro" — Prell mentioned that "nothing good" was contained in those files.
For example, in 1936, President Coffman — for whom Coffman Memorial Union on the U of M East Bank campus is named — asked the University Senate to track the number of "Negroes" and Jews attending the university. A document in the exhibit notes an increase for both groups, from 1935 to 1936. Further, the document notes that the student body included "Approx. 125 jews from N.Y. City in Fall of 1936." A note in the exhibit appended to this document explains: "The association of New York Jews with radicalism was a prevalent antisemitic stereotype."
In the face of naked racist and anti-Semitic prejudice, courageous students fought to integrate student housing and expand opportunities for all, and their stories are documented in "A Campus Divided."
A memo marked "CONFIDENTIAL" from the presidential archive was headlined "Notes on Radicalism at the University of Minnesota." Among the "radical leaders," 1934-1937, were Robert Loevinger, "son of Judge Gus L. of St. Paul. Campus agitator and Marxist"; Sherman Dryer, "Jew, Communist. Agitator and publicist…. After graduation — ghost writer for Governor Benson"; and Joe Toner, "Jew. Editorial director of Daily. Radical agitator."
On the African American side, the exhibit documents the case of Ahwna Fiti, a nursing student who was asked to leaves the Nurses Home (later Powell Hall). Other black students had the unpleasant experience of showing up in a dormitory and being informed that they would not be staying there.
Prell pointed out that the student-led fight for integrated campus housing was closely covered in the Minneapolis Spokesman newspaper, which was published by Cecil Newman. The American Jewish World is credited with extensive coverage of the campaign to boycott the 1936 Berlin Olympics, the so-called Nazi Olmpics.
The sweep of the exhibit cannot be encompassed in one newspaper article; however, in the way of Jewish interest, "A Campus Divided" notes that three Jewish students (Renee Rappoport, Rose Olesky and Rosa Lee Feinberg) were urged to withdraw from the School of Dental Hygiene. The rationale given was that they would not be able to find job. Further, they were informed that even Jewish dentists would not hire them, for fear of an "over balance" of Jews working with gentile patients.
Such discrimination, against both blacks and Jews, was frequently justified in such paternalistic terms. Acts of institutional racism and anti-Semitism were framed as being in the best interest of the students being shunted aside.
Prell said that the exhibit shows that "activism for integration on campus, and student rights activism and Jewish student activism are all linked," during the 1930s, "which is this incredibly compelling decade… a very powerful decade."
Getting back to Nicholson Hall and the unseemly deeds of Dean of Students Nicholson, Prell says that the exhibit represents "a conversation about memory, and what we remember and above all whose story we tell…. We're told that we have to keep those Confederate monuments because they honor the heritage of the Confederacy. They never want to talk about the fact that those cities and states are full of people of color whose stories are not told, or whose stories are told as illegitimate, because slavery was appropriate in the eyes of those people."
She continued, "And that's what this exhibit is about: Are we going to say what it was like to be an African American student in the 1930s? Are we going to say what it was like to be a Jewish student in the 1930s?"
***
As part of the Center for Jewish Studies Community Lecture Series, Riv-Ellen Prell will speak on "A Campus Divided: Confronting the Racist, Anti-Semitic, and Red-Baiting Politics of the University of Minnesota from 1930-1942" 7:30 p.m. Wednesday, Sept. 6 at Temple Israel, 2324 Emerson Ave. S., Minneapolis.
And a public event featuring reflections on "A Campus Divided" will take place 5:30 p.m. Wednesday, Sept. 13 at Elmer L. Andersen Library, Room 120, University of Minnesota, 222 21st Ave. S., Minneapolis. The program, starting at 5:45 p.m., will feature Karen Hanson, U of M executive vice president and provost; exhibit co-curators Riv-Ellen Prell and Sarah Atwood; and John Wright, professor of African American and African studies and English. This event is free and open to the public; reservations requested.
(American Jewish World, 8.25.17)