An architect of the 1993 Oslo Accords spoke at Mount Zion on behalf of J Street, the 'pro-Israel, pro-peace' lobby
By MORDECAI SPECKTOR
Yossi Beilin, an architect of the Oslo peace accords who served in Israeli Cabinets and as head of the Labor and Meretz parties, came to Mount Zion Temple in St. Paul on March 31. Beilin spoke on behalf of J Street's "2 Campaign," which is rallying support for United States leadership to help reach a two-state agreement to end the long-running Israeli-Palestinian conflict.
Around 200 people reportedly attended the event at Mount Zion.
Earlier in the day, in which Beilin also spoke at the University of Minnesota, the famous peace campaigner spoke via phone with the American Jewish World.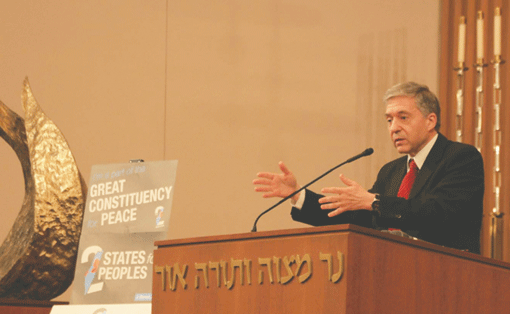 The Jewish community in the Twin Cities has generally been supportive of J Street's efforts. In 2010, for example, Mount Zion hosted a forum on the two-state peace paradigm, which featured Israeli Amb. Colette Avital and J Street founder and president Jeremy Ben-Ami.
That is not the case everywhere — like Philadelphia. Recently, the Jewish Federation of Greater Philadelphia hosted a screening of The J Street Challenge, a documentary film that mounts a sustained political attack on J Street, which ostensibly is trying to "circumvent the Israeli electorate and the country's democracy by seeking to have the U.S government impose a solution [to the Israeli-Palestinian conflict]," as the film's Web site explains. "In pursuing its political agenda, J Street has divided the Jewish community and weakened communal support for Israel."
Beilin said he hadn't heard of the new film; but he told the AJW that he "was very happy" when J Street was established.
"For me, what happened to J Street is a kind of a miracle," he added. "For many years we talked about the need for the liberal majority in American Jewry to raise its voice; because the voice of American Jewry was distorted by only having one voice, or one channel, to express American views vis-à-vis the decision makers on the Hill and in the White House."
Before J Street came to be, a "minority of right-wingers representing so-called American Jewry" spoke to U.S. elected officials about Israel, Beilin explained. "What is so important is that the majority now has its voice, and is supporting peace and supports the two-state solution, without animosity to AIPAC…. But the decision makers today cannot ignore the voice of the Jewish majority."
By most accounts, the current round of Israeli-Palestinian peace negotiations — which were revived in July 2013, through the efforts of Secretary of State John Kerry — are about to expire. The Israelis have balked at releasing the next group of Palestinian prisoners; and the Palestinian Authority is threatening to pursue a unilateral course and apply for membership in a number of international organizations under the purview of the United Nations.
Will peace break out in Israel and Palestine?
"How to know? It's very hard to know," Beilin answered. "I mean, it might take long and it might happen quicker. It depends on circumstances; but mainly it depends on leadership. And I believe that one should not exclude the possibility of peace between the two parties. And we know from history that some of the leaders who supported peace did not begin this way. So I would not give up on anybody."
With the stalemated state of negotiations, Beilin suggested that "for the time being" it might be best to shelve a final status agreement and instead focus on the "second phase of the Roadmap, which is a Palestinian state in provisional borders."
The "Roadmap" to which Beilin referred goes back to 2002, when President George W. Bush outlined a plan for the establishment of a Palestinian state coexisting peacefully alongside Israel. The Roadmap was under the auspices of the Quartet on the Middle East, which included the U.S., the European Union, Russia and the United Nations.
"What should not happen is a crisis, a collapse of the talks and failure," warned Beilin. "This is something which would be unforgivable."
He added, "If the gaps [between the Israelis and Palestinians] are too big, which perhaps is the case right now, then going back to something that both parties agreed upon years ago… might be the reasonable result of the current talks."
(American Jewish World, 4.11.14)