By MORDECAI SPECKTOR
Ravid Kahalani the singer and frontman for the band called Yemen Blues is preparing for a gig in Israel.
"I'm finishing a sound check," he says. "I live in Tel Aviv, but in the moment, I'm in the north… quite close to the border of Syria, I guess. It's a small place called Kibbutz Dan."
Kibbutz Dan appears as a tiny speck on the map of little Israel, near Kiryat Shemona. It is way up north.
It's not a Yemen Blues show, but rather a gig that Kahalani's doing with the bassist Yossi Fine and another musical compatriot. "But it doesn't really matter, it's something small that I do."
During a telephone interview with the AJW last week, Kahalani talked about Yemen Blues, the group's current lineup and new repertoire, and putting across a unique musical vibe to audiences in far-flung locales.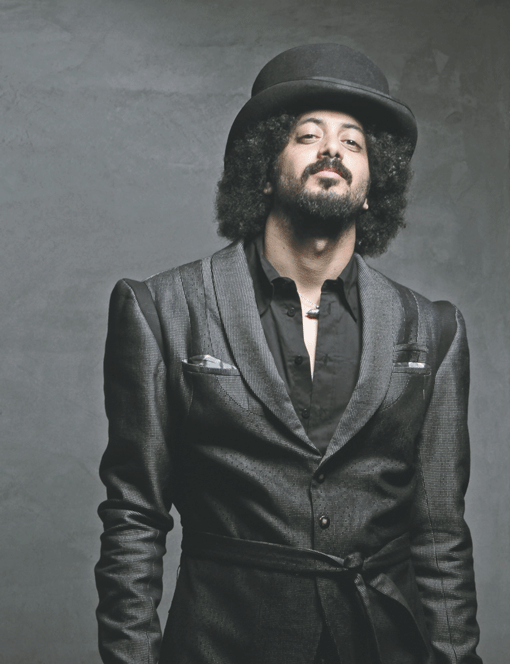 Yemen Blues returns to the Twin Cities on Oct. 27 for a concert at the Ordway in St. Paul. There will be a dance floor for the show.
The group's last concert, in January 2012, was a sold-out affair at the Cedar Cultural Center. A mainly Jewish audience had a blast with the group's eclectic mix of Middle Eastern and North African rhythms and melodies, funk and ancestral Yemenite music.
Kahalani comes from a Jewish Yemenite family that boasts renowned singers going back many generations. He embraces his family's musical tradition, while searching out varied musical influences.
Yemen Blues has been doing shows recently in Israel. "We just came back from Mexico," Kahalani adds.
From the look of the group's Facebook pages, the Mexican audiences were knocked out by the group's compelling musical mix.
The lineup for the Ordway show will include Kahalani on vocals; Shanir Blumenkranz, bass and oud; Rony Iwryn and Itamar Doari, percussion; Itamar Borochov, trumpet; and Raul Navarrette, trombone.
When the band played the Cedar, Omer Avital played base and oud; but he will be playing in China later this month. His group, called the Band of the East, played the St. Paul JCC on Jan. 10.
"Omer Avital did the first album, and played with us for a year," says Kahalani, about his esteemed musical collaborator. "Now he's focusing on his own projects."
Yemen Blues is working on a second album, and will be showcasing some new songs this time through.
Kahalani says the new album will have a greater "focus on the groove, and the rich sound of Yemen Blues, and shorter songs — something that will communicate more with lyrics to reach a wider crowd."
He adds, "We don't have one sound in all the songs." Indeed, the first album takes the listener on a journey through many cultures, and Kahalani likes to sing in a number of languages, from Hebrew to Creole.
"The great thing about Yemen Blues is you can hear so many influences together, and it sounds so organic and natural and complete," says Kahalani.
These many influences include artists working in varied genres.
"I love to collaborate," Kahalani admits. "I do collaborations all the time… with Matisyahu, I did collaborations with Oxmo Puccino, a Muslim French rap guy … with Mariam Hassan, a Muslim singer from West Sahara. Also, when the first album came out, the Kronos Quartet was also talking to us to do a song."
For the new album Kahalani is hoping to work with "a big Yemenite singer from here, Zion Golan."
The Yemen Blues show experience is something that defies translation into prose. But Kahalani has assembled a cast of superb musicians (sadly, there are no women in the group this time), and he is in awe of the musical assemblage surrounding him.
What is he trying for when he steps onto the stage?
"To bring something to the crowd that they will remember," Kahalani replies. "To bring an experience that will be cool and deep together, to bring all kinds of emotions through the performances. It's important for all of the musicians onstage; but for me as the frontman, I really think about it all the time. For sure, above everything there is the message through music that we can give to anyone who comes to our show … All I'm saying all the time, from the first album, and continue to say the same thing and continue to push the same great and positive energy into this understanding of people, and to see that we have fans from Yemen and from Arab countries, and from all kinds of cultures and religions, it's really making something happen … when people come and the music touches them in a very natural way."
***
Yemen Blues will perform in concert 7:30 p.m. Sunday, Oct. 27 at the Ordway Center for the Performing Arts, 345 Washington St., St. Paul. For tickets, go to: ordway.org, or call 651-224-4222.
(American Jewish World 10.11.13)