The innovative clarinetist will play this Sunday with The Bakken Trio in a concert of classical works
By MORDECAI SPECKTOR
Local music fans will have the rare opportunity to hear klezmer clarinet maestro David Krakauer play classical music when he joins The Bakken Trio, the premier chamber music ensemble in the Twin Cities, in a concert Sunday, Oct. 13 at MacPhail Center for Music in downtown Minneapolis.
Krakauer is known around the world for his virtuosity on klezmer clarinet, with his group Klezmer Madness!, which has been rebranded as Ancestral Groove. However, long before coming to the klezmer side, Krakauer was keen about jazz music. But at college he had what he calls a "crisis of confidence," and switched genres, spending 10 years as a freelancer doing chamber music, contemporary classical, orchestral playing and occasional recitals.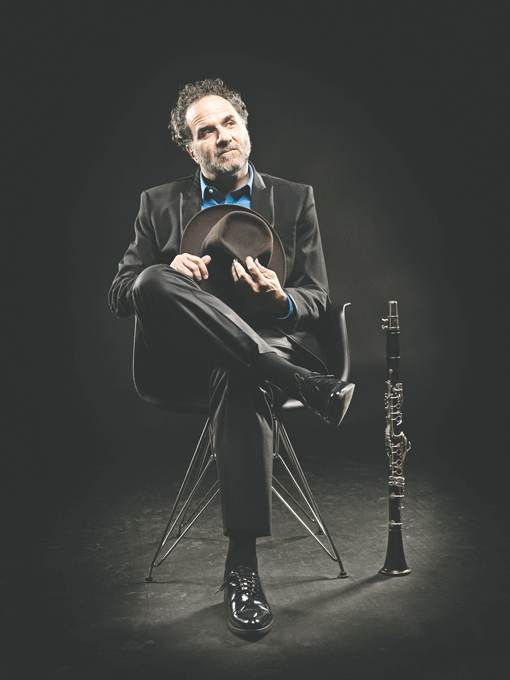 In a recent interview with violinist Cornelius Dufallo, Krakauer said, "After a while I made some headway with some very prestigious associations like the Marlboro Music Festival, a woodwind quintet that won the Naumburg Chamber Music award, a New York recital debut as a winner of the Concert Artists' Guild, chamber music with a wonderful group of people in the New York Philomusica, and countless concerts with many of the New Yorks' new music groups, such as Continuum and the Da Capo Chamber Players."
On Sunday, Krakauer will be in a chamber music setting again; and I'm especially excited to hear him and The Bakken Trio perform The Dreams and Prayers of Isaac the Blind, by Osvaldo Golijov, a 52-year-old Jewish composer from Argentina. Krakauer is featured on clarinet with the Kronos Quartet, in a 1997 recording of this work. It is a beautiful and affecting piece of music, with a remarkably varied palette of musical moods.
"This piece is one of the most successful and important marriages of, let's say, Jewish klezmer music and contemporary classical music," Krakauer told the AJW, during a phone interview last week from his rehearsal studio in New York City. "It's a tremendous achievement to be able to preserve the freedom and the folk spirit of klezmer, and at the same time create this monumental composition."
After composing The Dreams and Prayers of Isaac the Blind, Golijov realized that he had just written a piece "that basically takes the listener on a journey through the three major languages of Ashkenazic Judaism," say Krakauer, who is a friend of the composer. "For the first movement he tried for something very, very ancient. [Golijov] thinks of that movement in Aramaic, roughly speaking, with shofars sounding and all these prayer melodies going through it, and it sounds like [Torah] cantillation and it sounds ancient and biblical, in a way."
"And then the second movement is in Yiddish, because it's the klezmer movement," Krakauer continues, on his tour through the piece. "There are basically two klezmer tunes: one is sort of a slower waltz and then the other one is a faster dance. And then the third movement is a setting of the Rosh Hashana K'vakarat prayer, the shepherd's prayer, and so that's a beautiful, beautiful setting of that. And then there's thematic material from all three movements interweaved everywhere. It's just a tremendous, tremendous composition."
Krakauer ranks Golijov with a few other composers who have succeeded in merging Jewish themes into classical music. He mentions David Schiff, who teaches at Reed College, in Portland, Ore., and wrote the opera Gimpel the Fool, with a libretto by Isaac Bashevis Singer. "He's a very good friend of mine," allows Krakauer. "And he's worked very well in the Jewish idiom, mixing Jewish music and classical music." On the Israeli scene, Ofer Ben Amotz is "wonderful, and then also a woman named Betty Olivero. I've played their music, and these are people who have really found this intersection of traditional folk forms of Jewish music and contemporary classical music."
Returning to the Golijov piece — "a masterpiece" — Krakauer says that he has played it with a quartet and also arranged for an expanded string orchestra. "It works well in both versions."
Krakauer plans to do "a couple rehearsals" with The Bakken Trio ahead of the Sunday concert. The Dreams and Prayers of Isaac the Blind "sounds easy," when you listen to a recording. "It's very mellifluous. It's not a piece of contemporary music that sometimes people get scared of, that's going to be super atonal…. it's tonal, it just goes. But when you get in there and start to work on it, it's tremendously difficult to put together, with a lot of details and a lot of subtleties."
The 57-year-old musician, born and bred in New York, says that he's "played the piece in the area of a hundred times," and the string quartets he plays with often are grateful for his musical insights. "It's always great for me to come in and get into the rehearsal process. It's endlessly fascinating for me: I hear new things every time, even after playing it for almost 20 years now…. I'm very excited to collaborate with The Bakken Trio."
So, Krakauer is a brilliant improviser in the realm of klezmer; his solos start on earth and often take the listener into the far reaches of the musical stratosphere. That is, he plays the hell out of the clarinet and he's a wonder to see live on stage. With classical music, the notes are all written on the page and the players hew closely to the composer's design. Which kind of music does he prefer?
"Here's the thing with the Golijov, also: He wrote the melodies out in a very simple way, and the piece is written for klezmer clarinet and string quartet. So he stipulates in titling it that way, that gives me sort of carte blanche to do some ornamentation and to put my klezmer thing onto it. I always joke with Osvaldo, 'I play all the notes you wrote and I give you 30 percent more.' Very Jewish."
The Bakken Trio's Sunday concert — titled "Laughter through Tears…" — also will include Prokofiev's Overture on Hebrew Themes (with Krakauer), and Shostakovich's String Quartet No. 4.
Performing with Krakauer will be Stephanie Arado, violin; Kenneth Freed, viola; Arek Tesarczyk, cello; and Judy Lin, piano. Arado and Lin, along with Mina Fisher, comprise the artistic directorship of The Bakken Trio, which has a themeline: "Three artists, three visions, one great chamber series."
If classical music fans would like to venture further into Krakauer's musical works, they can check out Abraham Inc., his rap-funk-klezmer ensemble with Socalled, the Montreal-based rapper, composer and bandleader, and trombonist Fred Wesley, who has served as music director for the late legendary R&B godfather James Brown, among other distinctions.
And a new Krakauer project is called The Big Picture, an exploration of Jewish themes in music from iconic films — from Sophie's Choice to The Pianist to Life Is Beautiful. An album will be released shortly (there is a crowd-funding option, with details on Krakauer's Web site: davidkrakauer.com).
"I listened to the mastered version [of the album] the other day, and I was like, wow!" Krakauer enthuses, regarding The Big Picture. "This really gave me the sensation of the history of Jews in America for the last 120 years. And I thought of my great-grandparents, their struggles in coming to America and finding ways to succeed, and, of course, the post-war sensibility of Woody Allen and Mel Brooks and Lenny Bruce. All this music goes through that, takes one on a journey. And we're working now on a film that will actually accompany the concert… there will be this film underscoring all of the memory triggers that this movie music brings up…. We're doing a launch in January, February, at the Museum of Jewish History down in Battery Park. We're doing a run of four weeks, two shows a week."
Perhaps Krakauer will bring the show to the Twin Cities next year. He's doesn't get here often enough.
"It's quite different from anything I've ever done before, but at the same time it's a continuation of my story and the search for identity that I've been involved with for the past 25 years," he adds. "I put this all together with an extremely talented team and am extremely excited to bring this project out into the world to share with the public in the next few months."
***
The Bakken Trio, with special guest David Krakauer, will perform in concert 4 p.m. Sunday, Oct. 13 in Antonello Hall at MacPhail Center for Music, 501 S. 2nd St., Minneapolis. For tickets, go to: bakkentrio.org; for information, call 612-374-3175.