Brooklyn native would be first female in U.S. central bank's top spot
By RON KAMPEAS
WASHINGTON (JTA) — Janet Yellen is soft-spoken, tough, methodological, flexible — and Jewish.
President Obama's announcement last week that he had tapped Yellen, 67, to succeed Ben Bernanke as chairman of the Federal Reserve made news in part because she would be the first woman in the top spot.
That very little was made of her Jewishness likely derives mostly from the fact that she would be not the first or second but at least the fifth Jewish chair of the U.S. central bank and the third in a row following Bernanke and Alan Greenspan.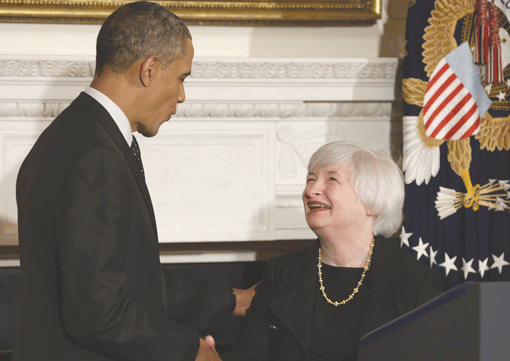 For the first Jewish Fed chairman, one has to go back to the 1930s, when the post was assumed by Eugene Meyer, better known perhaps as the patriarch of the family that ran the Washington Post for eight decades.
Yellen's Wikipedia entry lists her as Jewish based on a reference to a 2001 profile of husband George Akerlof, then a Nobel Prize-winning economist at the University of California, Berkeley. The article noted that the couple attended the Reform Congregation Beth El in the northern California city.
Beyond that, Yellen's Jewish connections are not known. It's not clear if she and her husband are attached to any Washington-area synagogue and local Jewish religious leaders are unaware of any affiliation. The lone Jewish organization to note her nomination, the World Jewish Congress, made more of her gender than her faith.
Profiles quoting her classmates at Brown and Yale universities and at Fort Hamilton High School in her native Brooklyn, N.Y., depict her as a soft-spoken nerd.
Her parents were Jewish, but one classmate's memory of her Brooklyn home evokes an upbringing focused on all-American traditions. Her mom, Anna Blumenthal, was a den mother to Cub Scouts, Rich Rubin told Reuters.
Yellen, who in the 1990s chaired President Bill Clinton's Council of Economic Advisers, went on to become president of San Francisco's Federal Reserve Bank from 2004 to 2010. Obama named her the vice chairwoman of the Federal Reserve in 2010.
News reports about Yellen have focused on her similarities to Bernanke. According to a New York Times profile, Yellen intends to continue and expand his insistence on transparency in how the Fed arrives at its policies, and prizes precision in arriving at formulas to assess interest rates.
Yellen emphasizes unemployment over inflation, and has said she is willing to adjust inflation rates above 2 percent to spur employment.
But some colleagues have noted her past embrace of "hawkish" policies. Peter Hooper of Deutsche Bank wrote in the Economist on Oct. 11 that in the 1990s, as a member of the Fed's Open Market Committee, Yellen pushed to raise interest rates amid low unemployment.
"Ms. Yellen's policy orientation has proven to be flexible and appropriate to the prevailing economic conditions," wrote Hooper, who was a staffer with Yellen on the Fed's Division of International Finance. "I have known her to be a straight shooter, someone whose views are governed by an objective assessment of the data within a reasonable analytical framework."