Puppetry is unique among the performing arts in that it allows one performer with two suitcases of props to create an entire stage play.
Performer Yael Rasooly, as an example, working in the space between two rooms in an Israeli apartment, created Paper Cut, in which a secretary rummaging through her desk is able to act out a cinematic fantasy of romantic love, using cut-outs from movie magazines, desk lamps, and anything else that she can spontaneously turn into a character.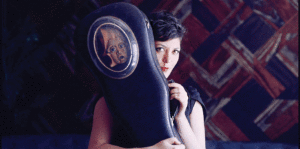 Rasooly, who was born in Jerusalem but spent part of her childhood in Toronto and was educated in London, started out musically. "I started as a classical pianist," she told American Jewish World, "and then, for a while, I thought I would be quite happy being a theater designer.
"But the stage beckons," she added.
"I was really fortunate to discover this field," she explained. "It was impossible to choose one form of art. Quite by chance I found myself in a puppet show."
Rasooly discovered that puppetry allowed her to make use of many disciplines, and also allowed her to tell big stories with a small budget. "I planned to do a really big production," she explained of Paper Cut. "Five actors. Set changes — big transforming sets."
Her original vision proved to be impossible. "I could not get the funding. I couldn't get any funding.
"I started collecting these books. Photos of Marlene Dietrich, Greta Garbo, Cary Grant. At one point I started making these little models. I found myself playing with these objects somewhere between the living room and the kitchen."
Paper Cut debuted in 2009, and has since traveled the world, mostly in Europe; Rasooly thinks it has had 29 total productions, but "only a few times in the U.S."
"When I made the show, I made it for American audiences," Rasooly said. The show borrows from American films from the mid-20th century, as well as incorporating jazz music. "You are the perfect audience, you know the references and the quotes," Rasooly said.
According to Rasooly, "There is an incredible puppetry community in Israel.
"There is a puppetry festival in August in Jerusalem. We have brilliant artists. It's a small community, but it's a special one.
"In Israeli culture we don't have so much the weight of the tradition," she added. "It's such a young country. People have come with so much knowledge and culture from other countries."
Instead, according to Rasooly, Israeli puppeteers borrow from earlier traditions of puppetry, but feel tremendous freedom to create their own traditions, especially since there isn't the sort of institutional support for puppetry in Israel that you find in countries with longer traditions of the medium.
Rasooly describes it as a community that does puppetry mostly out of love for the form, and for its expressive possibilities. "They must do their art," she explained. "In Israel, people that do it are very passionate about it."
Rasooly's one-woman puppet show Paper Cut will play as part of the National Puppetry Festival, 7 p.m. and 9:30 p.m. Thursday, July 20 at Concordia University, 1282 Concordia Ave., St. Paul. Tickets are $15. For information visit nationalpuppetryfest.org.
(American Jewish World, 7.14.17)