By MORDECAI SPECKTOR
In the local music scene, and beyond, Adi Yeshaya has earned a reputation as a talented composer, arranger and pianist. For a dozen years, he was the house arranger for the late Whitney Houston. He sometimes toured with Houston and accompanied her on TV appearances.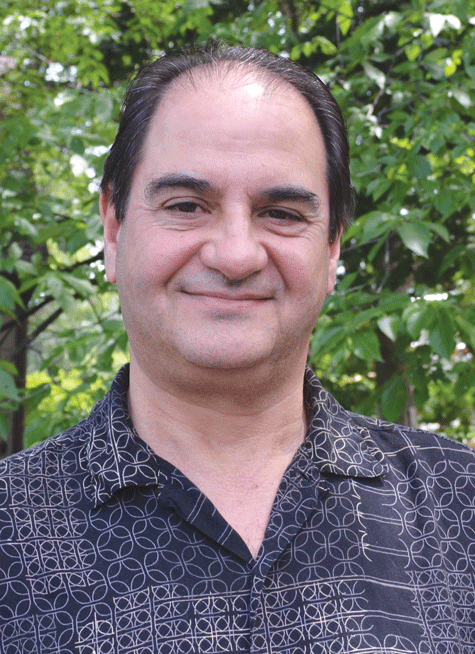 Yeshaya also contributed arrangements to three albums by the Queen of Soul, Aretha Franklin. Burt Bacharach commissioned him to write an arrangement for Italian singer Karima Ammar, for an album Bacharach produced. And he wrote an orchestral arrangement for Lena Horne's album Seasons of a Life.
The Israeli native also has arranging credits over nine seasons of The Voice, the NBC singing show. And then there's his three years of doing string arrangements for Prince, from 2013 to just a couple of months prior to the famous artist's untimely death, April 21, 2016.
Asked whether he ever met Prince, Yeshaya allowed that His Purple Highness usually was not in the studio.
"He was in one session and I was very, very impressed with him," Yeshaya recalled, during a recent visit to the Jewish World offices. "Super articulate and very respectful, and it was a very productive session. I think he was very happy with the results, because after that experience we were hired a lot for the next few years."
Thinking back on those years, the personable, soft-spoken musician reflected, "I sort of lived a parallel life to what was happening in the 'Minneapolis Sound.' I was basically doing jazz and orchestration work all these years. I felt almost like a fish out of water when I first got called to work with [Prince]. It was only then that I discovered how much music there was there, and innovation that came from this town."
Yeshaya arrived in Minneapolis in 1988. His wife, Beth Yeshaya, a jazz singer, is from here. They met at Berklee College of Music in Boston. Upon his arrival, Yeshaya found work as a freelance pianist and arranger, and leading big bands at the Dakota Jazz Club, which was then in St. Paul's Bandana Square.
Plunging further back in his biography, Yeshaya was raised on a moshav, a cooperative farm, south of Tel Aviv, near Rishon LeZion. His mother came to Israel from Bulgaria, after World War II. His father volunteered for the British army, was captured in Libya, and was a prisoner of war in Nazi Germany for four years.
As far as his musical career, Yeshaya said that when he was 13, "somebody hooked me up with Jimmy Smith," the great jazz organist. The album, with arrangements by Lalo Schifrin, intrigued the budding musician, who had to figure out how to recreate the "super attractive" sounds he heard in the background.
"When I found out that was arranging, I had to create some kind of pathway to understand what arranging was and how you do that," he recalled, about the musical role that he has pursued over the years.
In early June, Yeshaya, 58, celebrated the release of Shammer Jam, his second album as a leader, with a big band show at Crooners Lounge and Supper Club in Fridley. The performance featured many of the talented local musicians who played on the album.
The album begins with a song titled "First Snow," a lush and lyrical number reminiscent of a Duke Ellington composition. The second track, the title song, is funky, with a swinging horn section performed by the stellar local players called the Hornheads. Yeshaya wrote all of the songs, with the exception of "It's You or No One," the Sammy Cahn and Jule Styne standard, on which he stretches out on piano.
A song titled "Karr Trip" is an homage to octogenarian tenor saxophonist Dave Karr, who is featured on the track. The senior sax man still has plenty of gas in the tank, so to speak.
And Yeshaya's son, Ethan, 23, plays bass on one song. It's a musical family: daughter Danit, 28, is a singer-songwriter; and 12-year-old son Eliot is a scientist and classical pianist, although his father says that he is not inclined to pursue music as a living. The Yeshayas live in Plymouth.
Regarding the new album, Shammer Jam, Yeshaya said that the project evolved over several years: "I thought to myself, I'm writing for so many people, I have a lot of music out there, but I don't want to end up not knowing what I'm about musically, I want to start finding out."
He started writing music for various ensembles and scheduling studio time. Eventually he had the songs that make up the album, which traverses various jazz genres.
"It was a good exercise… I had a lot of sonorities in my head that I felt like I had to express myself with. And once this is done, I have some ideas about new projects I want to put together that have a little more specific sound to them."
Yeshaya, who is teaching courses on arranging, orchestration and composition at McNally Smith College of Music in St. Paul, mentioned that a future project likely will feature the Israeli music that he heard in his homeland, and will use both American and Israeli musicians.
His fans will eagerly await the results.
(American Jewish World, 7.14.17)