We need to find a way for sports to be important without becoming idolatrous
By ALEXANDER DAVIS
Super Bowl 50 is history. And while the post-game shows reviewed every conceivable statistic — rushing yards, number of sacks, turnovers, etc. — some stats were notably absent. How many brain cells died? How many years of quality life were reduced?
Clearly, there is a disconnect between our endless sports talk and the stories we daily read about brain injuries sustained playing sports. Not even an Oscar nomination for Concussion would have diminished our devotion to sports.
As Minnesota excitedly looks ahead to hosting Super Bowl 52 in a stadium currently under construction for more than $1 billion, another stadium reveals our sports culture for what it really is: America's fastest growing religion.
Back in 2011, Andrew Berlin, the owner of South Bend, Indiana's Chicago Cubs farm team, the Silver Hawks, decided to build a baseball park. The problem was that the park's left field wall would come right up to the doorstep of the then shuttered Sons of Israel Synagogue. Wanting to respect the historic building, the team's Jewish owner devised a solution. He refurbished the shul with love and respect and turned it into America's only ballpark synagogue, the "Cubs Den." Not mincha but merchandise is the name of the game here.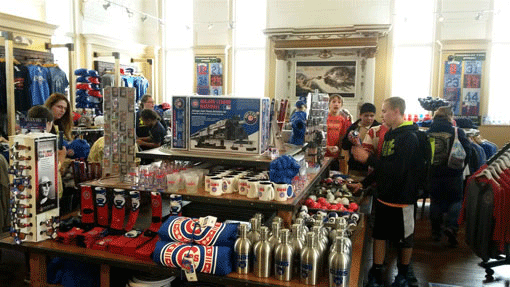 The juxtaposition is a jarring mixture of kitsch and kedusha (holiness). Inside and out, it looks like a shul: there are Jewish stars on the roof, an ornate chandelier and a women's balcony. But the main sanctuary is full of T-shirts, posters and Cubs paraphernalia. Where the bima once rose, cash registers now sit. Where the ark once stood, now rests a copy of the painting from Michelangelo's Sistine Chapel. The painting portrays God's hand reaching out from heaven wearing a baseball mitt proclaiming, "Play Ball."
What is disturbing is not that the shul became a store but that our stadiums have become our temples. Berlin jokes, "Everybody knows that Eve stole first and Adam stole second, so baseball is all throughout the Old Testament." But it is no joke that athletes have become our high priests, willing to sacrifice themselves on the altar of victory, fame and fortune.
I understand that playing and watching sports can be a religious experience. Indeed, fans of my local Vikings team have been doing lot of praying in recent years… often in vain. But for all the excitement, joy and civic pride that come with sports, for all the resolve, discipline and health benefits they instill, there is a danger in treating the Hall of Fame as the Holy of Holies. It warps our priorities, clouds our judgment and distorts our ethics.
CTE (chronic traumatic encephalopathy, a degenerative disease found in people who have suffered blows to the head), Deflategate, FIFA crimes, doping: these issues manifest in scandals but are actually a spiritual corruption. Therefore, they cannot be solved with advanced equipment, better training, new rules and tighter regulations. Instead, we need a timeout to reconsider the place of sports in our society. We need to find a way for sports to be important without becoming idolatrous.
The topic is not new. From Hellenistic gymnasiums to Roman arenas, Jewish tradition has long objected to the culture of the stadium. The rabbis taught that those who visit stadiums sit in "the seat of the scornful," and neglect the Torah (Talmud, Avodah Zara 18b); this is undoubtedly true today. Wednesday "church night" was long ego eclipsed by soccer practice, leaving families to juggle religious school and sports.
And when there is a conflict, the choice is clear: "She made a commitment to her team." What about a commitment to her community? It seems that as much as we like to tell the story of Sandy Koufax privileging Judaism over baseball by refusing to pitch against the Minnesota Twins in the first game of the 1965 World Series that fell on Yom Kippur, today it no longer compels us.
Expecting children and adults to be as excited by Hebrew as they are by hockey is a fantasy league. So what should we do?
Tell a different story.
The Talmud's Rabbi Natan rejected the Sages' advice that one must avoid the stadium altogether. Instead, he allowed people to go to the game but to go and protest. He told fans to shout out to boost the confidence of gladiators facing wild beasts. Shout not to win a match, but literally to save a life. Moreover, Rabbi Natan told people to go to the stadium that they might become witnesses and report when an athlete suffered a fatal blow.
We should adopt the same strategy. To be sure, we must demand more of our leagues, players and owners. But in truth, it starts with us — stadium congregants. We must wean ourselves from worshipping at the altar of sports. Beginning with a kickoff shout of "I cheer for safe sports," continuing at halftime by bearing witness to a violation of Deuteronomy 4:9 ("protect your body"), with a list of athletes whose lives were cut short by sports injuries; and concluding at the final buzzer, whether in victory or defeat, in a protest of prophetic proportions: "Anyways, it's just a game."
***
Alexander Davis is senior rabbi of Beth El Synagogue in St. Louis Park.
(American Jewish World, 2.26.16)