Eli Morgenstern, of the American Jewish Joint Distribution Committee, visited Minneapolis recently to speak about his program that helps Israel's ultra-Orthodox get jobs
By ERIN ELLIOTT BRYAN / Community News Editor
Eli Morgenstern was raised in a large haredi (ultra-Orthodox) family in the Jerusalem neighborhood of Mea Shearim. He was the third of 13 children born to American parents, both graduates of MIT, who had made aliya and devoted themselves entirely to Torah study.
The family lived in a 500-square-foot, one-bedroom apartment and relied on "miracles" from family and friends to keep the children fed and clothed.
"I never considered it when I was a child, because I didn't know there was any other option, but there wasn't any money at home, ever," Morgenstern told the AJW in a recent interview. "My father would say, 'OK, there's no money left, now God should send us money.' And a few minutes later someone would knock on our door and hand him money, or a heater or something else that was needed for the home."
When Morgenstern married and began his own family, he was convinced to continue his Torah studies and never considered working. But unlike the previous generation, when Israel was home to only a few hundred haredim studying to become rabbis, there were now some 50,000 men studying at yeshiva and not working to support themselves or their families.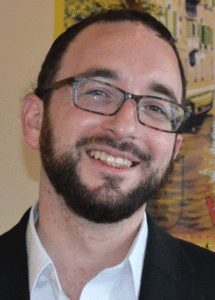 "It's not so special anymore and there's not enough people to come and personally support everyone," Morgenstern said. "I thought there was no reason to work because the miracles are happening. So I'm sitting and waiting, but they never showed up."
Morgenstern is now the project coordinator of career advancement and vocational training for the American Jewish Joint Distribution Committee (JDC), a beneficiary agency of the Minneapolis Jewish Federation. He was in the Twin Cities recently to talk about his own experience and his work with the organization.
Based in Jerusalem, Morgenstern implements programs and strategies to help haredi Orthodox men enter the workforce and move ahead in their careers. But getting into the workforce can be incredibly difficult.
There are approximately 830,000 haredim in Israel, and between 200,000 and 300,000 who are eligible to work (not children or the elderly). Due to tensions between the haredi and secular communities in Israel, and a skeptical view of "the other," haredi men who leave to work outside of the community are "mourned" by their families and friends. And most employers require applicants to have completed their army service, but the haredi are exempt from service for religious reasons.
According to Dan Ben-David, of Shoresh Institution for Socioeconomic Research, who authored "The Shoresh Handbook on Israel's Society and Economy," about 60 percent of haredim live in poverty and the majority of haredi men have no more than an eighth grade education.
For Morgenstern, he ultimately made the decision to pursue a secular education in anticipation of finding a job to support his family. He opted for the Orthodox Jerusalem College of Technology to study electrical engineering, just like his father.
But he encountered a harsh reality: at the age of 28, and married with three children (he now has five), he really didn't know English or more than basic math.
"They said I had to start pre-academic school and maybe even pre-pre-academic school," Morgenstern said.
Morgenstern spent a year and a half in the pre-academic school to catch up on his language and math skills. During that time, he became more knowledgeable about the workforce and knew he wanted to pursue a career that was more social.
He transferred to Hebrew University, where he earned a B.A. in economics and political science.
As part of his studies, Morgenstern had to pitch an economics program that would help the community from which he came. His proposal was to help haredi small business owners become "official," educating them about income and expenses, taxes, advertising, insurance and hiring practices, among other things.
He presented the idea to the JDC. The organization had similar programs in place, so Morgenstern was offered a job to help create ultra-Orthodox employment centers run by and for the haredi community.
In the past 10 years, JDC has opened 10 employment centers throughout Israel, all of which will transition to government control in the next few weeks; there are plans for JDC to open two new centers soon.
In February, the Times of Israel noted that "more than 50 percent of ultra-Orthodox men are participating in the workforce for the first time in recorded Israeli history," citing the Central Bureau of Statistics. It also noted that this is a continuation of a 12-year trend, which began when Israeli Prime Minister Benjamin Netanyahu implemented a series of welfare cutbacks "designed to promote participation in the Israeli workforce."
The data also indicated that 73 percent of haredi women are working and the city with the largest haredi workforce participation is Bnei Brak, where Morgenstern graduated from the Ponevezh Yeshiva.
Morgenstern said the JDC centers have provided services to 40,000 people in the last decade, placing them in entry-level positions with companies such as Intel and Coca-Cola. But the employment centers also offer counseling and mentoring services to help with career advancement after a year and a half.
"This is like opening your eyes and starting to dream," Morgenstern said. "See a few years ahead and not just what we are doing now to make the few shekels we need to support the family."
Morgenstern was accompanied in Minneapolis by Mort Naiman, director of the Jewish Community Foundation and senior philanthropy officer of the Minneapolis Jewish Federation; Daci Platt, Federation's communications manager; and Michael Novick, JDC's executive director for strategic development.
Novick explained that JDC was created 102 years ago, out of the consequences of World War I, to help starving Jews in what was then Ottoman Palestine. He said that JDC's mission hasn't changed and its work with the haredim is another example of how the organization finds solutions to pressing social issues.
"JDC in Israel was the institutional entity that was responsible for building much of the social infrastructure that exists today throughout the state," Novick said, adding that the haredi employment centers are another example of JDC "designing interventions to help Israelis become gainfully employed."
***
For information about JDC and its work in Israel, visit: www.jdc.org. For information about the Minneapolis Jewish Federation, visit: www.jewishminneapolis.org.
(American Jewish World, 2.26.16)