Reviewed by NEAL GENDLER
Almost all Jews know of Anne Frank, and many know of Hannah Senesh, who bravely parachuted into Europe for resistance work but was captured and killed.
But how many know of Zivia Lubetkin, leader of the Labor-Zionist Freedom youth group? A major figure in Poland's Jewish underground, she was the only woman among leaders of the original ZOB — the Jewish Fighting Organization that killed Germans in a small January 1943 Warsaw rebellion. She led Freedom in the famous April revolt.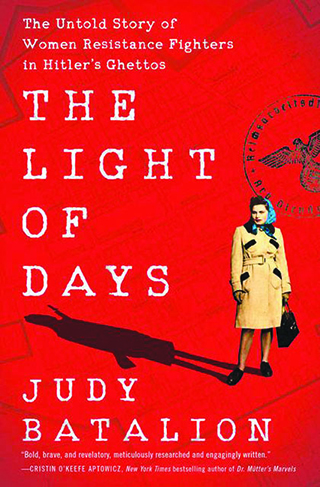 Or grenade-smuggling Renia Kukielka, who at 17 escaped a ghetto; ran resistance missions as Catholic Wanda Widuchowska; and was caught with false papers on a train and tortured nearly to death?
Or blonde beauty Bela Hazan, hired as a Gestapo translator? She was arrested carrying two guns and beaten black, bloody and unable to move.
Or blonde, blue-eyed Zelda Treger, who transported weapons in coffins and fake peasant parcels?
They were among uncounted young women vital to Jewish resistance in Poland — more widespread than generally known. Usually called "couriers," they used their light coloration and enormous courage to pass as gentiles. Every minute on the "Aryan side" risked discovery and death.
In The Light of Days, author Judy Batalion prefers the Hebrew kashariyot, "connectors," moving information and contraband among ghettos, partisans and hidden Jews and even killing individual Germans.
Resistance fighter Chaika Grossman, later a Knesset member, called them "the nerve centers" of the Jewish resistance.
Such women's stories are woven together eloquently by Batalion, an author, academic and museum curator. Granddaughter of Polish Shoah survivors, she grew up in Montreal speaking English, French, Hebrew and Yiddish.
In 2007, researching Senesh in the British Library, she came upon a 1946 Yiddish book, Freuen in di Ghettos (Women in the Ghettos), 185 pages of women's resistance stories, the longest by Renia.
"Why, I kept asking myself, had I never heard these stories?" Batalion says. "Despite years of Jewish education, I'd never read accounts like these, astonishing in their details of … the extraordinary work of women's combat. … Why was Freuen an obscure title instead of a classic on Holocaust reading lists?"
Days fascinates across 452 pages — plus photos, bibliography, notes and index. It's a lot to read, but revealing, inspiring, often sad, and hard to put down. Batalion focuses on left-wing Jewish youth groups but acknowledges the combat of rightist, better-armed Betar in the April revolt.
The book grew from interviews and published accounts, plus scraps of memorabilia, such as surviving postcards with coded messages among women leaders, including Young Guard's golden-haired, much-loved Tosia Altman, who lived as an Aryan for two years, connecting dispersed youth groups.
To learn how diverse, scattered and sometimes contradictory material became Days, I suggest starting with Batalion's Author's Note at the end.
"At first, I imagined that the several dozen resistance operatives mentioned in Freuen comprised the total," she says. But soon, "extraordinary tales of female fighters crawled out from every corner: archives, catalogs, strangers who emailed me their family stories" and dozens of women's memoirs in 11 languages.
She tells most of this story through Zivia and Renia, each of whom wrote memoirs.
Zivia, who'd begun psychological resistance work in 1939, created a courier network known as "Zivia's girls." Batalion says: "'Zivia' became the secret code name for the entire movement in Poland."
Zivia escaped the defeated ghetto through Warsaw's sewers of human waste; hid in Warsaw with help from Aryan-living rebellion leader and future husband Antek (Yitzhak) Zuckerman; and served in the 1944 Polish uprising.
Renia's first mission was in May 1943, taking a train into central Warsaw.
"Renia's new world, the world of the couriers, was a world of disguises, where human worth was calculated by physical appearance," Batalion says. "To live as a Jew on the Aryan side was a constant performance — a life or death acting job that required incessant high-level calculation and reassessment, alongside an animal instinct for danger, a basal sense for knowing whom to trust.
"As Renia knew, it was hard to scale a ghetto wall, but it was much harder to be on the other side, to work and commune, not to mention plot and smuggle."
Batalion devotes a chapter to the Warsaw Ghetto revolt.
Renia, on the Aryan side when it began, watched from just outside, then rode a train to Bedzin, Poland, to inform its Jewish fighters, hearing Poles speaking with "awe" about the Jews' heroism.
Eventually caught, Renia was interrogated, beaten and twice whipped unconscious, hurt so severely she could not sit, lie on her back or move her arms or legs. After a week, a Polish woman prisoner arrived to give Renia a bath. Batalion says: "There was no white flesh left on her body, only yellow blue and red skin, with bruises black as soot." The bath attendant sobbed.
As you might expect, many of the young people we meet and admire don't survive.
Batalion theorizes that the women's stories are so little known because of deliberate downplaying for political or social reasons.
"I had been shocked by the silencing of this story of Jewish women in the resistance," Batalion says. "But the truth was, I, too, had been silent. It would take me a full 12 years to complete this book."
And worth every minute.
***
Neal Gendler is a Minneapolis writer and editor.