The story of Luciano Mejia Morales, a Latino community organizer in Minneapolis, strikes home with members of the Jewish community
By MAXWELL KENT
On a beautiful late-June morning, Miriam Garland, a St. Louis Park resident and Darchei Noam congregant, marched outside the Hennepin County Public Safety Facility in downtown Minneapolis.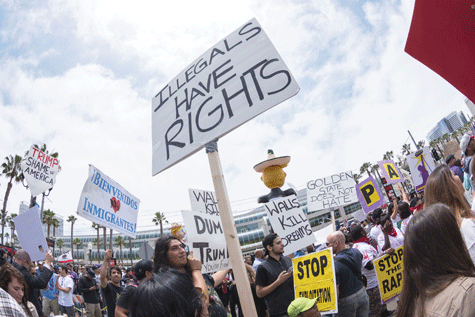 Chanting "No deportation for Luciano, save his life," she was not alone in the local fight for justice in what is considered a sanctuary city.
"I attended this rally because I couldn't not attend," says Garland. "Luciano's life is potentially on the line. He is an example of how immigrants contribute so much and make this country stronger and better."
Garland joined friends, family members and local immigrant rights activists, on June 28, supporting Luciano Mejía Morales, a Twin Cities labor leader who faces deportation to Guatemala.
Mejía Morales, who was part of a recent campaign to unionize janitors, was arrested in June during a traffic stop in Richfield. After he posted a $3,000 bail bond and was released from the Hennepin County jail, federal Immigration and Customs Enforcement (ICE) officials arrested him again.
The June 28 rally was intended to raise awareness about his case and to protest the lack of protections for immigrants in a Minneapolis, which has declared officially that its police officers will not serve as immigration cops.
Like several others at the rally, Garland was alerted to the demonstration by an email from Jewish Community Action (JCA), pleading for Jewish community members to show up. The Twin Cities organization encourages members of the local Jewish community to take action on racial and economic justice issues in Minnesota.
Rachel English, a JCA community organizer, got to know Mejía Morales when she worked for the Center for Workers United in Justice. English says she has noticed an increased number of situations to that of Mejía Morales over the last six months. Specifically, there have been situations where local law enforcement and ICE police apparently coordinated the arrests of immigrants in Minneapolis and St. Paul, both established sanctuary cities.
"We have noticed is an increased cooperation between law enforcement, the criminal justice system and ICE," says English. "Of course they say are not working together, but in the case of Luciano, we know that ICE had access to the [Hennepin County] sheriff's records, so that they could judge when the release date of Luciano was going to be and pick him up right after his release."
Local activists and family members at the rally said that Mejía Morales' deportation not only means the loss of a community leader, but guarantees certain death. According to the International Trade Union Confederation (ITUC), 73 trade unionists were murdered in Guatemala, between 2007 and 2014. On a per capita basis, it's the deadliest place in the world to be a trade unionist. No one has been convicted for any of the murders of labor leaders.
English explains that, apart from the particular facts of Mejía Morales' story, contemporary immigrant issues should resonate with Jews whose ancestors were immigrants not too long ago.
"I think the Jewish community is very connected to its immigrant roots, certainly many of us resonate with our grandparents' generation, particularly in Eastern Europe," she says. "I think it's a very live issue because we know what they faced with the pogroms and discrimination. America provided opportunities for folks to improve their social and economic choices compared to what they could find in their home countries, and that is something that really resonates with people here at JCA."
Beyond learning from the stories of Jewish persecution, English highlights the parallels between the story of immigrants and the Book of Ruth, which is read during Shavuot.
The repression of immigrants in this country is "not OK in a Jewish and human context," English says. "Shavuot, which we just celebrated, is about welcoming a stranger into the Jewish community. I think that's the type of hospitality, both as a Jewish community and an American nation, that we need at this point."
Several weeks after the rally, Garland emphasizes that the Jewish community must continue to denounce unjust legislation targeting Latin American immigrants.
"A few months ago, a group of Orthodox rabbis mentioned that, with respect to immigration policy, we should remember that each human being is created in the image of God," Garland says. "Our actions should be informed by facts and Jewish values, not misconceptions and fear."
Garland, who was joined by her son, Yoni Garland, at the protest, stresses that parents and congregations should feel responsible for teaching the next generation of Jews the value of helping those in need.
"When we as parents 'show up,' and when we place an emphasis on tikkun olam [repairing the social fabric of society], our kids will hopefully follow our example," she comments. "Synagogues can play important roles also by encouraging kids (for example, through their youth and/or social action committees) to work for change and fight for justice."
***
Maxwell Kent is the Jewish World's editorial intern this summer.