Paula Rubin, who survived Auschwitz and Bergen-Belsen, and was a successful businesswoman in St. Paul, died at 92
By ERIN ELLIOTT BRYAN / Community News Editor
Paula Rubin wasn't comfortable talking about what happened to her as a young Polish woman during the Holocaust.
"It's easier for me not to talk. I get very depressed to talk about it," Rubin told St. Louis Park Magazine last September. "I'm 92 and thank God I'm alive. I hope the younger generation doesn't forget what happened."
Remembrance
Rubin, who grew up in Lodz, Poland, was forced into the city's ghetto before being deported to Auschwitz and later Bergen-Belsen. She was among those liberated by British soldiers in 1945.
She met her husband, David Rubin, in Germany, where they married and welcomed their first daughter. They immigrated to the United States in 1951, settling on the West Side of St. Paul, and later became the owners of Rubin's Kosher Meats, a thriving business that succeeded, according to her children, due to Rubin's intuitive business sense and her outstanding customer service.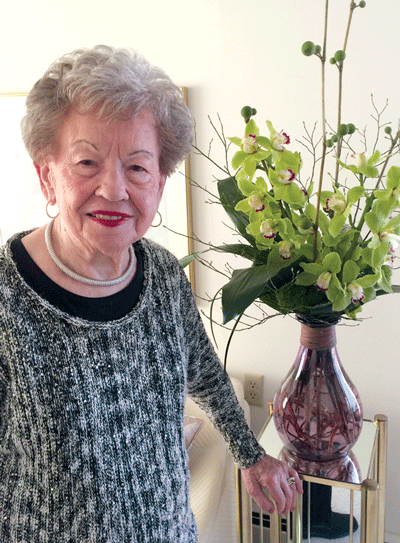 Rubin died Jan. 4 at the age of 92.
"My mother was a real trailblazer," daughter Doree Glaser, of Los Angeles, told the AJW. "She was, for her generation, very unusual. She was a woman who had a foot in two different worlds: she was a traditional Jewish European woman, but she was also this very modern businesswoman, juggling career and family."
Rubin was the second of four children born to Josef Gurt, who made a living selling hats, and his wife, Mindel. She had an older sister, Bess, and two younger brothers, Morris and Avraham. She was just 17 years old when the Germans invaded Poland in 1939.
"They told us to go, grab what we could. 'You are going to the ghetto,'" Rubin told the magazine.
During her time there, Rubin worked in a factory making shoes and on a crew that cleaned up bricks and debris left by bombings. One day, a woman passing by on the road threw her a piece of bread.
"She felt sorry for us," Rubin recalled. "A [German] soldier saw me get it, and the soldier broke my arm."
She was eventually deported to Auschwitz and later transferred to Bergen-Belsen, always doing hard labor.
After liberation, Rubin was reunited with her sister Bess and brother Morris. Her father had died of natural causes, and her mother and youngest brother died in the camps, along with grandparents, cousins and countless other family members. But she rarely spoke of her experiences.
"She never wanted to burden us with her history," daughter Rosie Gellman, of Golden Valley, said.
Rubin met her husband, David, in Germany. He grew up in Pułtusk, Poland, and had spent most of the war in Auschwitz. The two were married and lived in Germany for several years, welcoming daughter Doree in Frankfurt in 1949.
The family considered moving to Israel and spent some time in New York, before coming to St. Paul in 1951, where David, who was a butcher, was told he could make a good living.
"The options were either Omaha, Sioux Falls or St. Paul, because there would be job opportunities," son Joseph Rubin, of Plymouth, said. "My dad's comments were, 'It was destiny. If they said we're going to St. Paul, we're going to St. Paul.'"
David got a job at the Armour and Company meat packing plant in South St. Paul. He worked the first shift each day, starting at 6:30 a.m., and then worked a late afternoon/evening shift at a kosher butcher shop in St. Paul.
He eventually purchased the butcher shop and opened Rubin's Kosher Meats on Selby Avenue. The family moved to Highland Park in the early 1960s and later relocated the business to Randolph Avenue.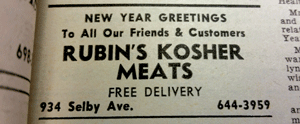 "My parents were great business partners," Joseph Rubin said. "My mom was the business leader, my dad was the physical force. We used to say the brain and the brawn."
"She oversaw everything," Gellman added. "People will still joke about that, that whatever my dad cut, my mother had to make sure it was right, that it was done correctly."
Rubin had no formal business education, but was incredibly intelligent. She handled all of the business matters, including inventory, accounting and, most importantly, customer service.
"My mother really loved people," Glaser said. "And that's also part of what made her such a good businesswoman. The customers really enjoyed coming into the store, and she knew them and would ask about them and was truly interested."
In addition to her full-time job at the butcher shop, Rubin made a home-cooked meal each night. She took Fridays off to prepare the Shabbat meal and always baked challa.
"My parents were not afraid of hard work," Glaser said. "They wanted the best possible life for their children. Their family came first, and they knew that to accomplish that they had to work hard so that we would have every opportunity. And they had to do it all themselves because they didn't have anyone to help them or open any doors. They were really self-made people."
Rubin adored her six grandchildren and two great-grandchildren, and had special connections with each of them, particularly her oldest grandson, Josh, who would fly from Los Angeles to St. Paul each summer to spend time with his grandparents.
"Those were the times that were most precious to him," Glaser said of her son.
David died in 2005, and Rubin had lived at Knollwood Place Apartments for the last 11 years — Joseph Rubin often referred to her as the "Queen Social Bee of Knollwood." There, she managed the money for the weekly bingo game, lit the Shabbat candles each Friday and was a valued member of the welcoming committee.
During her time at Knollwood, Rubin was asked to be part of a mentorship program that paired students with Holocaust survivors. She and her husband were also interviewed about their experiences for Steven Spielberg's Shoah Foundation.
"It has been amazing, the outpouring of love and support that we have received from the community, hundreds of cards, letters, donations," Gellman said. "It doesn't matter if it's the nurse at Knollwood, the administrators at Knollwood and Sholom, the bus driver at Knollwood. Each and every one of them has said how much she has touched their lives and how they will never forget her strength and courage."
Rubin remained active and engaged until about six months ago, and walked down the aisle and danced until midnight at her granddaughter's wedding last June.
"I don't think anyone who knew her will forget her," Glaser said. "I think she lives on in the hearts and the memories of every single person she encountered and who knew her, and I can't imagine a greater legacy."
Rubin is survived by her children, Doree Glaser (James Brown), Rosalie Gellman (Andrew) and Joseph Rubin (Marguerite); grandchildren, Joshua Glaser (Paola), Adam Gellman (Cassie), Hart and Lauren Gellman, Ashley Agres (Serge) and Alex Rubin; and great-grandsons, Noah and Rory Gellman.
(American Jewish World, 3.11.16)