Notorious RBG: The Life and Times of Ruth Bader Ginsburg, by Irin Carmon and Shana Knizhnik, Dey St., 227 pages, $19.95
Reviewed by NEAL GENDLER
Not so long ago, gender discrimination was legal, an injustice that Ruth Bader Ginsburg has made it her life's work to end.
Ginsburg, now a U.S. Supreme Court justice, graduated at the top of her Columbia University law school class in 1959 but couldn't find work until one of her professors told a federal judge to hire her or he'd never send him another clerk.
In 1961, she accepted a lunch invitation at Harvard Club — entering through the small side door for women — and agreed to co-author a book on Swedish civil procedure. Sweden showed her a society freeing women from gender limitations.
Ginsburg decided she didn't want a conventional law practice, and her career is recounted in the well-written, captivating Notorious RBG.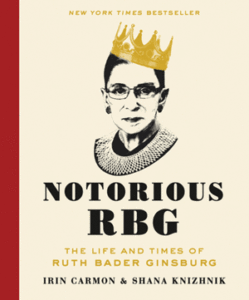 In 1963, she began teaching law at Rutgers University, where she volunteered with the American Civil Liberties Union and, say authors Irin Carmon and Shana Knizhnik, "her days of quiet acceptance [of discrimination] were over." Women professors were paid less than men and she helped file a successful class-action lawsuit.
Ginsberg's 1993 elevation to the Supreme Court — the second woman justice (with Sandra Day O'Connor) — made her a voice that cannot be ignored, neither by fellow justices nor, when she's outvoted, with strong dissents that belie her fragile appearance.
For example, in the famous Citizen's United case dealing with the regulation of campaign spending by organizations: "I think the notion that we have all the democracy that money can buy strays so far from what our democracy is supposed to be." In an Affordable Care Act case that made Medicaid expansion optional: "This rigid reading of the Commerce Clause makes scant sense and is stunningly retrogressive." And in an affirmative-action case: "Only an ostrich could regard the supposedly neutral alternatives as race unconscious."
"People who think she is hanging on to this world by a thread underestimate her," say Carmon and Knizhnik. They say she's a perfectionist who has toiled until dawn and whose twice-weekly workouts with a trainer include pushups. "RBG's main concession to hitting her late 70s was to give up waterskiing."
Ginsburg, 82, has survived cancer and the 2010 death of her gregarious husband of 56 years, tax attorney Martin Ginsburg — a cooking devotee who "would consume cookbooks like they were mystery novels" — and she "does not like being told to slow down."
Irritated by calls to retire while President Obama could appoint her successor, she says it'll be time to go "when I forget the names of cases that I once could recite at the drop of a hat."
The Notorious RBG idea began when a Knizhnik law school classmate jokingly used the term on Facebook. Aghast at the high court's "gutting of voting rights" but brightened by "the unfettered rage of Justice Ginsburg," Knizhnik took to Tumblr to create a tribute, contrasting the large, swaggering rapper and "this tiny Jewish grandmother" who could "pack a verbal punch."
She and Carmon did the book's research and journalist Carmon wrote it. Interviewees included Ginsburg, who apparently approved of the book — parts of which she fact-checked — and its title.
Her name first came before the Supreme Court in 1971, on a brief successfully challenging an Idaho law preferring men over women in administering an estate. Her first solo appearance was in 1973, persuading the majority that Air Force officers' husbands were entitled to the same benefits as officers' wives. Quoting Sarah Grimké, abolitionist and suffragette, she concluded: "I ask no favor for my sex. All I ask of our brethren is that they take their feet off our necks."
In 1972, she became Columbia Law School's first tenured female professor with the understanding that she also would devote time to the ACLU, where she co-founded its Women's Rights Project.
On the high court — which unusually has three Jews and six Catholics — Ginsburg seeks to be persuasive, not strident, and is pals with her judicial opposite, Justice Antonin Scalia.
Notorious RBG is a delightful presentation that includes margin notes analyzing some Ginsburg opinions, a timeline, charts showing victories and dissents, photos, cartoons, drawings, and even a two-page, illustrated description of her workouts.
The authors show that Ginsburg's zeal for equality and justice is based on the principle of tikkun olam, repairing the world, which most Jews would applaud. Approval likely is less universal for the authors' inclusion of "RBG's Favorite Marty Ginsburg Recipe."
It mixes milk and meat. And not just any meat. Pork.
***
Neal Gendler is a Minneapolis writer and editor.
(American Jewish World, 1.1.16)