By MORDECAI SPECKTOR
Although most Americans are unaware of the fact, there is a war raging in Ukraine.
In early February, according to press reports, more than 2,260 Ukrainian soldiers had died in the fighting with separatist and Russian troops, since the spring of 2014, when conflict broke out in eastern Ukraine.
The death toll nearly matches the 2,381 American soldiers killed in Afghanistan, over 14 years of combat operations, as noted in The Daily Signal, a Heritage Foundation publication.
Masha Shumatskaya, an internally displaced refugee of the war in Ukraine, recently visited the AJW offices. Her stop in the Twin Cities came during a North American tour on behalf of the American Jewish Joint Distribution Committee (JDC, or "the Joint"), which has been providing food, medicine and other daily necessities to Jews suffering privation in Ukraine.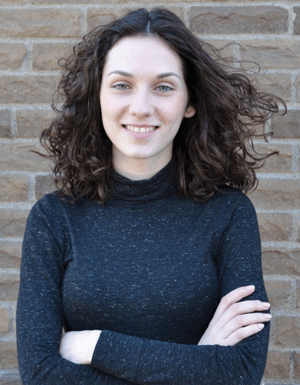 During her travels around the United States, Shumatskaya, 25, found that "the majority of people" thought that the war in Ukraine was "over, because they don't hear it on the news here. It's kind of eye-opening information for them that war is still continuing in Ukraine…. People usually don't realize what's going on in my country."
A native of Donetsk, Shumatskaya recalls when the war came to her city.
"It started in May 2014. Something that we called 'the war' happened — it's not officially called the war, in Ukraine, it's called 'anti-terroristic operations' — when pro-Russian separatists started shelling our airport along with some residential areas."
The shelling and shooting in Donetsk, which is controlled by the Russian-backed insurgents, continues nearly two years later, she adds.
"We don't have an international airport anymore. It's leveled to the ground."
At the end of June 2014, Shumatskaya, along with a girlfriend, fled to Kharkov. Her parents are divorced; her father remains in Donetsk, and her mother moved to Israel about eight months ago.
Following what's known as the Euromaidan Revolution, the 2013-2014 uprising in Kiev and across Ukraine, President Viktor Yanukovych fled the country, and a new government oriented to the European Union took power. Russia refused to recognize the new government, annexed Crimea and Sevastopol, and backed rebel forces in the Donbas, a region in eastern Ukraine.
If readers would like to learn more about recent events in Ukraine, the uprising against Yanukovych is chronicled in an amazing documentary, Winter on Fire, by Russian-Israeli director Evgeny Afineevsky. The film takes viewers into the midst of the extremely dangerous protests and government repression, on a day-by-day basis over several months of chaos in Kiev. Winter on Fire was nominated for an Academy Award this year. (Amy, about Amy Winehouse, the late Jewish soul singer from London, won the Oscar in the feature-length documentary category).
Prior to the outbreak in May 2014, Shumatskaya remembers "there were people wearing masks and carrying weapons, and they established checkpoints in some smaller cities in the Donetsk regions, closer to Kharkov actually." The separatists then moved to Donetsk and began shelling the airport.
Ukraine, which is saddled with fighting Russian-backed separatists, has defaulted on its international loans. In the rebel-held eastern provinces, residents cope with "insufficient food and skyrocketing prices," according to Shumatskaya, who adds that medicine also is in short supply.
The JDC has operated welfare centers in Ukraine for the past 24 years, and "is helping elderly people, families in need and children at risk all over Ukraine… mostly Jews," she explains. A number of humanitarian relief groups have been kicked out of separatist-controlled areas; however, the JDC continues to operate in the region.
"It is playing a significant role in the lives of people who are either displaced, like me — we're not officially called 'war refugees'; we're called 'internally displaced people' — providing food, medication for those who are in need… buying electrical appliances, purchasing warm footwear and clothing, paying utility bills that have risen significantly in the past half year."
"A lot of people need help," Shumatskaya continues. The JDC also helps those "stuck in the war conflict zone. They also get food packages and medication."
The Joint also is "putting a lot of effort into [Jewish] community engagement, both in the Russian rebel territory and in Ukraine," comments Shumatskaya. "There were a number of events this Hanuka all over the Russian rebel territory, in Lugansk, in Donetsk. There was a huge event of Hanuka for 650 people in Dnipropetrovsk, for elderly people and for internally displaced people."
War in Ukraine, which is no longer making headlines in the U.S. press, seems like something from another world. And for Masha Shumatskaya, war in her homeland is not something she expected to be dealing with in her 20s. The future is sort of imponderable, as she considers moving away from Ukraine. In the meantime, she lives with her boyfriend in Kharkov, and is working as an English language tutor. Her English is very good.
***
For information on the Joint Distribution Committee work in Ukraine, go to: bit.ly/jdc-ukraine.
(American Jewish World, 3.25.16)