Like many American Jews, I'm here because Cossack militia men wanted to kill my grandparents. They fled to the United States from Kyiv and Odessa. My paternal grandfather, Benjamin Specktor, from Tiraspol, which is now in Moldova, was serving in the czar's army in Siberia. He received orders to return to his hometown to attend his father's funeral, and he kept on going, making his way to Canada and then slipping across the border to the U.S.
When Russia began its most recent invasion and bombardment of Ukraine, on Feb. 24, I scoured the news and social media for updates. I also found my Grandma Waller's passport, a family keepsake that was recovered when cleaning out our family home in Mendota Heights following my mother's death in 2011.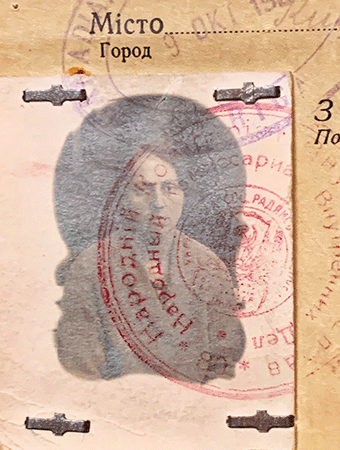 When the subject of immigration comes up, you generally need to assess many varieties of rhetorical cant. The right-wing pundits in this country tend to focus on the "invasion" of brown-skinned migrants coming across the southern border. The Irish writer James Joyce once said something to the effect that "America is the sweepings of all nations"; i.e., apart from the Native people, along with Black people whose ancestors survived the transatlantic slave trade, we're here in the U.S. mainly because our forebears didn't want to starve in the Old World or become cannon fodder in some insane imperial war.
Regarding my maternal grandmother's Soviet passport, she lived in Kyiv and the document is actually from the Ukrainian Soviet Socialist Republic. Some of the writing on the document is in both Ukrainian and Russian. Her maiden name was Rebecca Levenberg, and she was 22 when she came to America in 1923. She lived through the Russian revolution, civil war and anti-Jewish pogroms perpetrated by Cossack militias.
My grandmother's passport has myriad immigration stamps: apparently, her escape route included Riga, Latvia; London; and Halifax, Nova Scotia. I'll have to look again to see if there's a U.S. immigration stamp — perhaps not. I recently heard from a relative that she crossed from Canada into the U.S. illegally. In any case, she ended up living on the near Northside of Minneapolis, one of the landing pads for Jewish immigrants in the Twin Cities.
She attended an elementary school in Minneapolis, and I recall her mentioning that the first grade students in her class thought she was a teacher, as she was in her early 20s. When I was a child, one of our exciting adventures — for me and my brother Murray — was being put on a bus by the Ford Assembly Plant in Highland Park and traveling to Plymouth Avenue in Minneapolis. Grandma Waller met us at the bus stop, then took us to downtown Minneapolis for lunch at the Forum Cafeteria, a movie and, perhaps, a visit to a pinball arcade on Hennepin Avenue.
I mention all of this as a preface to a recent post on Facebook by Larry Derfner, an American journalist who made aliya in 1985. He wrote: "I know this is a week or so late to say, but Jews should not close their hearts to the Ukrainian gentiles of today because of what their grandfathers or great-grandfathers did."
I commented on Derfner's post, mentioning that my grandparents fled the Old Land of Woe to avoid being murdered. And I added, "In any case, we should support the courageous Ukrainians defending their country from Putin's onslaught of fire and steel. He should be in a cell in The Hague, facing war crimes charges."
At this writing, it's unclear how the Russian invasion of Ukraine — which follows on the 2014 annexation by Russia of Crimea and occupation of the Donbas region, which Putin recently declared to be independent territories — will play out. Around the world, thousands of people have gone into the streets in solidarity with Ukrainians resisting Russian aggression. And protesters in Russian cities — Moscow, Saint Petersburg, etc. — also have called for an end to the war in Ukraine. Police have arrested around 2,000 6,500 14,000 Russians protesting peacefully against Putin's war. Some demonstrators have been carted off by riot cops merely for holding up a blank sheet of paper.
The defiant figure of Volodymyr Zelensky, Ukraine's Jewish president, has inspired millions of people around the world. A popular TV actor, Zelensky came to prominence on the comedy series Servant of the People, playing a teacher who improbably becomes president of Ukraine. He has risen to the current crisis as a person embodying the hopes of his fellow Ukrainians in the face of the brutal invaders. He has derided Putin's claim that the "military operation" is an attempt at "denazification" of Ukraine, by noting that three of his Jewish grandfathers fought and died in the war against Hitler.
Finally, I've been worried about Masha Shumatskaya, a native of Donetsk, Ukraine, who visited the Jewish World offices in 2016 — my story can be found on our website. When Masha visited the Twin Cities, she was an internally displaced refugee of war in Ukraine, traveling in the U.S. under the auspices of the American Jewish Joint Distribution Committee (the JDC, or "the Joint").
During the recent Russian invasion, Masha fled from Kharkiv to Lviv, which is in western Ukraine, close to the border with Poland. She seems to be okay, as per her posts on Facebook and Instagram, in which she pleads for help for Ukraine and for NATO forces to #CloseOurSky, intercede against Russia's aerial bombardment.
Jewish World readers can help the people of Ukraine in this time of crisis by donating through the JDC or other humanitarian groups. Everyone can do something.
Mordecai Specktor / editor [at] ajwnews [dot] com
(American Jewish World, March 2022)