by MAX SPARBER
Community News Editor
"I was a Ritchie Boy," Walter Schwarz wrote for American Jewish World on Oct. 30, 2009. Schwarz, who died Dec. 13, 2018, at age 97, detailed discovering that there was a documentary about the Richie Boys, a collection of military officers and enlisted men trained at Camp Ritchie, Md., to engage in counterintelligence in Europe.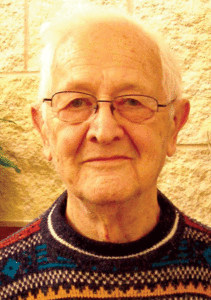 Most of the Ritchie Boys spoke German. Many of them were Jews who had fled Europe to escape the Nazis, as the Romania-born Schwarz did.
The documentary, called The Ritchie Boys, was released in 2004 and included interviews with 10 veterans of the counterintelligence group. "I do not appear in the movie," Schwarz wrote, but he knew one of the interview subjects, Dr. Guy Stern, who had moved on to work as director of the Holocaust Memorial Center of Michigan.
Schwarz began to arrange screening of the film locally, and, with the help of the Jewish Historical Society of the Upper Midwest and the Center for Holocaust and Genocide Studies at the University of Minnesota, he brought Stern out to speak. It was the first time the two men had met since the end of World War II.
Stern and Schwarz enjoyed a warm reunion, and then said their farewells as he left for the airport. " I did not expect to see Guy again, since we were both close to 90 years old," Schwarz wrote, but Stern was moved enough by his experiences in Minnesota to organize a Ritchie Boys reunion, the first ever, in 2011. Stern also continued to return to Minnesota to speak.
In her eulogy at Schwarz's funeral, Cantor Rachel Stock Spilker of Mount Zion described the moment Schwarz realized he and his family should leave Europe: "He was attending post-secondary school in Brno, Czechoslovakia, in 1938 when the Nazis closed schools to Jewish students," Stock Spilker said. "He fled back home and convinced his parents that leaving Europe was the only option. They were able to sail on the last passenger ship out of Genoa before the start of World War II, which brought the family to the United States in 1940."
After the war, Schwarz, with the help of the GI Bill, graduated from Lowell Institute of Technology with a degree in textile engineering and pursued a career in life insurance, which brought about a move to Vancouver, B.C., where he met and married Anita Stransky. They later moved to Madison, Wis., where he worked until he retired in 1988 to St. Paul, where two of his grandchildren lived.
"Walter was not a disciplinarian," Cantor Rachel Stock Spilker said of him. "When he was disappointed in someone or something, he would say, 'tsk tsk.' His children joked that this was incongruous with his role as a Ritchie Boy, and mused about his saying 'tsk tsk' to the Nazis who stood before him as he interrogated them."
Schwarz is survived by his children, Daniel (Karen), Sylvia, Ruth, Philip (Cindy) and Mimi; four grandchildren; and two great-granddaughters.