By MORDECAI SPECKTOR
The Jewish World's Oct. 15, 2004, edition reported that Vic Rosenthal, then executive director of Jewish Community Action (JCA), was named a winner of the Ford Foundation's Leadership for a Changing World award.
In announcing the 2004 award (which came with a $100,000 prize and a $15,000 grant for supporting JCA's activities), Susan V. Berresford, president of the Ford Foundation, said, "These awardees, such as Vic Rosenthal, are making a difference in communities across the country and are showing us new ways to exercise leadership in challenging times."
Remembrance
In accepting the prestigious award, Rosenthal, who served as JCA's executive director from 2000 to 2017, explained, "My work is influenced by the long history of Jewish involvement in social change, from the Eastern European Bund (labor movement) to organized resistance to the Nazi regime, to American labor and civil rights activism. None of these movements relied on private, individual, righteous acts; rather, all built power through community organizing."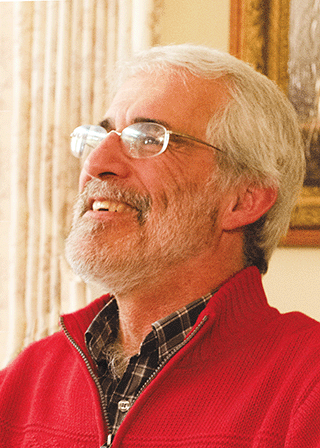 Victor (Vic) Rosenthal died March 28, at the Beyond Hospice Home in Oakdale. "He was surrounded by family in a room filled with love," his son, Ben Rosenthal, wrote in a Facebook post. Vic Rosenthal was 68.
Also writing on Facebook, Carin Mrotz, who succeeded Rosenthal as JCA's executive director, discussed his indelible influence on her life and career.
"He taught me everything I came to understand about organizing, everything I understand about power," Mrotz wrote. "Before he was executive director of JCA, Vic organized seniors; he knew that at all stages of life we are connected and interdependent and he devoted himself to building multigenerational coalitions. He was still doing this at the end of his own life."
Mrotz added, "Today the young people he mentored run organizations, foundations, cities and states. Vic's legacy will live on so much longer than him. Which, of course, will not make us miss him less, or make it less painful when we instinctively reach for the phone to text him a joke or to ask for advice. Vic understood the importance of local organizing, especially local Jewish organizing, and put so much of himself into building a field that today is doing crucial work and being recognized nationally. Vic is part of why there is a national Jewish Social Justice Roundtable, he is part of why there is a Collaborative for Jewish Organizing. His hands were building our future decades ago."
I was fortunate to know Vic for many years, through my work at the Jewish World and as a member of Temple of Aaron Synagogue, where he headed the congregation's social justice committee. I first heard of his passing while having breakfast as Minnesota Public Radio reported his death. The Star Tribune and the Pioneer Press, along with other local news outlets, published obituaries for Rosenthal.
The Pioneer Press story noted that St. Paul Mayor Melvin Carter had declared March 18 as "Victor Rosenthal Day" in Minnesota's capital city. Carter lauded Rosenthal "as a champion for racial, social and economic justice, and a tireless advocate for immigrant rights, marriage equality and voting rights," according to the newspaper.
Carter said that Rosenthal "has made St. Paul a more equitable and accessible place to live. … Vic's tenacity and unflagging spirit have always been accompanied by a total inability to hear the word no or stop fighting for justice, in spite of any political environment, inclement weather, illness, or (being told no in the past)," the mayor wrote.
During Rosenthal's tenure as JCA director, I received frequent calls alerting me to stories involving the activist group's work, especially in the areas of housing and immigration. I would need some time to comb through our archives to find all the stories I wrote at Vic's urging.
I recall going to a building on Loring Park many years ago, where JCA was advocating for elderly Russian Jews facing steep rent hikes. The building had been sold, and the residents with Section 8 subsidized apartments were facing eviction as the new owner converted the building to luxury units. The mainly Russian Jewish tenants I spoke with were in desperate straits. It turned out to be a compelling story.
On Feb. 22, 2009, I was at Lyndale Avenue United Church of Christ, where JCA was one of the partner groups in a prayer service for immigration reform. "Nearly 100 people attended the prayer service, which featured speakers from the Jewish, Muslim and Christian communities," I reported in the AJW's Feb. 27, 2009, issue. "Jewish Community Action, one of the partners in the national Progress by Pesach campaign, co-sponsored the event — one of more than 100 prayer services held throughout the country during the past week."
Vic Rosenthal said at the prayer service: "Action and prayer must go together if we hope to provide greater protection to immigrants in the United States. Failure to act will not only hurt immigrants but will further damage our failing economy and create crises in multiple communities. President Obama has the power to end raids by executive order, and we are calling on him to take that immediate action."
Another speaker at the service was Rev. Matt Perkus, from United Church of Christ in Decorah, Iowa, who provided an update on the ongoing crisis in Postville, following a massive immigration raid the previous spring. He spoke about the need to end immigration raids at Agriprocessors, the kosher slaughterhouse that employed hundreds of undocumented workers from Central America. Perkus appealed for donations to support ongoing relief in Postville.
In 2006, following the Forward's exposé of labor abuses at Agriprocessors in Postville, Iowa, Vic Rosenthal and Rabbi Morris Allen, of Beth Jacob Congregation, traveled to the meat-packing plant. On May 12, 2008, the Immigration and Customs Enforcement (ICE) division of the Department of Homeland Security led a raid on the plant and arrested some 400 workers, mainly Central Americans, who were subsequently charged with document fraud, use of stolen Social Security numbers and other offenses. It was the largest ever immigration raid at that point in U.S. history.
Commenting on Rosenthal's April 2 funeral service at Mount Zion Temple in St. Paul, Rabbi Allen, in a tribute on the Hodroff-Epstein website, said, "The service today captured only a piece of the greatness which was Vic and the importance of the life he lived. There was nothing routine about Vic, because for Vic the world was always in need of being perfected. His passion for the undocumented worker was not less than his passion for the family he so loved. His willingness to go to bat for those living in poverty was no less than his willingness to find the time to play 3-on-3 basketball with his boys as youth. Everything mattered to Vic — family, friends, foes and fellow travelers. I will always cherish the lessons he has left me with and values he enshrined in all of our hearts."
Ben Rosenthal provided a sketch of his father's life in an affecting obituary:
"Vic was born on February 16, 1955, in New York City, and first lived 20 blocks from Yankee Stadium before spending most of his childhood in Yonkers. He received his undergraduate degree in history from SUNY Binghamton University and received his master's in public administration from Rutgers University.
"Vic began his career working on nursing home reform as a Vista volunteer in Elyria, Ohio, before a cross-country road trip would change the course of his life. He met his wife Chris on a road trip of her own in a true moment of serendipity in 1978 at Jenny Lake in Wyoming. A Minnesotan farm girl and New York City boy began a long-distance romance before the two were married in 1980. After spending six years in New Jersey, Vic and his family moved to St. Paul, Minnesota in 1986, spending the next 37 years in the same home on Laurel Avenue. At the time, Vic could not imagine that he'd spend more of his life in the Midwest than the East Coast, nor that he would root harder for the Vikings and Timberwolves than the Giants and Knicks as Minnesota became his home. The New York Yankees, of course, would always be the team of his heart."
Frank Hornstein, who represents a southwest Minneapolis district in the state House of Representatives and was a co-founder of Jewish Community Action, eulogized Rosenthal as "a friend, an inspiring and visionary community organizer, teacher and above all a mensch."
In a Facebook post, Hornstein recalled first meeting Rosenthal in 1994. "It was during the early stages of building the organization that would later evolve into Jewish Community Action At the time I was doing a series of one-on-one meetings with people in the Jewish community and hearing passionate and inspiring stories of how Judaism and social justice intersected in people's lives.
"All I knew about Vic was that his last name was Rosenthal, he directed the Minnesota Senior Federation and our paths crossed from time to time in progressive organizing circles. Given his last name and the fact that he was an organizer, that led me to think he'd be a great candidate to talk to about Judaism and social justice. We met at his office at the Senior Federation on University Avenue in St Paul. He greeted me warmly, we sat down and he talked about growing up in Westchester County, New York and that he had a Bar Mitzva at an Orthodox shul. He told me of his journey to organizing, first working for a senior organization in Ohio before making his way to Minnesota.
"I knew immediately he was a special person, one that could really help us build our fledgling organization. He joined our organizing committee and the rest is history."
Hornstein recalled that his friend "possessed a very unique set of skills in organizing. I've seen people that have one or two of these characteristics but very very rarely does one have of all three: Vic had the three that make for a successful organizer and executive director: He was at once a gifted, visionary leader; a mentor; and a skilled administrator."
While Vic Rosenthal's passing leaves a gap in communal efforts to uplift, he will be most deeply missed by his family.
"Vic did nothing without purpose, and everything he did, he did with his whole heart, a heart overflowing with a powerful love," wrote his son Ben. "And there was nothing he loved more than his family and friends. He was usually at the center of it all — the first voice you heard when entering a crowded room and always one to happily get on the dance floor or belt out a Bruce Springsteen song. He would readily engage in any political or sports debate and was a great storyteller. He was also an introspective person and loved to reflect and talk deeply about life and its trials. As serious as he could be at times, he loved to laugh more than anything, especially with his family. To be loved by Vic meant to be loved without condition or limit."
Vic Rosenthal was preceded in death by his parents, Sylvia and Leo Rosenthal. He is survived by his wife, Chris; sons, Ben and Aaron; daughters-in-law, Megan and Florencia; two grandchildren, Harper and Henry; sister, Wendy, brother-in-law, Tony, and niece, Carla.
May Vic Rosenthal's memory always be for a blessing, and may his legacy of organizing for social and economic justice inspire future generations to work for the betterment of those in society that are struggling and marginalized.
(American Jewish World, April 2023)