By ELANA WARREN / Assistant Editor
At the Nathan and Theresa Berman Upper Midwest Jewish Archives, you can find anything from papers of rabbis, passports and oral histories from Holocaust survivors to recipe cards for cosmetics and dog photos and documents from the first guide dog trainer in the U.S., Jack Sinykin, who worked here in Minnesota and is the same man who owned the recipe cards.
You can also find every issue of the American Jewish World from 1915 to 2007.
The American Jewish World newspapers are housed at UMJA in Andersen Library on the west bank of the University of Minnesota's West Bank campus, but they are also available online. The Upper Midwest Jewish Archives archivist, Kate Dietrick, schlepped 91 bound volumes out of the Jewish World office and then got started on digitizing them.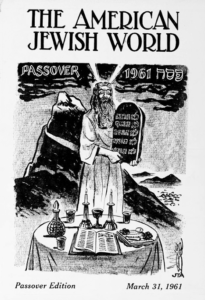 We wanted "to go the extra mile to digitize and make it available to anyone, around the world, any time, at home, in their pajamas," she said.
After a hiatus due to the pandemic, the digitization project launched in September 2020. Dietrick said she expected small donations to come in over the course of a year (with vital assistance from the Jewish Historical Society of the Upper Midwest): $24,000 was raised in under a month from various donors.
That fundraiser made 4,757 issues of the American Jewish World available to researchers and the world. Prior to the digitization, one might have had to sit and page through thousands of papers to hope to find some information. Now anyone can do a keyword search of a year or a name to learn about the history of their family, their city, their synagogue, or maybe what Minnesota Jews thought of the happenings in Europe during World War II.
Now the Upper Midwest Jewish Archives has launched another fundraiser. Dietrick is the only archivist for UMJA, and her position is part time. The aim of the Upper Midwest Jewish Archives Berman Fund is to raise $1.3 million to fund her as a full-time archivist.
"It's never a hard sell to Jewish community members on why saving history matters," Dietrick said. "Help us support keeping the Upper Midwest Jewish Archives staffed and supported in perpetuity."
Laura Weber, an independent historian and recently retired editor of the Minnesota History magazine, has worked on many articles and projects that focus on local Jewish history. She said the materials in the Archives have been crucial in completing her research.
The archives are "a really valuable resource," said Weber, who is also an advisory board member for the archives. "Having Kate as the archivist and her knowing intimately all the content is so important."
An archivist actively curates the selection, acquisition and management of collections, works with donors to get the items, arranges collections ranging from one or two pieces to 100 boxes of items, and arranges descriptive language to make the collections findable online.
Dietrick works with researchers and does outreach, presentations, exhibits and hands-on instruction on the university campus. She even made an interactive local synagogue history map.
"What the full time would allow me to do is essentially more of that, to really expand community outreach," she said.
People come to Dietrick with materials to donate, but she doesn't have the time to go out into the community and create partnerships. She also wants to be able to travel outside of the Twin Cities because the Upper Midwest Jewish Archives covers North and South Dakota and the Western Wisconsin-Superior area as well as Minnesota.
"And I would love to be able to travel up to Duluth. We've got tons of material related to Duluth Jewish communities," Dietrick said. "Do they know we have these things? Do they have more materials that they're interested in giving to the archives?"
She would like to be able to do more exhibits, writing and scholarship. She said she'd love to invite local Jewish school students to the archives: "It's such a joy to see [students] hold original material because it's one thing to look at it on a computer; it's another thing to look at it in front of you, to look at a passport that has a stamp that says, 'fleeing from Nazi oppression.'"
However the archives is not just for students and researchers.
"I really want people, especially local Jewish community members, to feel as though this is their collection, this is their history. They are welcome to come and look at it, to use it however they see fit. We're here to answer questions, we're here to help you with your family history, whatever it is," Dietrick said. "We are here as a resource for everyone."
The Michael H. Baker Family Foundation and the Sharron and Oren Steinfeld Foundations have already kickstarted the fundraiser. To donate to or learn more about the Upper Midwest Jewish Archives, go to lib.umn.edu/collections/special/umja/berman-fund.
(American Jewish World, July 2022)