Lifetime's new docu-sitcom Kosher Soul, is 'more of the same old black and Jewish stereotypes'
By ROBIN WASHINGTON
What could be funnier than a black man marrying a white woman?
Before you say "Loving v. Virginia," wait — there's more: Make that a white Jewish woman. Isn't that a stitch?
If same-sex marriage in Alabama hasn't convinced you the year is 2015, the premiere of the Lifetime reality show, Kosher Soul, arrives Feb. 25 to dutifully turn back the clock.
"Opposites attract," the promos blare, suggesting the protagonists might just be different species. A freelance stylist, Miriam Sternoff, 38, grew up Jewish in Seattle. O'Neal McKnight, 39, her stand-up comedian fiancé, is African American from Lynchburg, S.C. With cameras following every antic, the pair slapstick their way to their wedding day.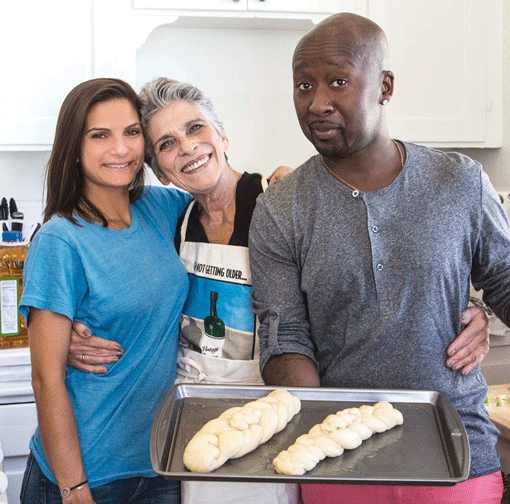 "The fact that I'm wearing a yarmulke, it shouldn't be a problem for Miriam to wear a grill," McKnight says, explaining the bejeweled dental appliance's deep spiritual significance to black America by declaring: "Martin Luther King had a grill."
He didn't mention Justin Bieber.
To further prove his love and appease his mother-in-law, he goes through with conversion (including adult circumcision) and also entrusts the family finances to her — all the while equating Judaism with whiteness and lecturing her on black culture, punctuated with jokes about Stevie Wonder driving, and starving kids in Africa with flies on their faces.
Is this offensive?
Yes, but not for its unfunny attempts at humor. To a person, those in my circle of African American Jews who've heard of the show have questioned the "docu-sitcom" as more of the same old black and Jewish stereotypes, with dialogue like "I want to have Shabbat dinner with my Jewish husband" / "But she's going to have sex with a black man."
If the match is portrayed as some sort of freak show oddity, it wasn't news 65 years ago when my similarly interracial/interreligious parents married. It's barely a blip on the post-racial radar screen today, with the Institute for Jewish and Community Research concluding that 20 percent of American Jews are of color or of similarly diverse heritage.
The terms "blacks" and "Jews" aren't mutually exclusive. Judaism knows no race and black people embrace every religion. To be both is to be 100 percent of each.
Surprisingly — and notably, off-camera — the couple agrees.
"I like that," Sternoff says of the duality that describes her husband and hoped-for children, echoed by McKnight: "I like that a lot."
In the real world of a cross-country phone interview to Los Angeles, where they now live, the couple departs from their reality-show personas, with McKnight clarifying he did not convert solely for her. In South Carolina, he'd never met a Jew, he says, a cloistered world that changed when he moved to New York.
"I was around a lot of different cultures, a lot of different people, and I just really was drawn into Judaism," he says. "(Judaism is) mostly a tug of war between you and God. You're supposed to ask questions. You're supposed to be intrigued and curious. And the way I was brought up (as a Methodist) was 'this is what it is, you don't doubt it, you don't question it.'"
That intrigue led him to consider converting before even meeting his future wife, he says.
For her part, with skin Kardashian tan or a shade darker, Sternoff has also examined her identity.
"When people ask me what's my nationality, it's because I look more ethnic," she says. "The first thing I say is 'I'm Jewish.' And then people say, 'Yeah, I get it, but you look like you're Hispanic or something else.'"
So if she's perceived as "other" and they're both practicing Jews, is there a story here? Two Jews get married. So what?
"I would dispute that it is stereotypes. I think that Miriam and O'Neal are who they are," Michael Hirschorn, the show's executive producer, says from New York.
"Saying 'this is a stereotype' and 'this is not a stereotype' gets you into kind of a Talmudic cul-de-sac," he argued.
Perhaps, but there are guides for the perplexed, the obvious being other Black Jews who can tell you what's clearly over the top. Hollywood has many — from director Chris Erskin to rapper Drake to actress Rashida Jones — though Hirschorn (who is Jewish and not black, and has a co-producer who is black and not Jewish) says he doesn't know any.
Still, he concedes that Kosher Soul and its "opposites attract" tagline capitalize on seemingly incompatible differences.
"I don't want to be too coy, because obviously that is the name of the show and that's the way it's being pushed," he says. "I think that (when you) watch the show, there's just a lot of pleasure in it."
There certainly is in the story of how the couple met, in New York nine years ago when McKnight was a personal stylist to Sean "Puffy" Combs and Sternoff was freelancing in the same field.
It was in an elevator. He was impressed by her pixie cut. She could not help but notice him.
"I literally was holding two little poodles under my arms," McKnight explains, dogs belonging to Combs that he'd been asked to retrieve.
It's a wonderfully charming story but it's nowhere in the show. Not surprising: It's reality.
***
Robin Washington, of Duluth, is a research fellow for Be'chol Lashon, a think tank of the San Francisco-based Institute for Jewish and Community Research. He may be reached at: robin@robinwashington.com. Follow him on Twitter: @robinbirk.
(American Jewish World, 2.27.15)