Arielle di Porto, who oversees aliya for the Jewish Agency, spoke in the Twin Cities about the situation for French Jews
By ERIN ELLIOTT BRYAN / Community News Editor
Following the recent terrorist attacks on a kosher supermarket in Paris and the murder of a volunteer security guard outside of a synagogue in Copenhagen, Israeli Prime Minister Benjamin Netanyahu called on all Jews to return home to Israel.
"Jews have been murdered again on European soil only because they were Jews and this wave of terrorist attacks — including murderous anti-Semitic attacks — is expected to continue," Netanyahu said Feb. 15 at the start of the weekly Cabinet meeting. "Of course, Jews deserve protection in every country; but we say to Jews, to our brothers and sisters: Israel is your home. We are preparing and calling for the absorption of mass immigration from Europe. I would like to tell all European Jews and all Jews wherever they are: Israel is the home of every Jew."
Netanyahu's call was rejected by the French chief rabbi, Haim Korsia, who said that there has been a Jewish presence in France for 2,000 years and that "France will no longer be France" if there were a mass Jewish exodus, JTA reported.
Korsia echoed similar comments made by French Prime Minister Manuel Valls, who told his country's Jews that, "France is wounded with you and France does not want you to leave."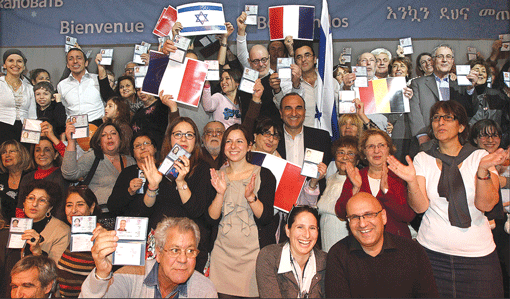 But according to Arielle di Porto, of the Jewish Agency for Israel (JAFI), Jews in France do want to immigrate to the Jewish state — in staggering numbers.
"From France, 7,231 Jews came on aliya in 2014, that's an increase of 120 percent," di Porto told the AJW. "Just to give you the numbers, in 2013, we had 3,200 Jews come on aliya. And in 2012, it was about 1,900. It's the biggest aliya from all the Western countries, and it's the first time that a Western country has the most important number of aliya. Mostly it's Russia or Ukraine, but never France. And now it's France."
Di Porto is the director of JAFI's Aliyah Division of the Unit for Aliyah and Special Operations. She was in the Twin Cities Feb. 18 and 19 to speak at events presented by the Minneapolis Jewish Federation, the Jewish Federation of Greater St. Paul and the Jewish Community Relations Council of Minnesota and the Dakotas (JCRC).
JAFI is an overseas partner agency of both federations.
Di Porto pointed out that the statistics of French Jews making aliya were reported before the attacks in Paris and Copenhagen, and that Jews have been leaving France amid growing anti-Semitism there.
"It's not the result of one attack or two attacks," she said. "We knew that [anti-Semitism] was up and we have seen it all over Europe since 2005, that the safety of the Jews is less and less."
Since the beginning of 2015, di Porto has seen a dramatic increase in the number of French Jews requesting to open a file, which is the first step in the aliya process. An aliya information fair held on Feb. 8 in Paris drew some 6,000 students, and di Porto was in charge of finding additional JAFI staffers who could travel from Israel to France to help accommodate those Jews wishing to meet with an emissary.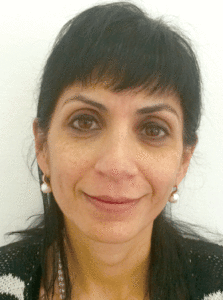 JAFI is predicting 12,000 to 15,000 French Jews will make aliya this year (the entire French Jewish community numbers about 500,000). And the cost of bringing that many Jews to Israel has to come from somewhere, which is where the U.S. federations can help.
Hal Applebaum is a director of JAFI's Israel and Global Philanthropy and accompanied di Porto on her visit to the Twin Cities. He explained that there are two options for helping French Jews make aliya.
It costs $1,100 per person to cover the basic expenses associated with aliya. However, JAFI also offers opportunities for new immigrants who desire additional services to help with absorption and integration, such as subsidizing living arrangements or providing job training and Hebrew studies.
"All of the things that go into helping someone integrate, which can take six months to a year, sometimes it takes longer, that whole package together is about $4,100 for a new immigrant from France," Applebaum said. "There are different populations that come. Some need less help and want less help, and some need the maximum amount of help."
But for di Porto, no cost is too high. She recalled a group of 422 French olim who landed in Israel on July 24, 2014, just weeks into the Israeli operation known as Protective Edge.
"They said, 'We feel more safe in Israel and we prefer to die as Israeli Jews than to die by a terrorist attack in France that is not our country,'" di Porto said. "In France, 70 percent of the Jewish population doesn't feel French, they feel first of all Jews."
And di Porto understands those feelings. She was born in Morocco and grew up in a Zionist family.
"I grew up with a very strong Jewish identity, being first of all a Jew, not feeling at all a Moroccan citizen, only a Moroccan Jew," di Porto said.
Di Porto began working for the JAFI emissary in Rome, Italy, in 1987. She was responsible for the aliya of the 350-strong Albanian Jewish community and later managed the Ethiopian immigration when there were no direct flights from Addis Ababa to Tel Aviv. She also managed sensitive immigration missions that passed through Italy from Tunis, Cuba and Syria.
She made aliya in 1993, and now has overall responsibility for aliya from around the world and direct responsibility for aliya from France.
"It's my way to contribute to [Israel] and to the Jewish people," di Porto said of her position with JAFI. "It's more than work, it's a mission."
Applebaum added, "Some of us are addicted to tacos, Arielle is addicted to aliya."
Di Porto has been particularly affected by the families of the victims killed in the kosher supermarket in Paris. The victims were buried in Israel and many of their family members are choosing to make aliya.
"People asked [the families], 'Why do you prefer to bury them in Israel rather than in France?'" di Porto said. "And you see, two days ago, the [Jewish] cemetery in eastern France was desecrated, so they were completely right."
(The French Jewish news Web site JSSnews reported Feb. 15 that about half of 400 total gravestones were toppled and broken in the Jewish cemetery in Sarre-Union, located in the Bas-Rhin region in Alsace, according to JTA.)
As part of her visit to the Twin Cities, di Porto simply wanted to thank those who have contributed to help make aliya possible for French Jews and for Jews all around the world.
"It warms the heart to see that we have people behind us that help us to make it happen," she said. "Please continue to support us to bring people who want to come to Israel to be safe. Remember that when you save one life, you save the entire world."
***
For information about making a contribution to the Jewish Agency for Israel's aliya efforts, visit: www.jewishminneapolis.org or: www.jewishstpaul.org.
(American Jewish World, 2.27.15)