By ELANA WARREN / Assistant Editor
The Academic Engagement Network (AEN) announced in early September that it awarded antisemitism education grants to four higher education institutions, including the University of Minnesota. The Antisemitism Education Initiative, led at Minnesota by AEN faculty member Professor Oren Gross, aims to create sustainable mechanisms to educate the campus community about Jewish identity and antisemitism. The grant of up to $25,000 per year is renewable for three years.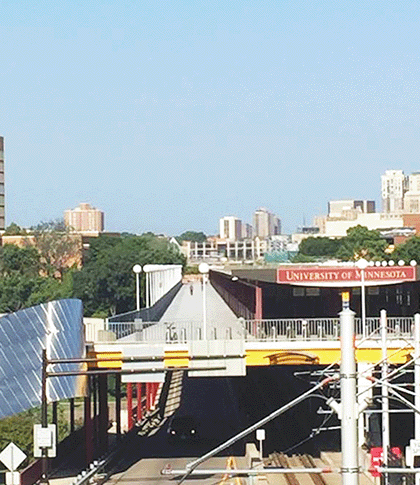 AEN launched in 2015 to fill a gap in Jewish community engagement on campuses. Naomi Greenspan, director of AEN's Improving Campus Climate Initiative (ICCI), said many organizations do this work with students, but AEN engages faculty members.
"Faculty members are key players on campus — unlike students, who are there for maybe four or five years, faculty members are often on a campus for decades," Greenspan told the Jewish World. "And so we wanted to engage with them around issues of antisemitism and Israel on campus. And particularly, a major element of our focus is on countering the delegitimization of Israel within the context of academic freedom and free speech."
The AEN comprises 850 faculty members on over 260 campuses across the United States. Because of this faculty network, AEN saw an opportunity in 2020 to start the ICCI and engage administrators, too, as antisemitic incidents have been increasing across the country and on college campuses.
In May, the Anti-Defamation League (ADL) reported that colleges across the Midwest have seen an increase in anti-Israel criticism that veers into antisemitism. In 2021, the ADL found the highest number of antisemitic incidents across the U.S. since it began tracking them in 1979. The report showed a 202 percent increase in the Midwest since 2016.
While the University of Minnesota is not alone, it was one of six campuses highlighted for Israel-related antisemitism in ADL Midwest's May report.
Gross said Minnesota and the University of Minnesota have in recent years seen an increase of one-on-one targeting, mostly of students; resolutions attempting to push the Boycott, Divestment, Sanctions (BDS) movement against Israel; and shouting down of speakers identified — rightly or wrongly — as pro-Israel.
"Minnesota has one of the most outspoken anti-Israeli — and I would also argue antisemitic — members of congress representing it, [which] did not exactly help either," said Gross, in an apparent reference to Rep. Ilhan Omar.
Antisemitism Education Initiative
AEN chose Minnesota as one of the four campuses to receive the grant due to its antisemitic incidents, but also because of Gross' proposal. Oren Gross is the associate dean for academic affairs and Irving Younger Professor of Law at the University of Minnesota Law School. He is Jewish and Israeli.
"I think that the fight against antisemitism is more and more in many places becoming a legal fight," Greenspan commented. "So, I think [Gross, as a legal scholar] provides a unique perspective to this to be able to bring that to the work."
Following a pilot program at the University of California-Berkeley, AEN chose City University of New York and Yale University on the East Coast, and Evergreen State College on the West Coast for the grant. Gross argued for Minnesota to be the Midwest center. AEN and Gross intend for the University of Minnesota to serve as a hub for the dissemination of knowledge and best practices for addressing Jewish inclusion, antisemitism and anti-Israel activism on campuses.
The Antisemitism Education Initiative grants "will support a range of new programs and resources designed to create sustainable mechanisms to educate and train campus stakeholders — including administrators, faculty, and students — about the diversity of Jewish experience, historic and contemporary manifestations of antisemitism, and strategies to improve inclusivity," according to an AEN press release.
All four schools will see the establishment of campuswide antisemitism symposia, advancement of administrator professional development opportunities, academic coursework on antisemitism and Israel, and the development of alliances between faculty members and administrators.
U of M: Community involvement
The programs on each campus will be tailored to their cultures and needs. Gross plans to produce a public lecture series "that will not be confined to the ivory tower of academia.
"A lot of people talk about issues [like antisemitism], and they kind of very quickly descend far along to their very individualistic niche of what they do as scholars," he said. "And as a result, we lose the community beyond that might actually be interested, that might be concerned. So, to me the lectures need to be kind of more public based."
He said there are faculty at the University of Minnesota that care about Jewish issues but that they often work alone.
Gross has been involved in countering antisemitic speech and conduct with blog posts, op-eds, public speaking and his scholarship. Gross also chairs AEN's section for faculty in law, one of AEN's sections and interest groups based on location and disciplinary focus. Anise Mazone, director of multicultural student affairs in the U of M's Office for Student Affairs, also has partnered with AEN. She is in a year-long professional development program for understanding antisemitism and supporting the Jewish community with monthly webinars and a trip to the United States Holocaust Memorial Museum in Washington, D.C. Of course, the Center for Holocaust and Genocide Studies and the Center for Jewish Studies have faculty members who educate on such topics.
Greenspan said there are also faculty members and administrators who want to support Jewish students but don't have the awareness of Jewish identity and antisemitism to know where to begin.
Gross wants to create a conference, a network of such faculty members and administrators, to physically come together and talk about antisemitism and Jewish identity matters. The conference would eventually add other people and organizations to fight antisemitism. This cross-disciplinary network would be able to come together and respond efficiently to antisemitism.
"I think that there's such an emphasis on college campuses around diversity, equity and inclusion, and the reality is that the diversity of the Jewish community and recognizing Jews as a minority community has largely been left out of that DEI, that diversity, equity and inclusion conversation," Greenspan said. "So, there's a lot of work that we need to do as a Jewish community to ensure that the broader community, particularly those who are committed to creating an inclusive environment … understand what Jewish identity is and the history of antisemitism and how antisemitism manifests today."
She added that future leaders are created on college campuses, and those leaders are exposed to the campus discourse around Jewish identity, antisemitism and Israel. AEN wants to ensure the discourse "remains respectful and inclusive of the Jewish community."
Looking forward
Locally, Gross wants the program to grow beyond Minnesota — from the Twin Cities campus to other University of Minnesota campuses and to colleges and universities around the Midwest.
"I would hope that it will be self-sustainable, that the community will get involved," he said. "I'm hoping that it will be a center, a focal point, that can educate about antisemitism, that can educate about Israel, that can educate about Jewish life, Jewish culture."
He hopes to educate not just non-Jews but Jews, too. He said some young Jews don't know enough and feel that to be progressive or accepted they must close out their Jewish identities — wrongfully so, he said.
The ultimate goal is for an antisemitism center to become unnecessary.
In the meantime, Gross commented, "Maybe it's the educator in me. To have a center that will educate, that's the goal."
(American Jewish World, October 2022)