By MORDECAI SPECKTOR
I last saw Anat Cohen five years ago, at breakfast in a Decorah, Iowa, motel. The Anat Cohen Tentet had performed the previous night at Luther College, and my wife and I happened to be staying at the same motel as the musicians.
During our chat, Cohen, an Israeli native and acclaimed jazz clarinetist, told me, sotto voce, that she would be releasing a record with pianist Fred Hersch. That wondrous album, Live in Healdsburg, came out in 2018.
Cohen, who has topped DownBeat magazine's readers and critics polls in the clarinet category over recent years, will bring her new ensemble, Quartetinho (the Brazilian name is pronounced "quar-te-CHIN-yo" and means "little quartet"), to the Dakota in downtown Minneapolis on Oct. 16.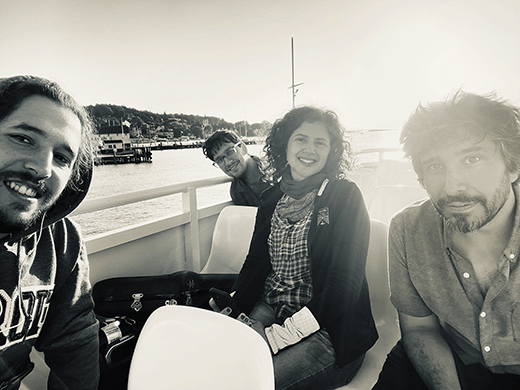 The little quartet, which produces an orchestral sound at times, is made up of an international assortment of New York-based players: Cohen and bassist Tal Mashiach, Israel; pianist and accordionist Vitor Gonçalves, Rio de Janeiro, Brazil; and vibraphonist and percussionist James Shipp, United States.
And the ensemble has just released an eponymous album, which includes originals by Cohen, Mashiach and Shipp, along with songs by Brazilian musical icons Antonio Carlos Jobim and Egberto Gismonti. There's even a song by Antonin Dvořák.
In September, I talked on the phone with Cohen, who was home in Brooklyn.
"I'm happy to be back at the Dakota. It's been a minute," she commented, regarding her upcoming gig here.
We talked about the COVID-19 pandemic, which left every performing musician in the world out of work. She mentioned that, with venues closed during the pandemic, "it was time for reflection, it was time for studying."
And we talked about the new album. I was struck by the Dvořák tune, which is titled "Going Home." It's from the second movement of his Symphony No. 9, "From the New World." I asked Cohen how the famous Czech composer's song ended up on Quartetinho. She told me the story.
It began with the funeral of George Wein, the jazz pianist, producer and impressario, who died Sept. 13, 2021, at the age of 95. Cohen and jazz bassist Christian McBride decided to play a short version of the song at the small funeral for Wein in New York. "A few minutes, we played by his grave."
Cohen recalled, "The melody just kept ringing in my ears."
After the invasion of Ukraine by Russian Federation forces, Cohen reflected more on what "Going Home" evokes, including the plight of refugees fleeing war. She worked on an arrangement.
"I decided to bring the song to the band, to the recording [session]," she recounted.
"With this band, the beautiful thing is that each person can play different instruments," Cohen said. Instrumentation of the song, which has an elegiac feel, includes bass clarinet, accordion, vibraphone and bass.
All in all, Quartetinho — co-produced by Cohen and her longtime musical and business partner Oded Lev-Ari — is a sublime recording. Cohen plays soaring solos on several tracks, clearly comfortable in this brilliant musical setting. The group actually had its first show on March, 7, 2020, at the Miller Theatre of Columbia University, Cohen recalled. The pandemic forced the Miller to close the next day, and other music venues also went dark.
Quartetinho, the group, is touring the Midwest and West Coast this month.
Cohen also has played in Europe this year, with Artemis, the all-female, all-star band. And she played with the 3 Cohens, the family band with her talented brothers, Avishai (trumpet) and Yuval (soprano saxophone), in Tel Aviv in August. (I met Yuval Cohen at a coffee shop in Tel Aviv some years ago. After our hang, I had to get to a Shabbat dinner in Jaffa, and Yuval ran across a busy street to get a taxi for me. He's one of the nicest people I've ever met.)
She said the 3 Cohens played two shows in Tel Aviv, in the building where the Israel Philharmonic Symphony plays. "It was so lovely. … I love my brothers."
***
Anat Cohen and Quartetinho play 7 p.m. Sunday, Oct. 16 at the Dakota, 1010 Nicollet Mall, Minneapolis. For tickets, go to dakotacooks.com or call 612-332-5299.
(American Jewish World, October 2022)