Dafna Meir, a mother of six, was killed at her home on Sunday, while a pregnant woman, Michal Froman, was injured Monday
By JTA Staff
(JTA) — A day after witnessing her mother's brutal murder, Dafna Meir's teenage daughter spoke before hundreds who had come to mourn her.
Dafna Meir, 38, a mother of six, was stabbed to death on Sunday near the entrance of her West Bank home.
"It's hard for me to think we will not laugh together or fight anymore, that you won't accompany me to the IDF induction ceremony, down the aisle, and to the maternity ward," Renana Meir, 17, said at a Jerusalem cemetery, calling her mother her best friend.
Dafna Meir was killed in Otniel, in the Hebron Hills area. She apparently fought her attacker for several minutes in an attempt to protect the three children at home, none of whom were injured in the attack.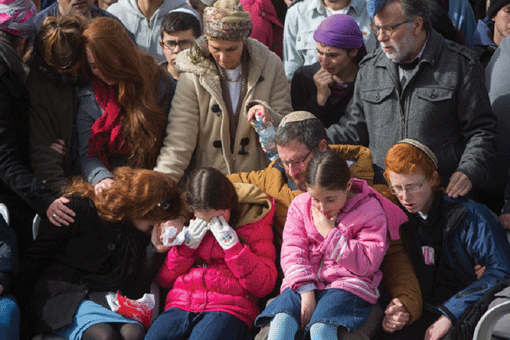 Less than 24 hours after Meir's murder, a pregnant Israeli was stabbed in another West Bank settlement. Michal Froman, 30, suffered moderate wounds to her upper body on Monday after being attacked at a clothing warehouse in Tekoa, in Gush Etzion, the Israel Defense Forces said. Froman's apparent attacker was shot by a Tekoa resident, according to the IDF.
Both the alleged assailants are Palestinian teenagers.
In the Froman case, the teen had attempted to flee the scene. He was said to be in serious condition at an Israeli hospital.
In response to the attacks, Israel has temporarily barred all Palestinians from working in West Bank settlements, which have seen a number of deadly incidents since the recent wave of Palestinian terror began last fall. Gush Etzion has been particularly hard hit.
Meir worked as a surgical nurse at a Beersheba hospital. She was married with four biological children and two foster children.
She was buried Monday at the Har Hamenuhot cemetery.
A 16-year-old Palestinian, Morad Bader Abdullah Adais, was arrested Monday in a Palestinian village not far from where Meir was murdered, the IDF said. According to reports, he was given up by local residents and confessed to the killing. Adais' arrest was part of a joint IDF and Shin Bet security service operation.
Renana Meir, the eldest child, had given law enforcement a description of the killer, according to reports.
Israeli Prime Minister Benjamin Netanyahu has vowed to destroy the home of Meir's killer. And on Tuesday, Netanyahu traveled to Otniel to pay a condolence call to Meir's grieving family.
"Whoever wants to see the truth about the roots of the conflict between us and the Palestinians should come to Otniel and see here a wonderful family that only wants coexistence and peace," Netanyahu said. "They should see the young people, inflamed by incitement, who come to murder women here, a mother of six, and in Tekoa, a pregnant woman."
He added, "There is humanity here and the desire for peace and coexistence on one side and boundless hatred on the other."
On Monday, Palestinian President Mahmoud Abbas said he opposed violence against anyone, regardless of background, and promised to encourage resistance through peaceful means only.
Also Monday, the U.S. State Department in a statement condemned Meir's murder and the subsequent attack on Froman "in the strongest terms."
"We were appalled and deeply saddened by the death of Dafna Meir, a mother of six, who was attacked on Sunday in her own home," said the statement issued by department spokesman John Kirby, who also sent well wishes to Froman. "These horrific incidents underscore the importance of affirmative steps to restore calm, reduce tensions and bring an immediate end to the violence."
The statement came as the U.S. ambassador to Israel, Daniel Shapiro, speaking Monday at a Tel Aviv conference organized by the Institute for National Security Studies, accused Israel of having "two standards of adherence to rule of law in the West Bank — one for Jews and one for Palestinians."