Bernie Sanders' rise in the polls has prompted Hillary Clinton to take a sharper turn toward her principal Democratic challenger
By RON KAMPEAS
WASHINGTON (JTA) — Talk of a Bernie Sanders presidency has suddenly become a lot more serious.
Recent polling shows the independent Vermont senator and Democratic presidential hopeful dramatically improving his prospects in the first two primary states against front-runner Hillary Clinton.
Elections 2016
Two polls out this week — by the Des Moines Register and Quinnipiac University — showed Clinton's nine-point lead in Iowa dwindling from the past month, with Sanders pulling ahead in the latter survey.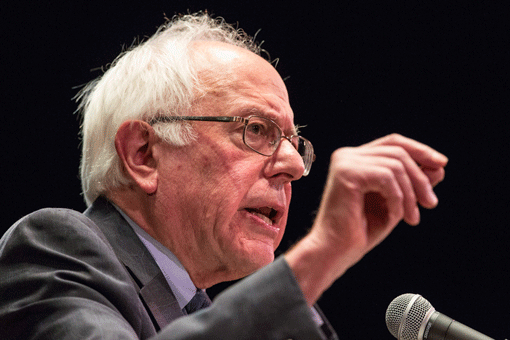 The Register poll out last Thursday showed Clinton now holding a 42 to 40 percent lead over Sanders less than three weeks before the Iowa caucuses, well within the poll's 4.4 percent margin of error. And the Quinnipiac poll posted Tuesday had Sanders ahead of the former secretary of state, 49-44. The poll, which has a margin of error of 4 percentage points, is a dramatic shift from December, when the university found Clinton leading Sanders in Iowa, 50-41.
In New Hampshire, a Monmouth University poll released this week had Sanders with a 53-39 advantage, up from the 48-45 edge he owned in a November poll. The poll has a margin of error of 5 percentage points.
Wall Street Journal/NBC News/Marist polls also showed tighter races in both states, with Clinton leading 48-45 percent in Iowa — an effective dead heat with the 4.8 percentage point margin of error — and Sanders leading 50-46 percent in New Hampshire, also within the 4.8 percent margin of error.
It's unclear if the Sanders surge in the polls is paralleled by a rise in his standing among Jews. The only poll available, conducted back in September by the American Jewish Committee, suggests Clinton has strong Jewish support. The poll showed Clinton as the preferred candidate by 40 percent of Jewish voters, with just 18 percent opting for Sanders.
Steve Rabinowitz, who runs a Washington communications firm and helped launch Jewish Americans Ready for Hillary, a pro-Clinton fundraising group, said an early Sanders win could capture younger Jewish voters, but that the important community of Jewish donors remains committed to Clinton.
"God love him, but our community is not feeling 'the Bern,'" said Rabinowitz. "He does not deny [his Judaism], he does not shrink from it, when asked about it he says the right thing — but we'd like it on his sleeve. We got it from [Lieberman]. Blacks got it from Obama. Hispanics would expect it. It's not a litmus test, but we kind of want more from him."
The improvement in Sanders' fortunes has prompted Clinton to take a sharper turn toward her principal Democratic challenger in recent days. Rabinowitz said that while a Sanders victory in both states would complicate Clinton's run, it would not derail it.
"The momentum certainly turns his way, and it becomes much more of a campaign," said Rabinowitz, who runs a Washington communications firm and consults for a number of liberal and Jewish groups. "But the national numbers are changing very little, and you can't read too much into Iowa and New Hampshire."
Mik Moore, a political strategist who in 2008 helped create The Great Shlep, a campaign encouraging young Jews to lobby their Florida grandparents to support Barack Obama, agreed that Iowa and New Hampshire are sui generis: Iowa's Democrats trend to the liberal end of the party and New Hampshire tends to favor candidates from neighboring states.
But Moore said early wins for Sanders in those states, combined with national polls showing Sanders outperforming Clinton against Republicans, could bring out voters who favor Sanders but doubt he can ultimately beat Clinton.
"Those two factors could shift the viability factor for voters," said Moore. "There's a subset of Democrats who would prefer Bernie but who have decided he can't win and decided they will support Clinton."
One such voter is Allen Linden, 84, a Jewish New Hampshire voter who said he favored Sanders but worried about his electability.
"What's keeping me on the fence a little bit is that I don't know if he's the nominee how likely he is to win the elections," Linden said. "I like what he stands for, but I'm not sure he has the strength to carry the extremely conservative states."
Even if Sanders does squeak out a win in Iowa or New Hampshire, polls show he still faces an uphill climb. Clinton remains strong in Nevada, the third early voting state. She also consistently outperforms Sanders in many of the 11 states that go to the polls on March 1, particularly those in the South.
Moore said Sanders is not as much of a game changer for Jews as Obama was for blacks because Joe Lieberman already broke that ground in 2000, when he became the first Jew to run for vice president on a major party ticket.
Moore said Sanders' Jewishness could emerge in a discomfiting way should he become a true national contender. The fringe groups stirred by the nativism peddled by Republican front-runner Donald Trump would likely include elements who would be hostile to a Jewish candidate, he said.
"His persona is very Jewish," Moore said, noting Sanders' Brooklyn working-class origins. "If he was the nominee, it would become an issue among a subset of the electorate. But it would not be the focal point."
(JTA senior writer Uriel Heilman contributed reporting from New Hampshire.)