By SAM SOKOL
EFRAT, West Bank (JTA) — Former Arkansas Governor Mike Huckabee laid bricks in a new neighborhood in this settlement in a ceremony Wednesday that took its language and cues from Donald Trump's "Make America Great Again" rhetoric.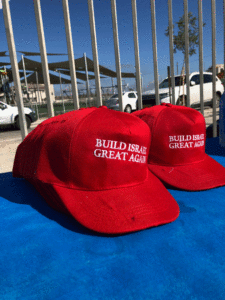 During the ceremony in Efrat's Tamar neighborhood, organizers distributed red caps bearing the slogan "Build Israel Great Again" and spoke of how thankful they were for the president's support. Leaders of the Yesha Council, which represents the settlement movement, indicated the ceremony was part of an effort to garner American support for expanding the settlers' footprint in the West Bank.
"I cannot tell you how proud I've been of the president as it relates to the land of Israel," said Huckabee, a Trump supporter, talk show host and ordained Southern Baptist minister.
Speaking against the backdrop of red "Build Israel Great Again" signs, settlement leaders took turns alternately praising Trump and calling on him to lift limits on settlement construction.
"We appreciate the American administration that appreciates the importance of us living here and the connection of the Jewish people to their homeland," said Efrat Mayor Oded Revivi, who also serves as Yesha's foreign envoy.
Asking Huckabee to convey to the president what life is like in his city, Revivi said he hoped the White House would come to realize the importance of settlement building.
While Trump initially declared settlement expansion to be "unhelpful," he subsequently changed his tune, declining to condemn Israel's decision to approve the construction of more than 2,000 settlement homes in May. According to Peace Now, Israel has approved plans and tenders for nearly 14,000 units since the 2016 elections, a significant increase over the 4,476 units approved in the year-and-a-half before Trump's victory.
Earlier this week, U.S. Ambassador to Israel David Friedman visited the family of a terror victim in the Adam settlement. In prior administrations, embassy officials generally refrained from paying visits to areas over the pre-1967 lines, such as eastern Jerusalem and the West Bank.
Huckabee's visit to the settlement and Friedman's condolence call constituted a message that "we should separate between the positive and negative vectors in this area," said Yesha Council Chairman Hananel Dorani, meaning, respectively, the 435,000 Israelis and 2.75 million Palestinians living in the West Bank.
Comparing Israel to the United States in its commitment to liberty and peace, Dorani described the Palestinians as a violent people who "believe in terror and educate to hate." He said that lasting peace will only come when millions of Jews have been settled in the West Bank and the Palestinians realize that they have "no choice but to live side by side and not fight us."
Yesha Council CEO Yigal Dilmoni was enthusiastic about the future, saying the settlers felt like there was "a new spirit in the period of Trump" and that the U.S. and Israel together could build up Judea and Samaria. Yesha is an acronym that includes Judea and Samaria, biblical names for the disputed area that are commonly used in Israel.
Settlement leaders discounted the possibility that their embrace of Trump-style rhetoric could make the settlement enterprise even more of a partisan issue than it already is. Polls show that a majority of Republican voters support settlement expansion and most Democrats oppose it.
"You can see the attitude of our PM, which [is] the same," said Dorani, referring to Israeli Prime Minister Benjamin Netanyahu. Trump "truly loves Israel, and we think it's an opportunity for us to get the process forward."
New York physician Joseph Frager, a vice president of the National Council of Young Israel and one of the organizers of Wednesday's event along with Yesha and the Efrat municipality, approved the Trumpian rhetoric, saying it "helped the president in the United States get elected."
"The idea is that Judea and Samaria have to grow," Frager said. "The president, I think, likes to see demonstrations of that fact. I think this catches his eye and his interest, and it could be helpful."
Israeli politicians and American Orthodox Jewish leaders have been effusive in thanking Trump for his support for Israel and its government. During a reception celebrating the U.S. Embassy's move to Jerusalem from Tel Aviv in May, Orthodox Union President Mark Bane described Trump as "God's messenger," while Israel's justice minister, Ayelet Shaked, called him "the [Winston] Churchill of the 21st century."
Commenting at the time, Dan Shapiro, who served as U.S. ambassador to Israel under President Barack Obama, said it was understandable that Israelis and American Jews were engaging in "hyperbole" because "it's become accepted in international circles that the way to gain favor with President Trump is to engage in excessive flattery."
"The settlers are euphoric about Trump's victory," said Hagit Ofran of Peace Now, which regards the settlements as an obstacle to the two-state solution. "Together with Netanyahu, they feel they can do whatever they want in settlements. Netanyahu is seizing the opportunity of the carte blanche he got from Trump to set facts on the ground in order to prevent the possibility of a two-state solution. This is bad news for anyone who cares about Israel and wants to see it living in peace and prosperity side by side with its neighbors."
In one of Obama's last actions as president, the administration abstained rather than veto a U.N. Security Council resolution that declared Israel's settlements illegal and demanded the building stop. When the parties to the peace process seemed committed to restarting it a year ago, Trump cautioned Israel against settlement expansion, saying it could frustrate the process, as his predecessors had.
Now that the process is moribund, however, Trump and his administration officials barely mention settlement — a break from the Obama administration, which would speak out against any announced building in the settlements or eastern Jerusalem.
While happy with the lifting of Obama-era censure, Dorani said settlement leaders still feel stifled.
"During eight years of Obama we couldn't build like we wanted, and now under Trump we are building but not enough," the Yesha CEO said, turning to Huckabee and asking him to intervene with the president. "There are still limits. We can't build new settlements or big neighborhoods."