By CNAAN LIPHSHIZ
(JTA) — It's been nearly three years since Jeremy Corbyn became the leader of Britain's Labour Party, and he has riled British Jews more than any other politician in recent history.
Last week, Great Britain's three leading Jewish newspapers carried an ad warning that a Corbyn premiership would constitute an "existential threat to Jewish life in this country." In May, the previous president of the Board of Deputies of British Jews said Corbyn has "anti-Semitic views" and that his rising popularity is making Jews ask if they have a future in the country.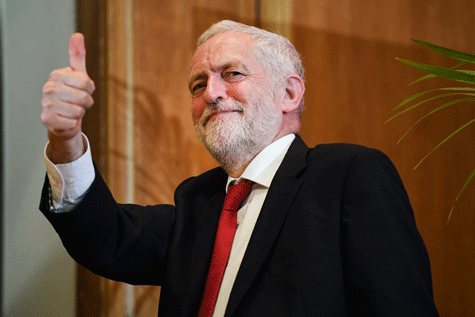 This unprecedented rhetoric, accompanied by street protests against Corbyn by hundreds of Jews, follows his alleged inaction against, or tacit encouragement of, perceived increases in anti-Semitic speech within the party.
A hard-left politician who has called Hezbollah and Hamas officials "friends" whom he was "honored" in 2009 to host in the Parliament, Corbyn is widely accused of tolerating or ignoring anti-Semitism disguised as anti-Israel speech, among other forms of Jew hatred.
Recent revelations such as his defense in 2013 of an anti-Semitic mural, as well as membership around that time in Facebook groups rife with anti-Semitic discourse, have done little to improve his image.
Ironically, though, the worst crisis yet in his troubled relationship with the Jewish community is currently unfolding not over his party's inaction on this issue, but over what Labour says is one of its major attempts at addressing the problem: the adoption this month of a four-page definition of what Labour considers anti-Semitism.
Critics of the party's definition call it a defanged version of the British government's own definition. The government's definition, based on the "working definition" of the International Holocaust Remembrance Alliance, outlines classic expressions anti-Semitism and ways in which criticism of Israel can also be perceived as anti-Semitic. Labour's definition trips many of the anti-Israel examples — suggesting, for example, that someone could compare Israeli policies to those of the Nazis and not be an anti-Semite.
But Jennie Formby, Labour's general secretary, said the document "goes further" than the government's definition and will "foster deeper understanding about all forms of anti-Semitism within our movement." For example, she wrote, Labour defines anti-Semitism as the use of certain derogatory words and tropes not included in the IHRA definition.
However, amid mutual suspicion and mounting hostility, the debate over the merits and faults of a quasi-legal document has deteriorated into a fight between Corbyn's Jewish critics and his advocates. It has featured expletives and shouting by lawmakers, racist conspiracy theories and growing despair even among staunch supporters for resolving the feud through dialogue.
The main grievance raised by critics of Labour's definition is that it omits four Israel-related points featured in the one adopted by the British government in 2016.
The Labour definition does feature some examples of anti-Israel vitriol that should be considered anti-Semitic, including accusing Israel of exaggerating the Holocaust. But it also states that Israel's own description of itself as "a 'Jewish state'" can "cause particular difficulty in the context of deciding whether language or behavior is anti-Semitic."
To David Hirsh, a Jewish University of London lecturer who last year published a book on left-wing anti-Semitism in Britain, the Labour definition is essentially a loophole, or a way for Labour to articulate "their opposition to anti-Semitism which would not define their friends" as anti-Semitic.
The Labour definition, he said, stipulates that offenders must have shown anti-Semitic "intent" in order to be disciplined.
"If you can't prove intent, then you can't prove anti-Semitism. And nobody on the left has anti-Semitic intent," he said sarcastically.
The new definition follows decades of accusations involving a former mayor of London, Ken Livingstone, who quit Labour in May following repeated claims that Zionists collaborated with Adolf Hitler. Livingstone went beyond the historical record that the Jews cut limited rescue deals with the Nazis, suggesting instead that Hitler was a Zionist before orchestrating the murder of 6 million Jews.
Livingstone has a rich record of making statements perceived as anti-Semitic. In 1984, he said Jews were "basically a tribe of Arabs," and that "the Jews became reactionaries, turned right, nearly to be fascists."
Corbyn, whose party had resisted repeated calls to kick out Livingstone, said Livingstone's resignation was a "sad moment."
Sixty-eight British rabbis earlier this month published an open letter condemning Labour's divergence from the IHRA definition as "insulting and arrogant," and calling on the party to adopt the international document. The Board of Deputies of British Jews has issued a similar call.
The row over the definition of anti-Semitism has prompted a spate of resignations from Labour, including by John Strawson, a University of East London School of Law lecturer and Palestinian rights advocate, journalists Jane Merrick and Martin Bright, and lawmaker John Woodcock. Other Labour moderates are said to be planning to resign in September.
Other critics of the definition have been less polite than Hirsh and other Corbyn detractors.
Among them is Margaret Hodge, a Jewish lawmaker from Labour.
Turning to Corbyn during a July 17 meeting in Parliament, Hodge said "You're a f***cking anti-Semite and a racist. You have proved you don't want people like me in the party," according to several witnesses of the exchange. Hodge, a knighted dame, has denied using the expletive.
In the aftermath of the interjection, Labour's ethics board has launched an internal investigation for disciplinary infractions. The board is also looking at another Labour lawmaker, Ian Austin, whose adoptive father survived the Holocaust. Austin said he had a "heated discussion" with Labour officials about the new definition but denies their claim that he "screamed abuse" at them.
There are even claims that the conflict has descended to violence: Paul Mason, a journalist and influential Corbyn supporter, is accused of assaulting an activist from a Dutch Jewish group in the Hague during a visit there by Corbyn. The activist held up a banner during Corbyn's speech reading "Labour, for the many not the Jew" to protest the new definition, among other issues. Mason denies assaulting him.
Separately, Damien Enticott, a Labour representative in the south of London, admitted this week that he shared on Facebook an anti-Semitic video accusing Jews of drinking blood for ritual purposes.
Enticott has been suspended pending an investigation – one of at least 250 cases featuring alleged anti-Semitic rhetoric referred recently to Labour's ethics panel.
And Peter Willsman, a key supporter of Corbyn, was recorded dismissing the Labour leader's Jewish critics, saying "I am not going to be lectured to by Trump fanatics." He also said about the 68 rabbis: "Where is your evidence of severe and widespread anti-Semitism in this party?"
Corbyn, who attended the meeting where Willsman made these remarks, did not react to Willsman's assertions, witnesses told The Jewish Chronicle.
Labour's adoption of a homemade anti-Semitism definition follows several actions that the party under Corbyn thought would appease critics but only ended up inflaming them.
In 2016, an internal review found that Labour has an "occasionally toxic atmosphere" against Jews but no institutional problem. The Board of Deputies of British Jews called the report a whitewash — an accusation that gained considerable traction after its author, Shami Chakrabarti, was promoted to represent Labour in the upper house of the Parliament months after submitting the document.
Corbyn's attendance at an alternative Passover seder dinner in April was another controversial gesture. The left-wing group organizing the event, Jewdas, included a "Prayer Against the State of Israel" in its Haggadah that asks God to "smash" the Jewish state. It also included the "Ten Plagues of the Occupation of Palestine."
"Either Jeremy Corbyn was deliberately provoking the Jewish community or making a catastrophic error of judgment," Jonathan Arkush, then leader of the Board or Deputies of British Jews, said about the seder event. "I don't know which of these is true."
Keith Kahn-Harris, a Jewish left-leaning sociologist from London and advocate of reconciliation between the Jewish community and Corbyn, wrote in The Guardian that Labour's anti-Semitism definition "has only compounded the problem" that its authors said they seek to solve.
But Kahn-Harris said he cannot ascertain whether it was a cynical attempt to give accused anti-Semites a loophole or a genuine but botched attempt to address the problem they present.
"Maybe both things are true," he said. Around Corbyn, "there is both a widespread chaos and a small coterie of very ruthless people."