Trump, who campaigned on a promise of moving the embassy, originally walked it back after assuming the presidency
By RON KAMPEAS
WASHINGTON (JTA) — Recognizing Jerusalem as Israel's capital would be an act of "naked aggression" that would cause the United States to lose "its mediating role" in the Middle East, the Organization of Islamic Cooperation said.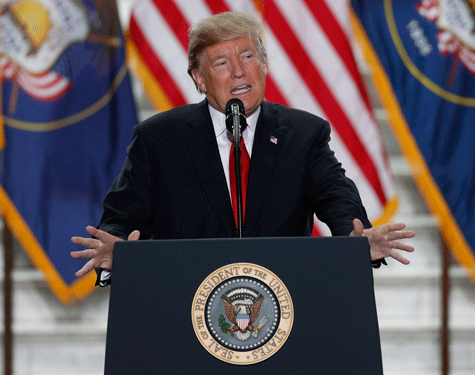 The statement by the group, representing 57 countries, came as President Donald Trump delayed a waiver on moving the U.S. Embassy to Jerusalem from Tel Aviv that presidents have routinely issued since 1995, when Congress passed a law mandating the move.
The resolution issued Monday after an emergency meeting at the OIC headquarters in Jeddah, Saudi Arabia, "warns against recognizing Al-Quds as the capital of Israel, the occupying power, or establishing or transferring any diplomatic mission to Al-Quds, given that this is considered a naked aggression not only on the Arab and Islamic Ummah, but also on the rights of Muslims and Christians alike, and on the Palestinian people's national rights, including their right to self-determination."
Al Quds is the Arabic name for Jerusalem. The Islamic Ummah refers to the worldwide Muslim community.
Recognizing Jerusalem as Israel's capital would cause "the United States to lose the legal and moral ground and its mediating role, and turning it into a biased party to the conflict," the resolution said.
Trump's deadline for issuing the waiver, which according to the law must be issued every six months, was Friday. On Monday evening, the White House said it would be delayed; on Wednesday he announced plans to move the embassy.
Trump, who campaigned on a promise of moving the embassy, walked it back after assuming the presidency. Recent reports say that he was unhappy with his first waiver issued in June and wants to go ahead and recognize Jerusalem as Israel's capital as early as Wednesday. There have been conflicting details of what such a recognition would encompass, and whether it would involve moving the embassy.
On Tuesday, a day ahead of  the announcement of a change in U.S. policy on the status of Jerusalem, Trump scheduled calls with the leaders of Israel, Jordan and the Palestinian territories.
"The President has calls scheduled this morning with Prime Minister [Benjamin] Netanyahu, King Abdullah of Jordan and Palestinian Authority President [Mahmoud] Abbas," the White House said in a statement. "We will have a readout on these calls later today."
Abbas' office said Trump told the Palestinian leader he intended to move the embassy to Jerusalem. There was no report as to when, but Abbas told Trump that such a move would threaten regional stability and the peace process.
Palestinian officials have said that moving the embassy would scuttle attempts to revive Israeli-Palestinian peace talks led by Jared Kushner, Trump's son-in-law. Kushner, in a rare public appearance this weekend, said he was optimistic about restarting the talks.
Significantly, Saudi Arabia on Monday also warned against recognizing Jerusalem as Israel's capital. Kushner has become close to the Saudi crown prince, Muhammad bin Sultan, and has sought his help in advancing the peace process.
"Any U.S. announcement on the status of Jerusalem prior to a final settlement would have a detrimental impact on the peace process and would heighten tensions in the region," Saudi Ambassador Prince Khalid bin Salman, Mohammed's brother, was quoted by Reuters as saying. "The kingdom's policy has been and remains in support of the Palestinian people, and this has been communicated to the U.S. administration."
French President Emmanuel Macron also warned Trump against the move in a phone call.
"Mr. Emmanuel Macron reaffirmed that the question of Jerusalem's status had to be dealt with in the framework of peace negotiations between Israelis and Palestinians, with the aim in particular to establish two countries, Israel and Palestine, living in peace and security side by side with Jerusalem as capital," Reuters quoted the French president's office as saying after the call on Monday.
The White House's readout of the call said only that Macron and Trump "discussed the path to peace in the Middle East."
President Recep Tayyip Erdogan of Turkey said that U.S. recognition of Jerusalem as Israel's capital was a "red line" for Muslims. He said he would cut relations with Israel, renewed only recently after years of tensions between the two traditional allies.
U.S. Sen. Dianne Feinstein, D-Calif., in a letter sent Friday to Trump said recognizing Jerusalem as Israel's capital would "erode American credibility as an unbiased mediator, alienate us from our international partners — such as Jordan — and undermine any remaining hope for a two-state solution."
Jordan's King Abdullah persuaded Trump to walk back from his campaign promise soon after Trump assumed office. Under an arrangement, Jordan maintains some control of the Muslim holy sites in Israel's Old City.
Israel has made clear it would welcome the move. Ron Dermer, the Israeli ambassador to Washington, told Politico on Monday that recognizing Jerusalem as Israel's capital would convey to Palestinians a message of "Hey, wake up. Understand that Jerusalem is Israel's capital. You have to deal with that reality."
Jerusalem's mayor, Nir Barkat, meeting with the American Jewish Committee in New York, urged Trump to "go with your heart."
"I pray and hope the president will do the right thing this time," he said.