Paintings and sculpture by Keren Kroul, Jeffrey Haddorff, Judith G. Baron and Lena Wolf Rothman are presented in contrast to one another
By DORIS RUBENSTEIN
The three art exhibits currently on display at the Sabes JCC cover a vast spectrum of styles and themes — from the large and universal to the small and extremely personal.
Lyrical Narratives, on display in the Tychman Shapiro Gallery, shows the greatest of these contrasts: paintings by Keren Kroul and sculptures by Jeffrey Haddorff.
Kroul's unframed watercolors on paper attempt to express big themes: "Where Matter Becomes Conscious" and "Unquiet Mind" are two of those themes. Considering Kroul's background, her messages are not surprising. Born in Israel, she grew up in Mexico and Costa Rica, and lived in New York City and Memphis, Tenn., with an academic stop along the way at Brandeis University before settling in Minneapolis.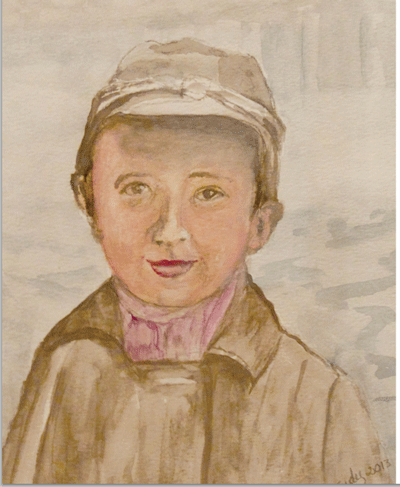 Her larger works are fragmented murals, so to see them as a whole, one must step back.  However, her true message lies in the multitude of details that give texture to the paintings. They reveal tiny figures and faces when viewed up close, forming natural objects — clouds, whirlwinds, rocks, etc. On the other hand, the eight-part mural "Multitude" takes the colors and forms of a cleft rock that exposes the geode inside; each of the multitude of crystals within the matrix contributes to the completeness of its beauty.
"Mind" is a sister piece to "Multitude" in that it shares a similar size and geometric design. In "Mind," however, the artist uses geometry to guide the eye across the paper, as if we could see the electrical circuitry of axons and dendrites flashing chemical messages in synapses across the brain. The beauty and message of all her exhibited work lies in the minutiae within the larger images.
Haddorff's message, on the other hand, is writ large in his monumental ceramic installations.  These are not figurines that you'd display on your coffee table, but they might fit in comfortably if you have a professionally designed garden. They do so in Haddorff's own Linden Hills yard, not far from Shir Tikvah Congregration where his family holds membership.
Upon entering the Tychman-Shapiro Gallery, Haddorff's "Every Song I Ever Wrote Was Written for You" steps up to proclaim itself. It seems that these varied three-dimensional pieces fastened together are like a songbook. When the visitor strolls to the rear of the gallery, the story continues with "Palinode."
I had to look up this term in the dictionary, which defines it as "an ode or song recanting or retracting something in an earlier poem." "Palinode" shares much with the first sculpture in both its assembly and the glazes used, but here we see violent splashes of dark colors — black, blue, green — that reflect the artist's remorse and anger at his earlier emotions. Everything that Haddorff displays in "Lyrical Narratives" is big.
This is a rare showing of his large-scale sculptures. Haddorff's smaller, more transportable works have been displayed across the country.
Whether large or small, Haddorff fires all the components of his sculptures in his own, unusual 28-by-28-inch octagonal kiln. Small objects stand alone; those on display at the JCC have "some assembly required." This gives Haddorff's work a second element that combines artistry and technical expertise in some engineering skills.
Exhibited in the Sabes JCC lobby, Judith G. Baron's watercolors included in The Children of the Vanished World are, in contrast to Haddorff's work, quite small. These notebook-sized paintings are based on photographs by Roman Vishniac's photographs taken in Eastern European shtetls just prior to World War II.
The photos were in black and white; Baron uses her imagination and her watercolors to give them more life. While they don't express universal concepts like Kroul's watercolors, they are statements about communities as they were in a moment in time.
Lena Wolf Rothman's oil and pastel paintings in a side hall are on the opposite end of the narrative from Kroul's. Linking to Our Ancestors chronicles a trip the artist made to her ancestral town of Lasi, Romania. Though only a two-hour car ride from Bucharest, many of the scenes from Lasi might have been painted in the 19th century.
Rothman's work includes all parts of Lasi: landscapes, street scenes and the people. The styles range from photographic realism to soft Impressionism. All are testaments to her exceptional use of different viewpoints and light.
There is but one interior painting in the show: the "Orthodox Synagogue" done in a blur of impression, as if being seen through a veil of tears for the lost members of its congregation, including members of the artist's family.
Linking to Our Ancestors is exceptionally well curated. The information provided at the show's start and alongside each picture not only tells us what is depicted, but gives a story or historical background to the subject.
***
Lyrical Narratives, an exhibit featuring watercolor paintings by Keren Kroul and sculpture by Jeffrey Haddorff; The Children of the Vanished World, featuring paintings by Judith G. Baron; and Linking to Our Ancestors, featuring paintings by Lena Wolf Rothman, are on display through March 27 at the Sabes JCC, 4330 Cedar Lake Rd. S., St. Louis Park.
For information, visit: www.sabesjcc.org.
(American Jewish World, 2.28.14)