David Broza gathered a cast of talented Israeli and Palestinian musicians, along with some special guests, to create musical magic in an East Jerusalem recording studio
By MORDECAI SPECKTOR
… I believe that one fine day all the children of Abraham / Will lay down their swords forever in Jerusalem. — "Jerusalem" by Steve Earle
David Broza released his new album, East Jerusalem/West Jerusalem (S-Curve Records), in January. Over an impressive career of performing around the world and recording more than two dozen albums, the new song collection is an intriguing addition to the Broza oeuvre.
"It's one of the most beautiful experiences I've had," he says, regarding the eight days and nights spent recording in a tiny studio in Sheikh Jarrah, East Jerusalem. He assembled a cast of top-flight Israeli and Palestinian musicians for the album, in which the theme of musical collaboration across borders threads through the tracks.
David Broza at the Dakota, April 2
He jokingly refers to the sound, a mélange of Americana and Middle Eastern flavors, as "country-and-West Bank" music.
Broza, who divides his time between New York and Tel Aviv, returns April 2 to the Dakota Jazz Club in Minneapolis. And as at his last show there, in November 2012, Broza will play many of his beloved hits — for the expected crowd of Israeli expats and local Jews; this time around, he'll perform some of the material from the new album.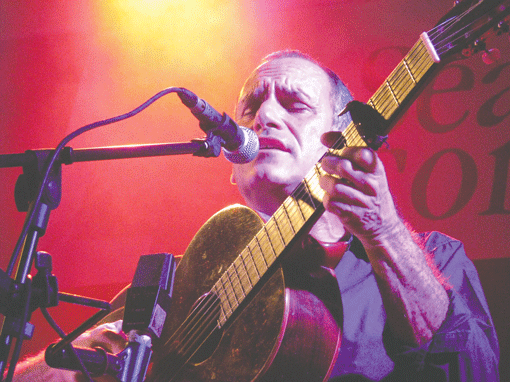 In addition to covering songs by Roger Waters, Elvis Costello and Cat Stevens, Broza wrote lyrics in English for many of the tunes on East Jerusalem/West Jerusalem. The album was produced by two Grammy winners, singer-songwriter Steve Earle and Steve Greenberg (Jonas Brothers, Baha Men).
As it happened several years ago, Broza and Earle were working on projects based on the music of the late influential singer and composer Townes Van Zandt. Broza's album, Night Dawn: The Unpublished Poetry of Townes Van Zandt, was released in 2010. Earle's album of Van Zandt covers, Townes, came out the previous year.
"We met around [the Townes Van Zandt projects], and we kind of hit it off right from the start," Broza told the AJW last week, during a phone interview from his home in New York City. "And just over a year ago… I called him up and asked him if he'd come and produce the album, 'cause I was thinking that I want the album to have the element of Western instrumentation like I play, along with Middle Eastern flavor — but not as a Middle Eastern album. It's an album that's made in the Middle East and uses the flavors of all the sounds that we have, that are around me, which are the oud [Middle Eastern lute], and the darbuka [goblet-shaped drum], and the qanun [plucked box zither]… and the Arab violin."
Into that mix of exotic instrumentation, Broza added "the electric guitar, my Spanish guitar, the steel string [guitar] and harmonica."
Broza explains: "I'm a Western artist really, just by my upbringing. I thought that if I'm going to do an album that will reach out to general audiences outside of Israel and the Middle East, I should bring a producer that will take it there, who's objective, who's not going to be looking to produce the real sound of the local instruments, but to do something that will be integrated. And Steve Earle was the first one I had in mind, and he said without hesitation, yeah, he's coming. So he was the perfect personality to join us in the studio."
Earle, a controversial tunesmith (check out "John Walker's Blues," from his 2002 Jerusalem album) and social justice activist, has a slightly different recollection of meeting Broza.
"We had to practice our own peace negotiations, because we discovered that we were both making records of Townes Van Zandt songs at the same time." recalls Earle. "To keep from killing each other off, we had to come to some agreement."
During a phone interview with the AJW this week, Earle mentioned that his manager, Danny Goldberg, a veteran music industry executive who founded and heads GoldVE Entertainment, told him about Broza's Night Dawn project. "We just came to an agreement that I would release my record first," says Earle, about the coinciding Van Zandt albums. "And we got to be friends in the process."
"He had never been to Israel," remarks Broza, about bringing Earle into the East Jerusalem studio. "He was always fascinated by Israel and Palestine. And, of course, the conflict was a big question mark in his mind. He had no idea who was what and what was who, and what it was all about; yet he had written an album called Jerusalem — and he'd written a song called 'Jerusalem.'"
Asked about the mood in the recording studio, with the mix of Israelis and Palestinians, Earle, an exuberant and earthy soul, was circumspect with his comments: "I have to be really careful about this. I won't out anybody, Israeli or Palestinian that participated in the performances, from my own lips."
He refers me to the album credits, and to whatever the participants have to say for themselves.
Earle mentions that he recorded with "David's rhythm section for a day and a half" at the outset of the sessions, while "waiting for the Palestinians to show up." The last six days of the sessions included both the Israeli and Palestinian musicians, who enjoyed sumptuous catered meals that alternated Israeli and Arab cuisine. "We had what we envisioned," Earle comments.
The recording sessions also were filmed for a documentary, which is set to be released this year.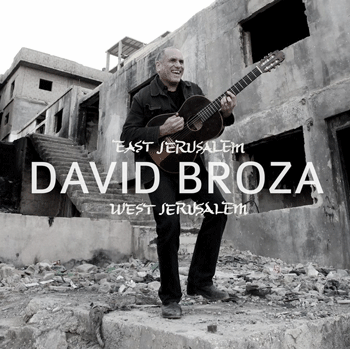 The album's title track features lyrics and vocals by Broza and Wyclef Jean, the Haitian musician, formerly with the Fugees, the popular hip-hop group. Renowned Arab-Israeli singer Mira Awad is featured on Broza's compositions "Ramallah-Tel Aviv," and "Key to the Memory," which features lyrics in English, Hebrew and Arabic. Awad also toured with Broza's band earlier this year, for some CD–release shows.
Among the highlights of East Jerusalem/West Jerusalem are the voices of the Jerusalem Youth Chorus, a group of Israeli and Palestinian high school students, under the direction of Micah Hendler. The group operates under the auspices of the International YMCA in Jerusalem, and their sweet vocals grace the Nick Lowe song "(What's So Funny 'Bout) Peace, Love and Understanding," which was a hit for Elvis Costello.
"It's a big hit on Israeli radio right now," says Broza, who praises the performance by the Jerusalem Youth Chorus. "Now it's being played nonstop on the radio. It's amazing. You can imagine the Palestinian kids, how thrilled they are, and how confusing it is for them that their voices are being heard on the Israeli Army Radio."
For Broza, the success of "Peace, Love and Understanding," and the entire musical project, includes both the aesthetic accomplishment and what he calls "an altruistic purpose, it's a little bigger than us."
It should be mentioned that the New York Times ran a story about Broza last week, which focused on his musical workshop for young residents of the Shuafat refugee camp. The Palestinian refugee camp in Jerusalem, which lies on the West Bank side of the separation wall, is not on the tourist map for visiting American Jews — and it's also not a place that Israeli Jews care to visit. But Broza, a longtime champion of Peace Now in Israel, has established a relationship with Palestinian kids and musicians in Shuafat.
The rappers on the song "Peace Ain't Nothing But a Word," from Broza's new album, include the Palestinian duo G-Town, from Shuafat. Also featured on the song is Shaanan Street, from the Israeli hip-hop crew Hadag Nachash. "So he and G-Town do the rapping, and I sing the refrain, which Steve Earle helped me write," says Broza. "It's a really great collaboration — Israeli, Palestinian, American."
There's a lot more to say about the 14 tracks on East Jerusalem/West Jerusalem, but Earle's tune, "Jerusalem," deserves special mention. "It's a Steve Earle classic that he composed after 9/11," Broza says. He originally imagined that Earle would sing his own song in the East Jerusalem studio, the home base of the popular Palestinian band Sabreen.
"As we got closer to the recording, I thought, hell, I want to do this," Broza explains. "So, I actually sang the song, and he loved it so much, and he got on board and harmonized with me, and put on the harmonica, which made it sound like a real combination of my sound and his sound."
Earle — who describes himself as a "monotheist pagan… I believe in God… I think we're all talking about the same God" — says he came to Broza's recording sessions feeling like an "outsider."
"It was a little strange and a little uncomfortable; and yet I have probably one of the strangest perspectives on traveling to Jerusalem and traveling to Israel for the first time of any American," Earle recalls, adding that Broza picked him up at Ben-Gurion Airport, "and I went straight to East Jerusalem, checked into the Ambassador, and started this pattern of riding up and down the street to the Sabreen studio to record."
Regarding Broza's rendition of Earle's song "Jerusalem," the musician from Texas says, "I love that version of it. I've gone out and played it with him a couple of times. I'll sit in with him, and I'll sing the second verse and play harmonica… It was very cool. Look, when you write that song and you've never been to the Mideast, then it was a big deal for me to get to go there, and to make this record and to record that song."
Earle professes his love for the oud, and Broza's album features two virtuoso oudists: Elias Wakileh, a Palestinian, and Israeli Yair Dalal, who's played concerts in the Twin Cities.
Asked about Dalal, Earle responds, "He's a badass." (In the musical context, that's a term of approbation.) Earle regrets that he wasn't able to visit a famous oud maker's shop in Nazareth during his visit last year.
Broza says, regarding Earle's first visit to Israel: "This was a perfect opportunity to come and spend eight days and eight nights in the studio. And then he took a week off, and I had a friend of mine who's a tour guide show him around the country, and took him to the old holy places, from Bethlehem to Nazareth, and it was very inspiring. In fact, I'm looking forward to hosting him again; and this time, to have a good time and take him to play Masada sunrise with me."
Over the years, Broza has invited a number of musical guests (Jackson Browne, Shawn Colvin) to his annual sunrise concert at the ancient Herodian fortress in the Judean Desert.
And Earle, who said he was "kind of mind-blown" during his first sojourn in the Holy Land, wants to be part of Broza's Masada show this summer. "I'm holding the date right now."
***
David Broza will bring his guitar and songs to the Dakota Jazz Club and Restaurant, 1010 Nicollet Ave., Minneapolis, 7 p.m. Wednesday, April 2. For tickets, call 612-332-1010, or go to: dakotacooks.com.
(American Jewish World, 3.14.14)
David Broza performs "One to Three," from his new album: