Giter, who died in August, was remembered as a man of love who always put others first
By RABBI ELI FRIEDMAN
More than 200 people gathered last week at Adath Israel Synagogue in St. Paul to pay tribute to a beloved rabbi and legendary humanitarian. They were a diverse assemblage from every sector of the Jewish community — one man even flew in from Israel to be present — and they were there to honor the legacy of Rabbi Gershon Giter, of the Bais Menachem Center for Russian Jews.
Giter passed away in August, at the age of 61, after a lengthy battle with cancer.
A Soviet refusenik in his youth, Rabbi Giter and his wife, Leah, arrived in Minnesota in 1990 after he was invited to serve as chief inventor for a medical company. A passionate disciple of the Lubavitcher Rebbe, Rabbi Menachem Schneerson, Rabbi Giter established Congregation Bais Menachem and served the local Russian Jewish community tirelessly until his last days.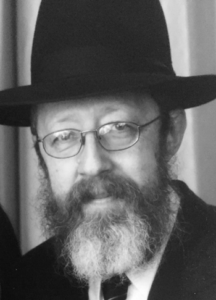 He was famous for his crisis counseling, and saved many individuals, marriages and families from failure. He organized and officiated at hundreds of weddings, brit milas, mitzvas and funerals.
The sentiment echoed by many at the memorial was one of love: Rabbi Giter was a towering, fatherly figure in countless lives, a man who had the time and energy for anyone who needed him.
"My father lived with the attitude that giving is everything," said his son, Reuven. "He was an exceptional father and raised us wisely and lovingly, but he raised us to always think of others first."
Rabbi Yechezkel Greenberg, of Congregation Bais Yisroel in St. Louis Park, regaled the audience with stories of Rabbi Giter's tireless efforts to give the maximum amount of Jewish children a Torah education, very often paying their tuition from his own pocket.
"There is no doubt that the rabbi's selfless dedication carried over from his heroic youth in the Soviet Union," Rabbi Greenberg said.
"His devotion to the children did not end when they enrolled in school," added Rabbi JB Borenstein, principal of Torah Academy in St. Louis Park. "He remained concerned until graduation and beyond."
Rabbi Asher Zeilingold, of Adath Israel Synagogue, said Giter "did not understand the meaning of 'too hard.'"
"When I was contacted by a Russian-speaking woman who was distraught over her dying father, I put her in touch with Rabbi Giter," Zeilingold said. "And weak and frail from his own illness, he spent over four hours at her father's bedside, bringing her the reassurance she needed."
Dr. Elie Gertner, director of rheumatology at Regions Hospital and Rabbi Giter's personal physician and confidant, marveled at how Rabbi Giter was "epitomized by his uncomplicated love for the wholesome celebration of every mitzva."
Mrs. Galina Gozenpud, a congregation member and close friend to the rabbi and his wife, remembered how the rabbi was there for her in the hardest of times.
"Being sick in the rain and cold, Rabbi Giter accompanied us to pray at the grave of our son, never putting himself first," she said.
Rabbi Moshe Feller, of Upper Midwest Merkos–Chabad Lubavitch, recalled how Rabbi Giter was a strong and courageous leader.
Visiting from Chabad of Santa Cruz, Calif., Rabbi Yochanan Friedman summed up his feelings for the rabbi he considers one of his greatest, earliest mentors: "He turned every one of our conversations — and we had many, many conversations — into a brainstorming session on who he could help and how he could help them; his humble and kindly heart benefited more people than we will ever know."
A memorial fund has been established in Rabbi Giter's memory to support his wife. To donate, visit: www.GoFundMe.com/GiterFamily, or send a check to Congregation Bais Menachem, 1981 Yorkshire Ct., St. Paul, MN 55116. Stories and condolence letters can be sent to: giterfamilymn@gmail.com.
***
Rabbi Eli Friedman is director at Chabad of Calabasas in California.
(American Jewish World, 9.11.15)