Rywka's Diary: The Writings of a Jewish Girl from the Lodz Ghetto, edited by Anita Friedman, Harper, 240 pages, $35
Reviewed by NEAL GENDLER
Adolescence is difficult enough; try to imagine it as a girl in the Lodz Ghetto with little food, no parents or grandparents, and responsibility for three younger siblings.
We needn't imagine; Rywka Lipszyc (pronounced "Rivka Lipshitz") tells us. Her diary, found in 1945 by a Soviet doctor at the ruins of Auschwitz crematorium No. 3 and unpublished for 70 years, reveals the struggles, longings and loneliness of a 14-year-old girl amid deportations, disease and deprivation.
"Rywka sought comfort and salvation in writing her diary," says Alexandra Zapruder, whose excellent first section, "A Polish Girl Comes of Age in a Jewish Ghetto," provides context for the diary, which she says "testifies to the anguish of her doomed struggle."
"I can't find a place for myself," Rywka says several times in her 112 pages, written between Oct. 3, 1943, and April 12, 1944. "What's going to happen? What shall I do? Whom shall I ask, who's going to help me? Oh, there are so many questions and no answers."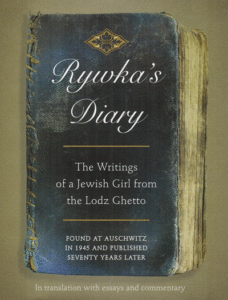 Rywka's mental lifeline was Sara Selver-Urbach, an older teen she calls Surcia. Rywka's mentor, Surcia, suggested the diary, into which Rywka poured out her heart.
Written in Polish (translated by Malgorzata Markoff) with dabs of Yiddish, the diary is fascinating, as is the entire, illustrated book, officially out next Tuesday. Understanding is enhanced enormously by contributors who describe the situation in which Rywka wrote.
Zapruder is a National Jewish Book Award winner for Salvaged Pages: Young Writers' Diaries of the Holocaust (Yale, 2002).
Other Lodz Ghetto diaries exist, but Rywka's, brought from Russia in 2008 by the doctor's granddaughter, covers a different period and provides the perspective of an Orthodox girl, Zapruder says.
Rywka's Diary originally was published by Jewish Family and Children's Services of San Francisco, in partnership with Lehrhaus Judaica, which was founded by Fred Rosenbaum, who contributed the history of Lodz and the ghetto. Judy Janec, JFCS' former library and archives director, describes the effort to learn Rywka's fate.
Comparison with The Diary of Anne Frank is inevitable, but beyond adolescent longings, they're very different. Anne hid with her family, unable to go outside, supplied at great risk by father Otto's business partners and employees.
Rywka and siblings crowded into an apartment with three orphaned girl cousins, lit by a single 15-watt bulb. She sewed in one of the ghetto's 100-plus factories and enjoyed illicit classes. Work brought supplements to steadily dwindling rations. Eventually, running water ceased. The infamous September 1942 deportation of children claimed Rywka's brother and one sister, to Rywka's constant torment.
Additionally, she and her cousins didn't get along. Esther Burstein, the older of the two who survived, says in a sort of afterword that Rywka had difficulty accepting her authority. Rywka wrote that the cousins didn't understand her.
"I'm sick of my entire life," Rywka wrote on Nov. 24, 1943. "These never-ending grudges of my cousins… oh, dear God, when is it going to end? I don't want to live at all. I have just thought: 'What a pity Jews are not allowed to kill themselves.'"
Yet she persevered, her faith increasing as conditions worsened.
"If it weren't for my faith," she wrote, "I, like other people, would lose my will to live." She wrote to a friend: "I have this terrible reality before my eyes, but believe me, I can't lose heart. The trick is to control yourself and not let the evil control you."
Later: "I'd like, oh, very much, to wake up in the morning in a different, better time."
The Franks were betrayed, Anne dying in Bergen-Belsen. When the ghetto was liquidated in August 1944, Rywka survived deportation to Auschwitz, where her sister was killed, then a labor camp and a six-week death march to Bergen-Belsen. Hospitalized after liberation, she was listed as too ill to be sent for recovery in Sweden with her cousins, who were told she'd soon die. Yet she filled out a displaced persons card, saying she wanted to go to Palestine. Then she disappeared.
No further records could be found. Perhaps someone reading this book knows what happened.
***
Neal Gendler is a Minneapolis writer and editor.
(American Jewish World, 9.11.15)